6 Things to Consider Before You Design Your Kitchen
Jun, 2022 | All,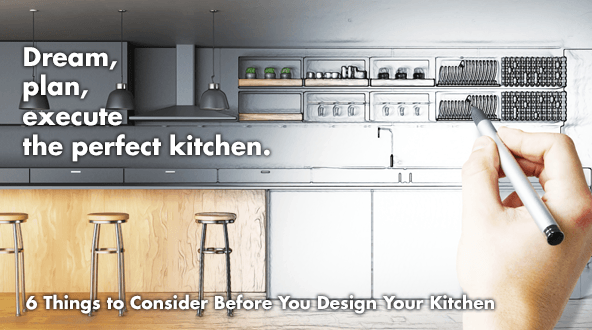 Avoid costly mistakes and post-renovation remorse with these 6 steps.
Designing your dream kitchen should be an exciting task. After all, it's the heart of the home. And the way it looks and functions affects much of your daily life.
But for many homeowners, redesigning a kitchen can quickly feel overwhelming. Many aren't sure what things they need to consider in their kitchen's layout, design, or decor. And the choices feel endless. But today's post is designed to reduce feelings of overwhelm and give you answers to the question: What do I need to know to design a great kitchen?
Whether you're designing your kitchen from scratch, or reconfiguring your current kitchen, there are some key things to consider. From floor plans to finishing touches, we're rounding up our best tips to help you design a beautiful, functional kitchen.
1. Start with layout
More than any other room, the layout of the kitchen is a huge factor in its success (or lack thereof). So while it's tempting to skip ahead to tile and appliances, the layout of your kitchen must come first.
To design the best layout for your kitchen, ask yourself how you really use the space.
Do you typically have one cook, or multiple?
Do you need casual seating nearby for family or friends to gather?
How do you shop? Do you need storage for oversized bulk items, or extra fridge space to keep all those farmers' market finds fresh?
How does traffic typically flow from adjacent rooms? Does this impede the cook(s), or is it out of the way?
These are just a few examples of the key things to consider as you design your kitchen's layout. Your answers to the questions above serve as a guide as you decide the floor plan and layout of your cabinets and walkways.
So let's start with the floor plan. While kitchen islands have certainly gained popularity, they're not the only kitchen design option out there. Here are a few more layouts to consider:
The "L" kitchen


— Getting its name from the shape of the bird's-eye view, the L-shaped kitchen features a long line of cabinets that wrap around a corner. This layout can provide a lot of storage in a small space, but a cook will generally have their back to others in the kitchen. One way to make the most of an L-shaped kitchen is to open one of the adjacent walls and add counter seating. This way, the chef can face kids or guests as they prepare meals.

The "L + I" kitchen


— Same format as L-kitchen, but with a center island. This layout works well to provide seating and a traffic route that's out of the cook's path, but still keeps things open and engaged.

The "U" kitchen

— like the "L" but wrapping around 3 sides, this kitchen layout can be along 3 walls, or with a more open, peninsula-style layout. If there's enough room, a "U" style kitchen can also feature a center island for seating or additional prep space.
The galley kitchen —


common in older homes, a galley-style kitchen features two straight walls of cabinets, typically with 3-4 feet in between. This style can pack a lot into a small footprint, but can be tricky with more than one chef. Today's modern kitchens can achieve the sleek, modern style of a galley kitchen by opening up a wall and floating a center island, giving more space to cook, prep, and entertain.
These are probably the most common kitchen layouts, though you can certainly get creative to maximize the form, functionality, and flow of your kitchen design.
2. Think vertically
Now that you've got the footprint of your kitchen in place, what happens vertically? Do you want upper cabinets? Open shelving? A combination of the two?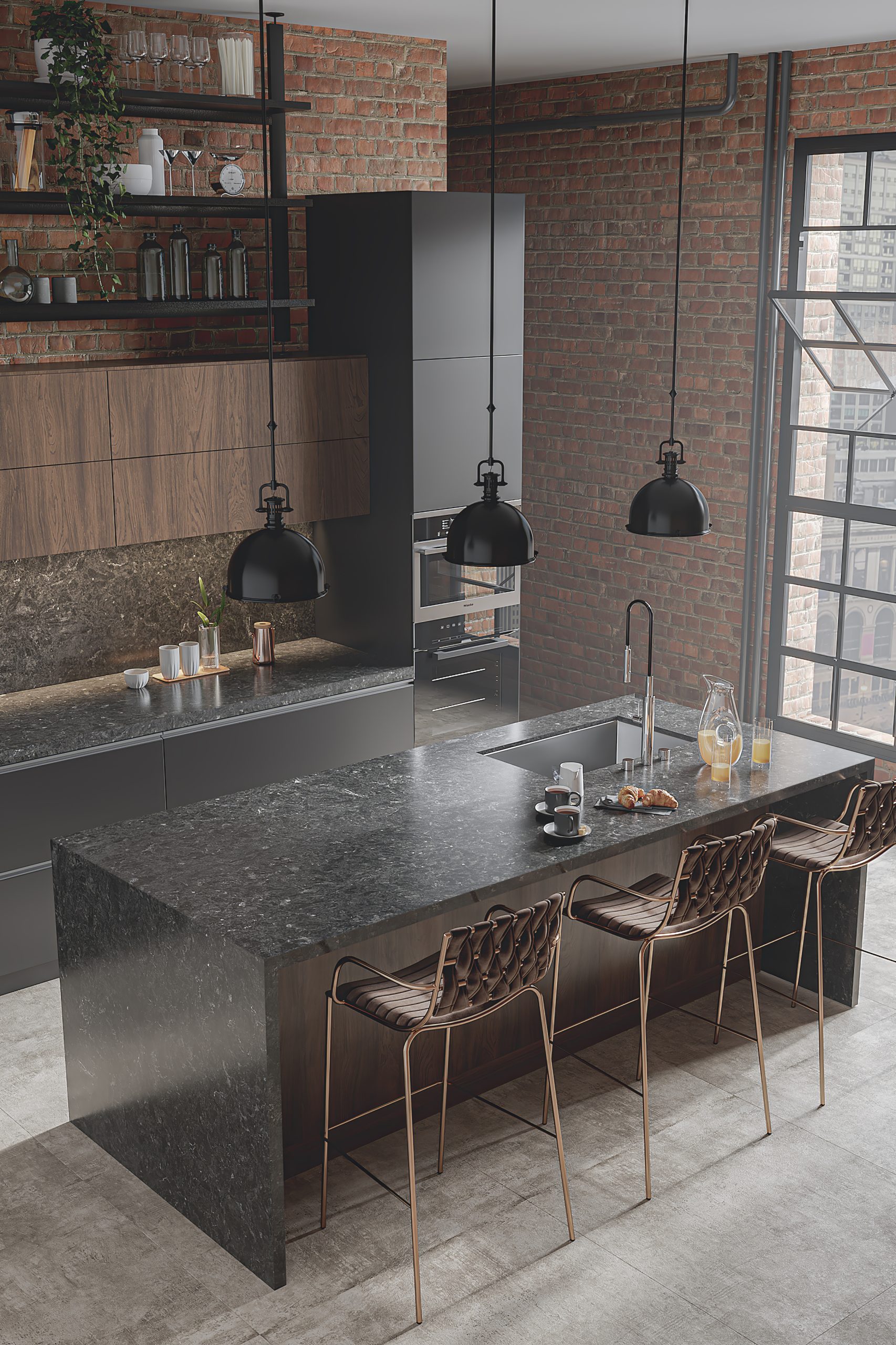 This vertical cabinetry style kitchen maximizes function and style with an oversized island, striking waterfall quartz countertops, and floor-to-ceiling pantry storage.
This is both an aesthetic choice and a functional one. Some people hate opening and closing cabinets to access dishes and daily use items. Others want clutter hidden away — and dust-free behind the cabinet doors.
There's no right or wrong answer here, but be sure to consider your storage needs. With an adjacent pantry, a streamlined kitchen with few upper cabinets might work great. If you need to store all of your food and kitchen accessories in the kitchen itself, you'll likely need upper cabinets to keep everything close at hand.
Consider your daily habits and routines
Kitchen storage isn't just about food and dishes. You also need to consider the way you use the space each day.
What appliances do you use often? Do you start the day with a perfectly-made latte? A smoothie? Toast? You'll want the corresponding appliances at hand.
Do you entertain a lot and need extra refrigerator space for soda, wine, or beer?
Are you a scratch cook who needs at least 6 burners on your stove, or do you prefer to keep things simple?
Again, the answers to these questions will help determine your appliances and storage needs. If you use a fair amount of small appliances for your daily rituals, an appliance garage is a great way to keep countertops clean and clutter-free (while still making your morning coffee routine quick and efficient).
Another important consideration? Outlet placement.
Code compliance will likely ensure you have enough outlets for your kitchen, but effective placement is the key many people don't spend enough time considering. The right placement keeps routines streamlined and cords out of sight. You can even add outlets inside cabinets — or underneath your upper cabinets — to keep your backsplash streamlined and sleek.
Cabinets with built-in appliances — while keeping everything else behind cabinet doors give homeowners ample space. And hidden outlets let this sleek quartz backsplash shine.
4. Hone in on your personal style
Now the fun part begins. Once you've got a good understanding of your layout and storage needs, it's time to focus on the design details! While this phase is certainly fun, many homeowners are surprised to find it overwhelming, too. After all, there are endless choices out there.
That's why we suggest starting a vision board. Gather images of kitchens you love on Pinterest or in a saved folder on Instagram to keep your ideas in one spot. This way, you can view your favorite images side by side and quickly notice patterns and styles you gravitate towards, so you can narrow down your choices and goals.
5. Consider your core materials
As you look through your saved images, do you notice a love of white cabinetry? Marble countertops? Hardwood flooring?
These are all beautiful choices, but a kitchen must be functional. In terms of flooring, if you've got young children or pets who are likely to scratch and spill on your floors, wood might not be the best option.
Luckily, there are plenty of options out there to give you a similar look and feel, with the durability your family needs.
The same is true for countertops. Marble is having a big moment right now in the design world. And no wonder! It's beautiful and timeless, bright and airy. The grain adds movement and texture to your kitchen.
But…marble is one of the least durable kitchen countertop materials out there. Prone to staining, scratches, and damage over time, it's often not ideal for busy kitchens.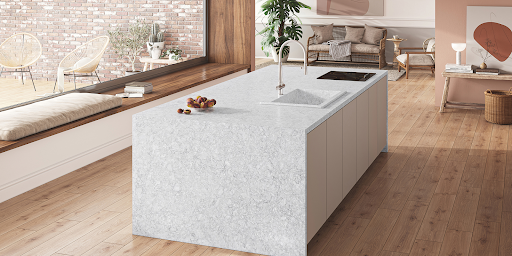 The warm white, subtle-veining of our Alonso quartz slab gives you the timelessness of marble with the peace of mind of quartz.
Before you despair, though, we've got good news: You can get the look and feel of marble countertops with stain-resistant, scratch-resistant, ultra-durable quartz.
Love the look of Calacatta marble countertops? Here are a few of our favorites
Whether you prefer darker, moody grays for your kitchen counters, or want to keep things light and bright, there's a quartz countertop out there for you.
And, when you shop with us at Quantra Quartz, you can rest assured you're sourcing your countertops sustainably, helping you create an eco-friendly kitchen that's aligned with your values and priorities.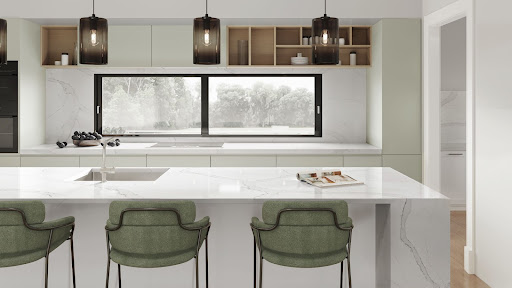 Our Calacatta Pietrasanta quartz gives the timeless look of marble countertops — with zero fear of staining or scratching over time.
6. Choose the finishing details
With all of the big-picture pieces in place, you can wrap up your kitchen design plan with those final, show-stopping details. From cabinet pulls to lighting, the details make the design. Want to keep things super streamlined? Consider flat front cabinets with no hardware. Or — one of our personal favorites — an integrated sink for a totally seamless look.
No matter your design style, if you take the time to consider the above, you'll be well on your way to designing a kitchen that looks, feels, and functions the way you need it to.
Looking for more kitchen design inspiration? See more products and kitchen layout ideas here.
Sign Up For Our Newsletter
Subscribe to our newsletter to stay updated with the latest News, Case Studies etc.
[mc4wp_form id="779"]