Conversation with Rohit Tharakan of Häcker Kitchens, Hyderabad
Sep, 2022 | All, Tête-à-Tête with partners,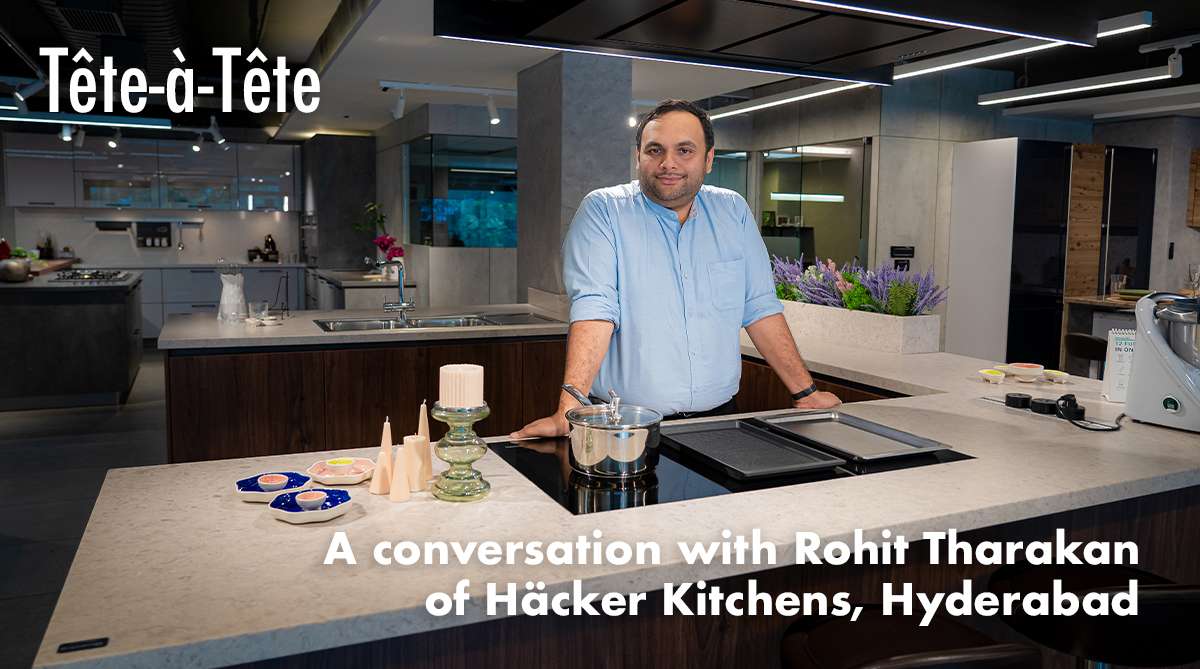 Tête-à-Tête with Rohit Tharakan of Häcker Kitchens, Hyderabad.
Plus, the one simple test he insists on to make sure your countertop will last
At Quantra, we're honored to partner with some of the top kitchen brands in the world. And when it comes to quality, innovation, functionality, and durability, you can't beat Häcker.
Founded in 1898, Häcker boasts more than 120 years of legendary German engineering and unwavering commitment to building luxurious modular kitchens for everyday living.
Today, they've expanded their reach across the globe, from Chile to China, and everywhere in between. Häcker now also has 12 exclusive showrooms in India, including our friends' at Häcker in Hyderabad.
Today, we're sitting down with Rohit Tharakan, Managing Partner at Häcker Hyderabad. He's giving us a peek into today's kitchen trends, Häcker's partnership with Quantra, and the countertop stain test he swears by.
Quantra Quartz: First, we'd love to learn a bit more about you, Rohit. Where does your passion for kitchen design and business come from?
Rohit Tharakan: It all started 12 years back when I quit Deloitte, where I worked as a financial consultant. I wanted to try something of my own. My father was in the kitchen business with his franchise for over 15 years, where I used to go with him to the showroom.
My journey into the kitchen business was absolutely accidental as there was no educational background, and we had a few tough years. But having a first-hand advantage in the market of being the oldest player in modular kitchens, we stayed put and delivered on what we committed. This made sure that our clientele came back to us.
Why did you choose to franchise with Häcker?
Last year Häcker did almost 700 million Euros in turnover. India is a fast growing market, and right through our  journey of 18 years with them, they have treated us as equal partners.
For example, when we expressed concerns about our higher levels of humidity in certain markets like Mumbai or our extra use of water in our kitchen compared to the Europeans; they've stepped up to modulate their services here. When we started 18 years back, the skirting used to be chipboard. But they made a PU skirting available for us that is completely waterproof.
So when you consider the contribution to the overall turnover of the company, they did that. Even for minor issues like the edge ban falling off because of our temperature and humidity-related issues; they changed their entire process by initialising a kitchen tropical certification.  The products are now tested in a laboratory at 45 degrees temperature and above 85% humidity. Moreover, their timely delivery was the biggest advantage for us in the market.
So basically they go the extra mile and also they have a lot of credibilities, which they have sustained over the years.
How did you hear about Quantra? What was your first impression?
I first heard about it six years back — during a poker game! One of the team members later contacted me for commissioning laminate cabinets and kitchen countertops for my showroom with Quantra. It was a rather small job, but it was done within the committed time span.
Since then, I have changed every single display from my store to Quantra, there are no other brand samples available in my store.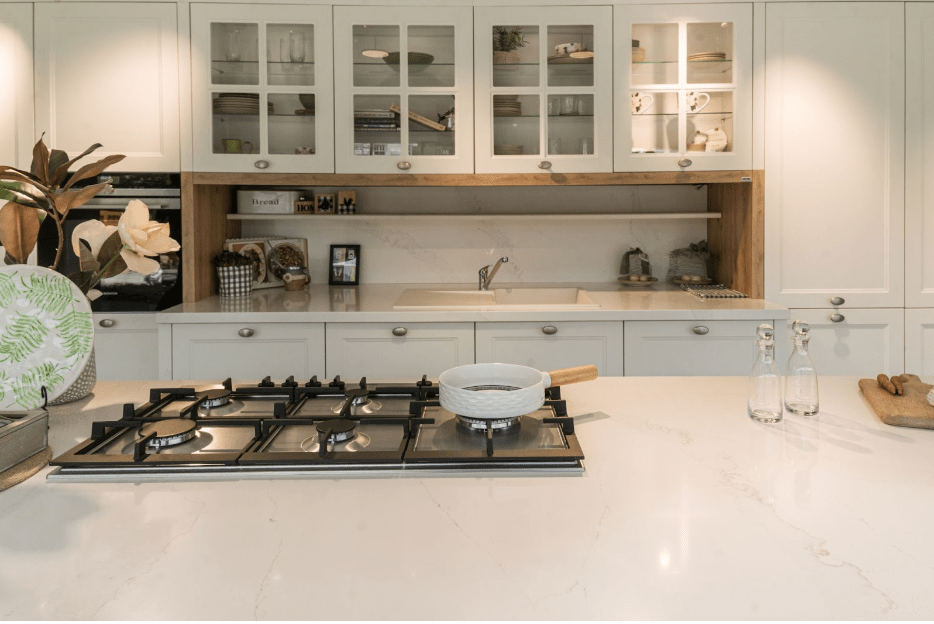 Häcker's cabinet collection pairs beautifully with a Calacatta quartz countertop for a timeless modular kitchen.
What is the most fun part of being associated with Quantra?
I come up with crazy ideas for them to do, which Quantra's team reluctantly agrees to, but still delivers at its best. We all need to get out of our comfort zone of doing things, and innovate, especially in the field of countertops. 
Working with Quantra aids us to push the envelope for our designs where the end-clients' responses have been unbelievable.
Are you driven by the idea of including "Made in India" products and services? Was that the sole reason to choose Quantra? 
The main reason for dealing with Quantra honestly, is that the product is excellent. We do love sourcing Indian-made products, and quality is key.
The first thing I did was to ask the team for a white colour sample. I took it home, put Haldi (turmeric) and some chilli powder on it, and left it overnight. In the morning, when we washed it away, we had the same pure white sample we started with. I do that for every brand. If it doesn't work, I don't represent that brand. And Quantra's quartz was pristine. 
It's very easy. I think basic courtesy when you sell kitchens, you cannot sell a product that absorbs turmeric. 
Quantra slabs passed it all.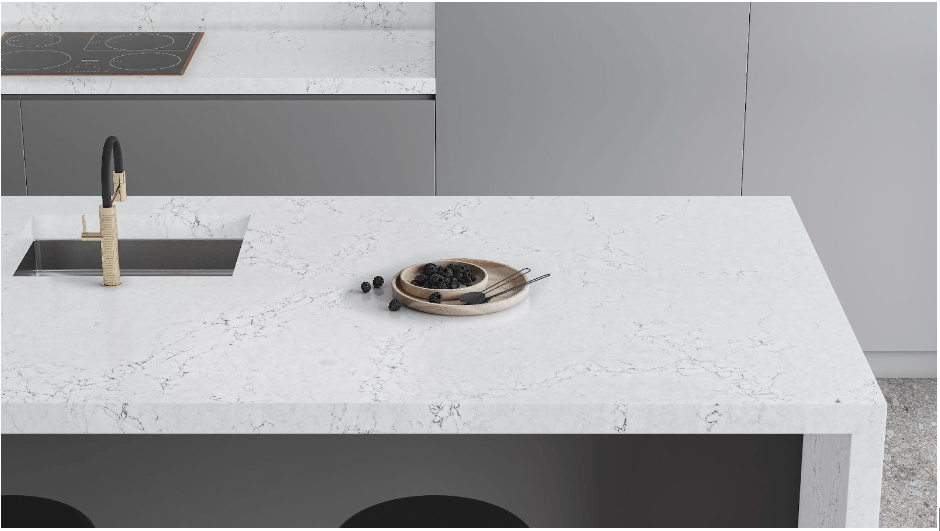 Our Bianco Venatino quartz is one of many crisp, white quartz countertop options at Quantra. Its non-porous surface resists staining — even from tough ingredients like turmeric.
And the next biggest thing is prefab. I have been talking about doing prefab countertops for my clients for the last 10 years because I've seen it in Germany. I've been after various brands and nobody was able to do prefab countertops.
And when Quantra came and told me that they can do a prefab for me, that was it. And the advantage of prefab — even more than the convenience of it — is your kitchen will actually last longer. So your kitchen will be better served for it, you know? So that's why we chose Quantra.
Quantra brings an unmatched level of service, plus the willingness to experiment and innovate. But the paramount is the fact that they do prefab countertops well, and nobody else is doing it. And even if they are doing it, they're not doing it this well.
The luxury segment or the 1% is obsessed with Italian brands and products. Why do you think people here need to change this misconception, especially when Made in India brands are stepping up their game?
Indian brands make excellent products. There are kitchen companies who are doing a really good job. The key to creating a successful Made in India brand is consistency. I have seen Indian kitchen manufacturers who start out saying that they want to be a German standard product; they do it for the first year. And then they realize that since they are a Made-in-India brand, people are comparing them to other Made-in-India brands that are compromising on certain elements.
A good and long-lasting product comes with a price and we, as dealers need to communicate this to the end-user. That's why I only recommend Quantra to people who realize its value as a product that will stay true to its timelessness.
Why do you think the kitchen countertop is an important element in design?
It's the lungs of the kitchen; I can't say it's the heart as that is obviously the cook. For example, you can always change your cabinets and shutters, but a countertop has to be timeless. So it's a very calculated choice, rather than it being an aesthetic choice. I prefer the functionality of the countertop more than the look and feel that Quantra successfully provides. And you can't get wrong in choosing the 'lungs' for your kitchen.
What are some of the challenges your customers faced before you started using the Quantra Premier Dealership program with an assured 360-degree service?
Quality assurance, timely delivery, the longevity of the product and end-to-end service were a few challenges. The biggest was, however, the lack of prefab options that led to errors.
With Quantra's prefab technology and 360-degree service angle, these issues are no more, we can now guarantee a hassle-free service to our customers. 
What are some of the things that you enjoy about your partnership with Quantra?
What I absolutely enjoy is actually the level of response. Every member from Quantra has instilled the ethos of the brand; be it the installation team, CAD team, sales team or manager. They don't come up with excuses about a complex design but rather take it in their stride to deliver the best.
There is an evident commitment to quality, there's always somebody to pick up a call.
That largely shows leadership is instilling this focus on delivering quality service throughout.
And that's very important because, you can have the best product, but ultimately the people who represent the product are the most important.
How has Quantra helped you grow?
90% of our customers have been through Quantra, which brings a huge benefit to our business. Moreover, the quality product assures the client of the end results.
Does Häcker have anything exciting coming up? Something you're working on and can tell us about?
Yes! Häcker is coming up with over 150 new shades of designs so it is quite an exciting addition for exploration.
How exciting! We can't wait to see them all!
Now we've got a few rapid-fire questions for you…
Favourite Design from Quantra's collection?
Nero Gold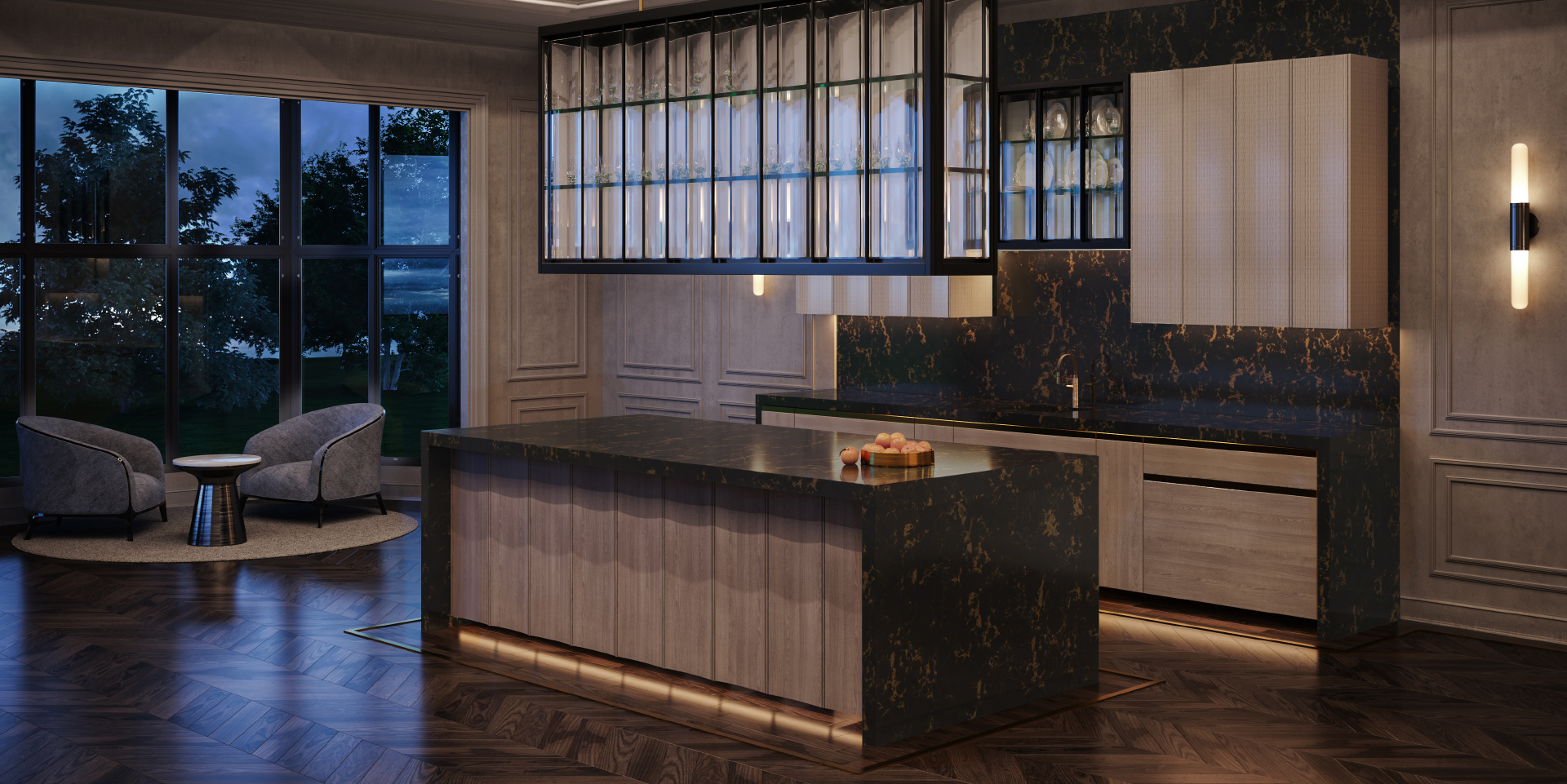 A Kitchen Countertop Tip for Homeowners?
Always buy something that is non-absorbent and test it. Put some Haldi(Turmeric) on it and let it sit overnight. Then wash it off and see the product for what it is.
What's your favourite piece or material in your collection?
For Häcker, they have good synchronous laminates and wood textured laminates.
Your vote for Color of the Year?
Light gray and olive green.
Design Style of the Year?
People are back to classical. To give you a statistic, pre-COVID we had sold one classical kitchen in 10 years. Since 2020, we have sold more than 20. Classical is back and it is back in a big, big way.
Our interview with Rohit is the first in a new series, Tête-à-Tête with partners, we're pleased to bring you each month.
Stay tuned for more chats with our industry experts and partners right here in India.
Curious to know more about our Quantra Premiere Dealership program? Contact our team here.
Sign Up For Our Newsletter
Subscribe to our newsletter to stay updated with the latest News, Case Studies etc.
[mc4wp_form id="779"]