7 Durable White Countertops to Pair With Any Kitchen Style
Apr, 2022 | All,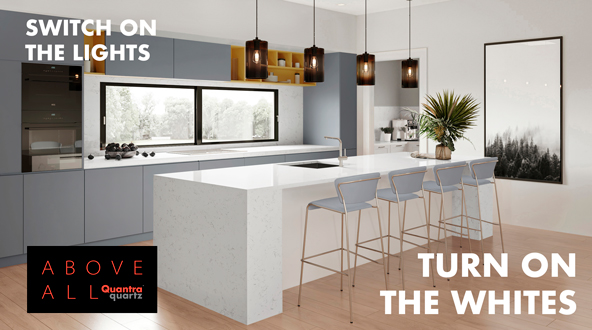 White kitchen countertops have been a popular choice for decades, and they're topping today's kitchen trend lists, too. While homeowners love the pristine look, they often wonder if white countertops are a practical choice.
Today, we're digging into all the details of white kitchen countertops — comparing durability, stain-resistance, and more between materials — so you can pick the right white counters for your kitchen and lifestyle.
First, are white countertops a good choice for kitchens?
White kitchen countertops are a classic choice. They're elegant and timeless, providing a wonderful upgrade to your kitchen. Crisp and clean, and pair beautifully with any design style. So we say, yes, white countertops are a great design choice for your kitchen.
Should busy families choose white kitchen countertops?
Homeowners love the look of white counters and often want this magazine-worthy style for their own kitchens.
…until they start picturing everyday life and the messes that come with it.
From cooking splatters and kid messes to the dreaded red wine spill, suddenly white kitchen counters seem like a pipe dream. No one wants to spend thousands of dollars on their dream kitchen, only to constantly stress about keeping them clean. Or, face the daily reminder of a once-pristine surface marred by a stain.
Homeowners everywhere just want to know: Are white kitchen counters a bad idea?
Rest assured, white kitchen countertops are totally doable — even for busy families and messy home cooks.
It all comes down to choosing the right material for your white kitchen countertops.
Do white kitchen counters stain easily?
Here's the important thing to remember:
All white kitchen countertops are not created equal.
Marble, for instance, is beloved for its rich, warm white hues. But marble is notoriously prone to staining and visible wear. As a metamorphic stone made from limestone, marble is a relatively soft, porous material. This means everything from wine to juice to oil can stain and etch the surface.
To help fend off damage, homeowners must reapply a sealant at least twice a year. And even then, there's no real guarantee that your marble countertop will stand up to the elements.
So for busy families and people who love to cook, white marble countertops are often an impractical choice. Alternatives include granite and quartzite which are harder and more durable, making them less susceptible to chips and scratches. But they still require regular maintenance to keep stains at bay.
What are my material options for white kitchen countertops?
Some white countertops are ultra-durable and a great investment. Others, not so much.
Let's explore pros and cons of some common countertop materials to help you pick the right white countertops for your kitchen.
Laminate Countertops: Pros and Cons
PROS: Laminate counters are made of a thin plastic layer glued to a particle board or kraft paper base. This makes them one of the least expensive countertop materials out there.
CONS: Laminate countertops are prone to scratches and are easily damaged. Also, they're not a great choice for eco-conscious homeowners as the particle boards and adhesives often contain harmful VOCs that contaminate indoor air.
Solid Surface Counters: Pros and Cons
PROS: Made with stone dust (typically marble) and a plastic resin, solid surface countertops are visually more appealing than their laminate counterparts. Their big selling feature is a seam-free countertop appearance.
CONS: Some downsides to solid surface countertops? They're pretty soft and porous, easily scratched, dented, and stained. And while their finish might look like stone from far away, they're not very convincing up close.
Marble Countertops: Pros and Cons
PROS: No doubt about it, marble countertops are gorgeous. Their veining and rich texture make them a popular choice, and they're a top kitchen trend right now.
CONS: That being said, marble is a high-maintenance material. It requires regular maintenance and sealing, and even then is easily stained by common kitchen ingredients. If you're easily bothered by stains and scratches, marble might not be a good choice for your white kitchen countertops.
Granite Countertops: Pros and Cons
PROS: If you love the look of natural stone countertops, granite is another good option. It's more durable than marble, and comes in a range of colors and styles to fit your unique taste.
CONS: White is pretty rare, though, making it more expensive than other colors of granite. This natural stone also requires regular sealing and maintenance to maintain its stain-and-bacteria resistance.
What's the most durable white kitchen countertop material?
More durable than all the options listed above, quartz countertops are the go-to material choice for people who want high style in a low-maintenance kitchen countertop.
Quartz countertops are:
Scratch-resistan
Stain-resistant
Easy to clean
Naturally antibacterial and antimicrobial
Also available as sinks for a seamless, streamlined look
Resistant to chips and cracks
Uniform in appearance for a consistent look throughout the kitchen
Easier to repair in the unlikely event of damage
Available in a wide range of colors and styles
Virtually maintenance-free
Comparable pricing to natural stone
Backed by stellar warranties
In fact, here at Quantra, we're so confident in the durability of our quartz countertops, we offer a lifetime warranty for use in residential kitchens.
7 white quartz countertop ideas for your kitchen
Love the durability of quartz but aren't sure how to choose the right counters for your space? Here are 7 of our favorite white quartz options.
1. Antonio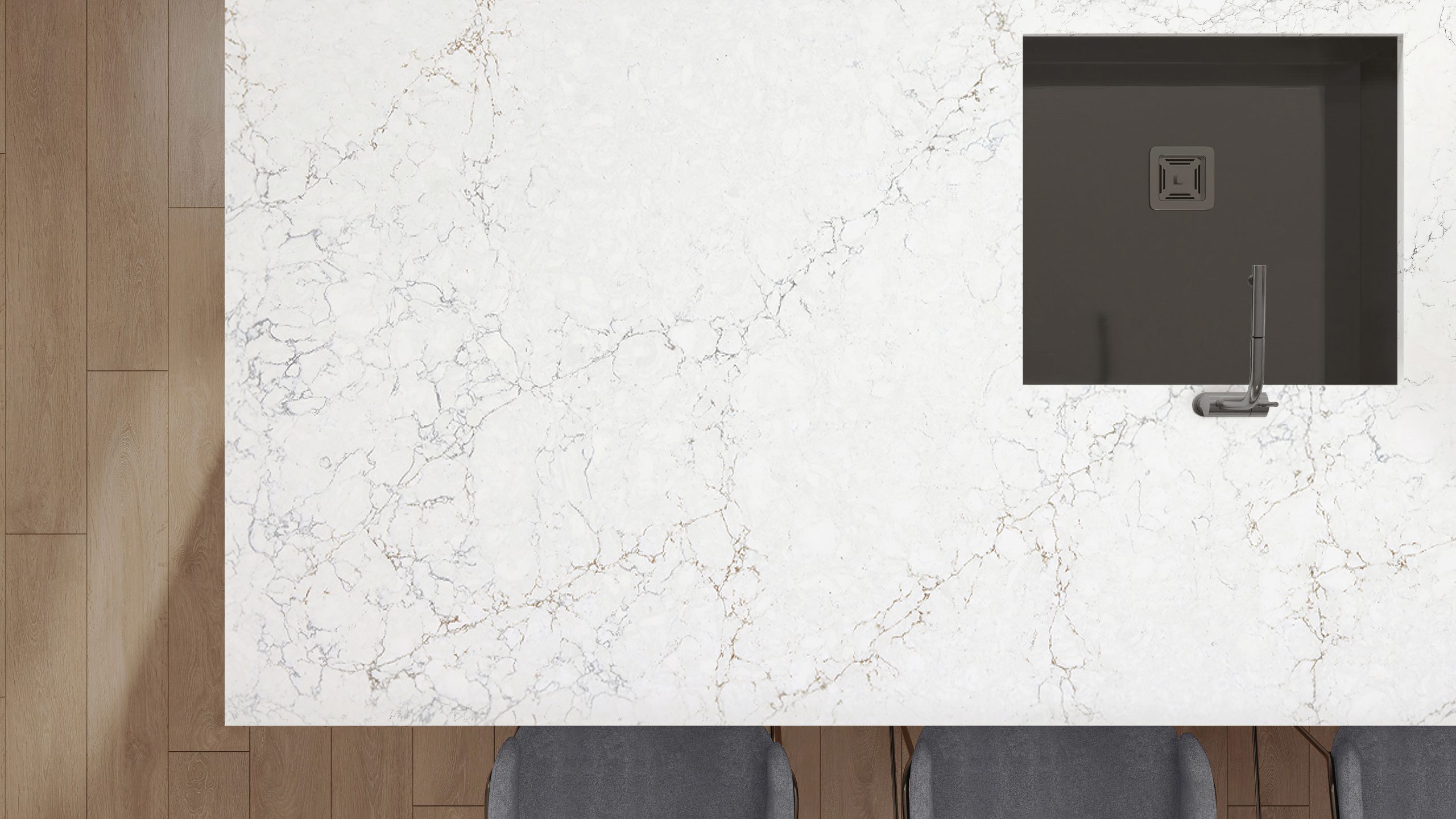 Antonio white quartz captures the subtle organic veining of a rich, warm marble slab
This marble-inspired quartz is impressively like the real thing — except you won't have to stress about that red wine ring.
Unlike some cold white kitchen countertops, Antonio's warm grey and red-cold veining means these quartz countertops pair beautifully with warm wood tones and modern touches.
2. Bianco Venatino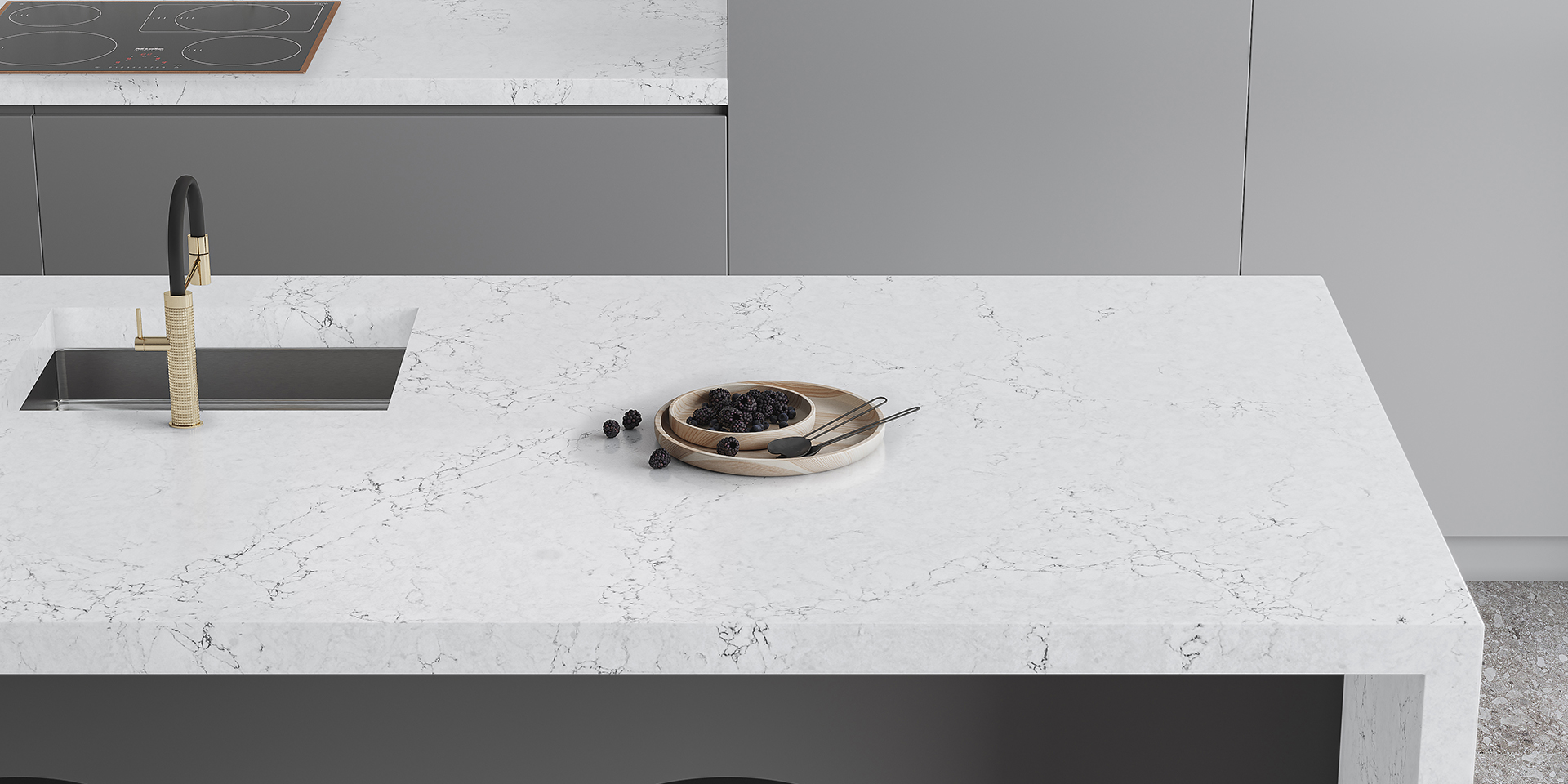 Cool white and a range of greys brings depth and soul to a modern take on marble.
A cooler white countertop option, the Bianco Venatino slab is a show stopper for modern and traditional kitchens alike.
The artistic swirls and shades of cool grey add the depth and character you love in solid marble, with the durability and antimicrobial features only quartz can deliver. Perfect for kitchen islands, backsplashes, and even sinks, this is a timeless classic you're sure to love for decades to come.
3. Calacatta Capri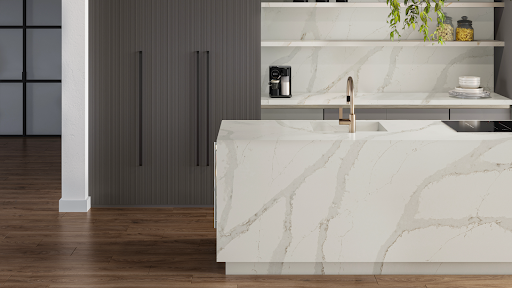 Long, sweeping grey veins bring the drama with the Calacatta Capri white quartz countertops.
Prefer more dramatic veins in your white kitchen countertops? The Calacatta Capri quartz might be your new favorite.
With light greys and hints of warm gold, this marble-look quartz slab captures the richness of stone without ever feeling cold. Pairs beautifully with warm woods, gold accent hardware, and sleek cabinets for a modern kitchen you'll never want to leave.
4. Calacatta Borghini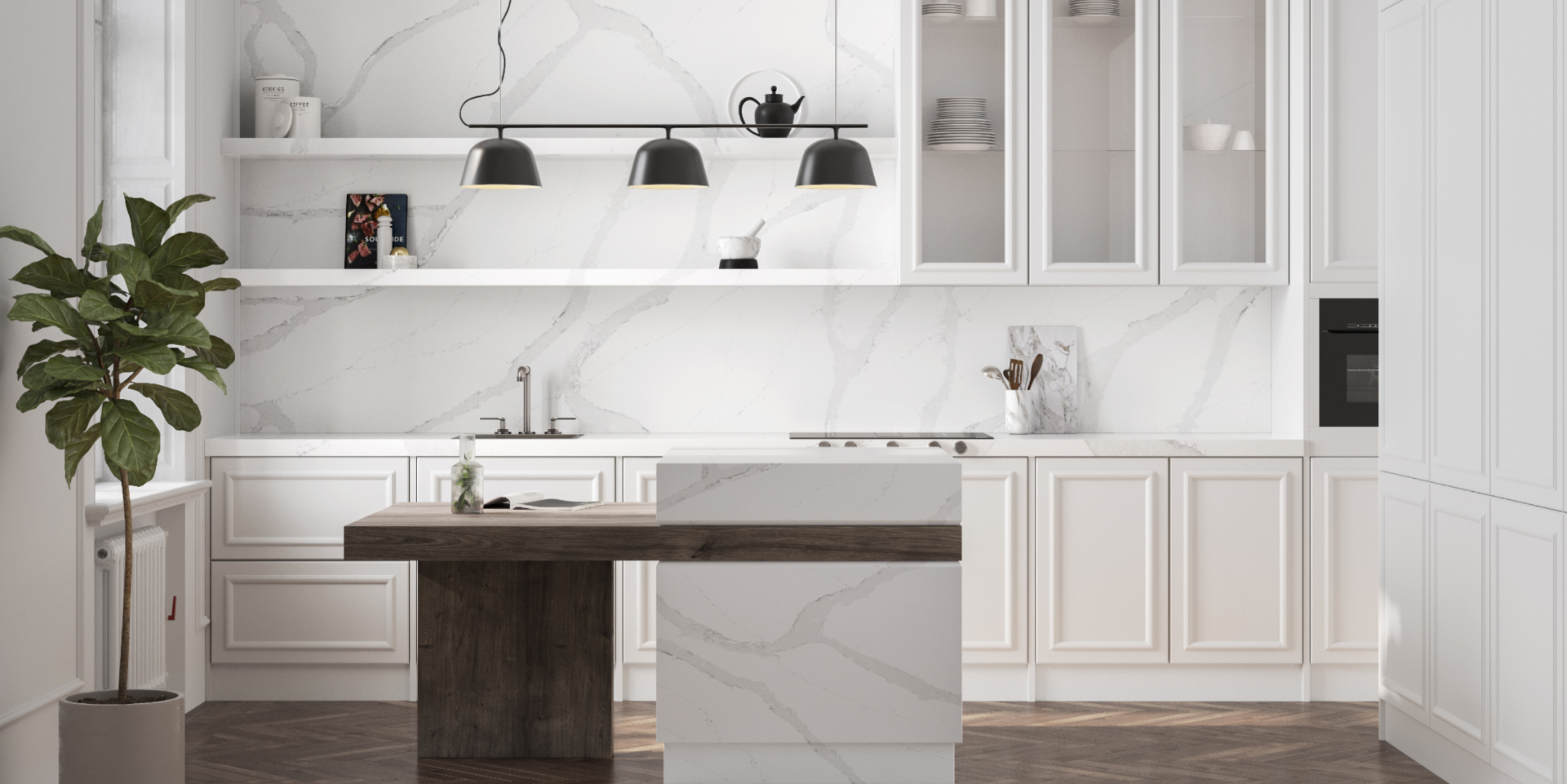 Perfect for traditional or more modern spaces, the cool grey veining of Calacatta Borghini white quartz is both subtle and dramatic
The more subdued sister of Calacatta Capri above, Calacatta Borghini features the same sweeping veining, but in a softer palette.
Cooler in color, this gorgeous white quartz is neutral enough to use on the counters and behind open shelving. It's also durable enough to withstand daily splatters behind the stove and for an upgraded toe kick below the kitchen island.
5. Snow White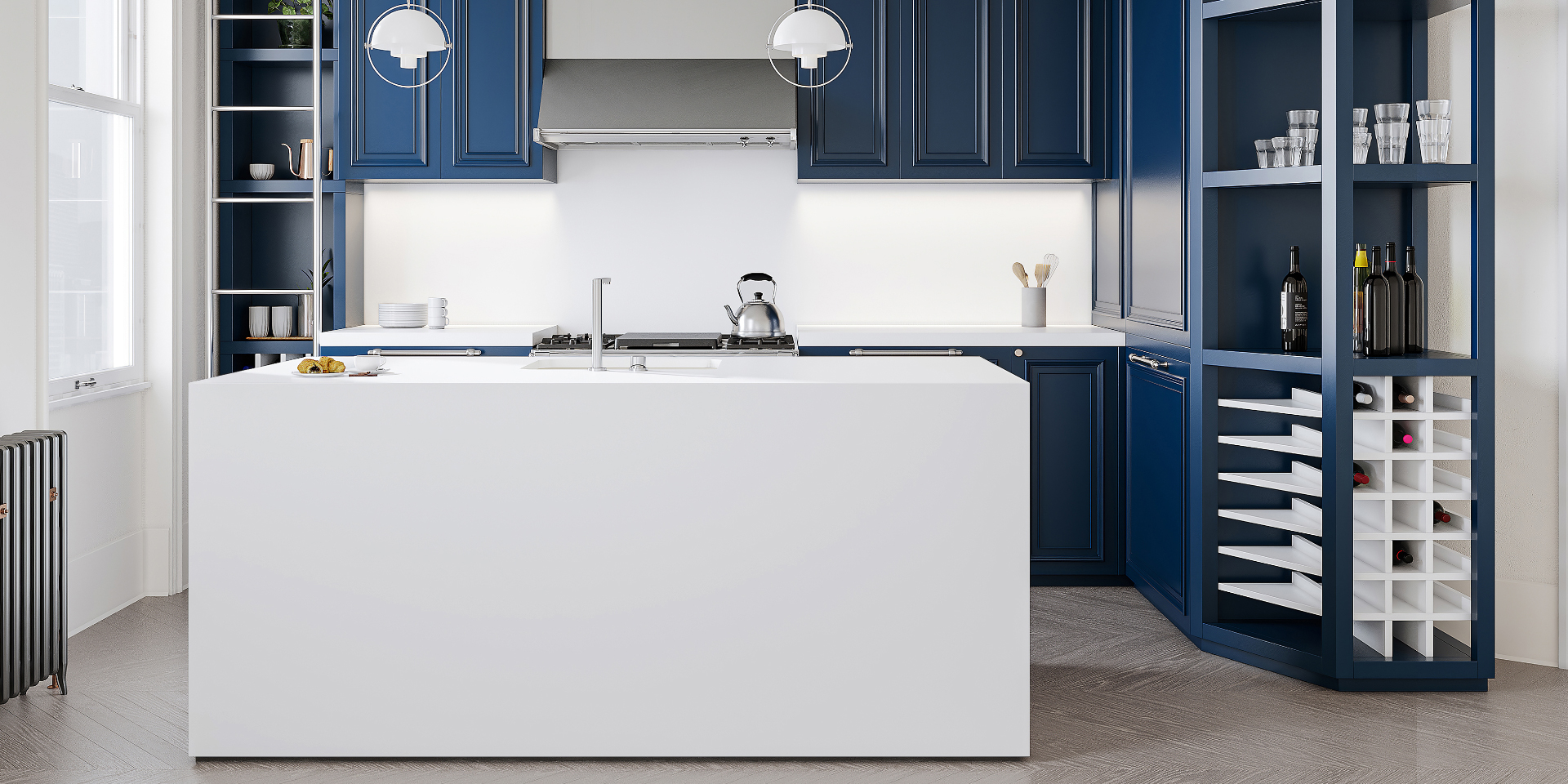 Crisp Snow White quartz countertops provide the perfect backdrop to let statement cabinets and design details shine
If pristine, spotless white countertops are your thing, Snow White quartz delivers. Like the perfect white shirt — without the constant fear of ruining it with a splash of red wine or mustard.
Thanks to quartz's natural stain repellent properties, these crisp, white countertops will stay spotless for years to come.
6. New Carrara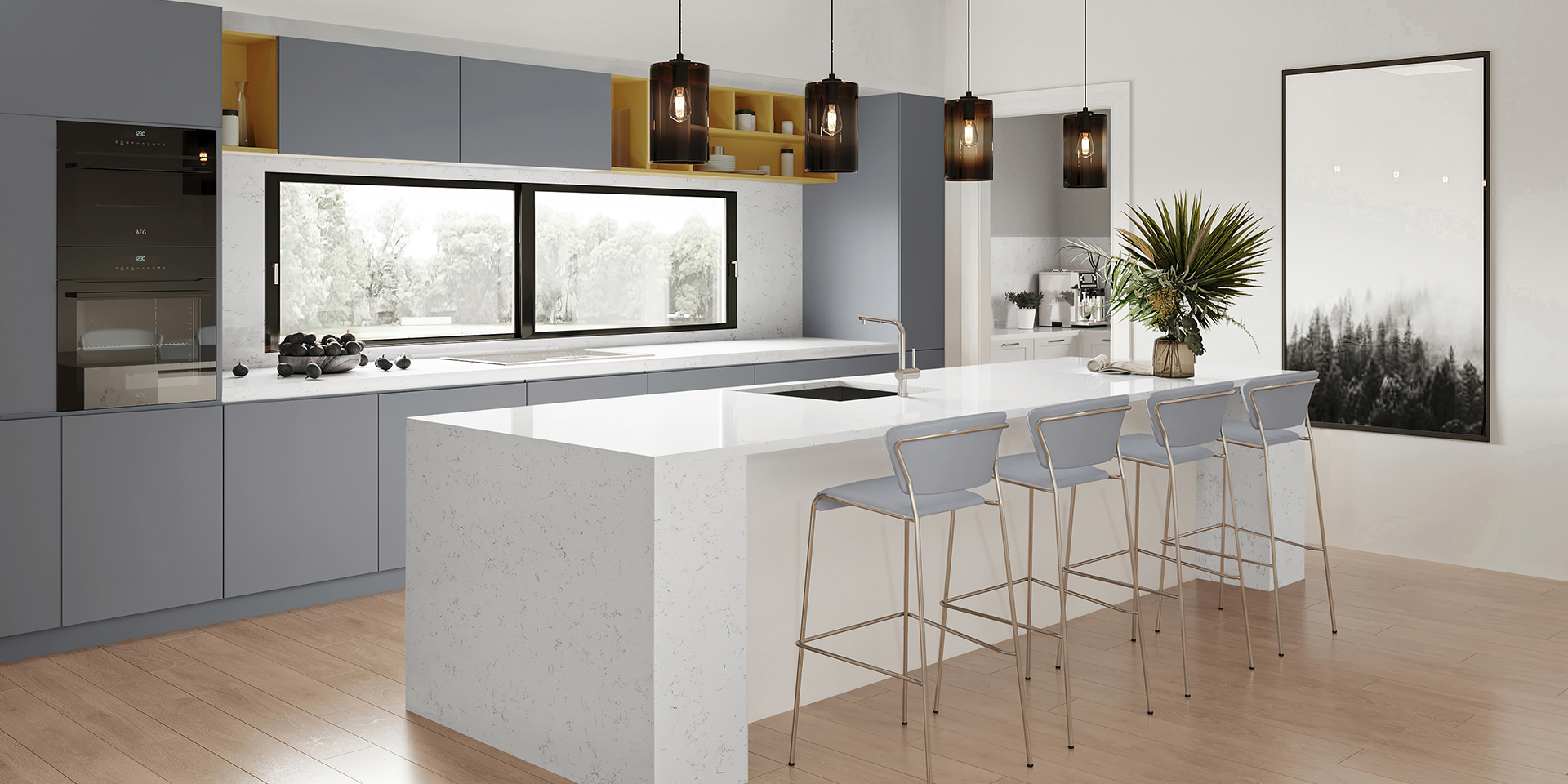 A bright white base with short grey and black veining captures the look of Carrara marble in this ultra-durable kitchen island.
The soft, subtle veining of Carrara marble in stain-resistant quartz. Our New Carrara slab captures the natural essence of this in-demand countertop option and gives you peace of mind with industry-leading durability.
Equally at home in modern and traditional spaces, you can't go wrong with this marble-inspired white quartz countertop or backsplash for your kitchen.
7. Corfu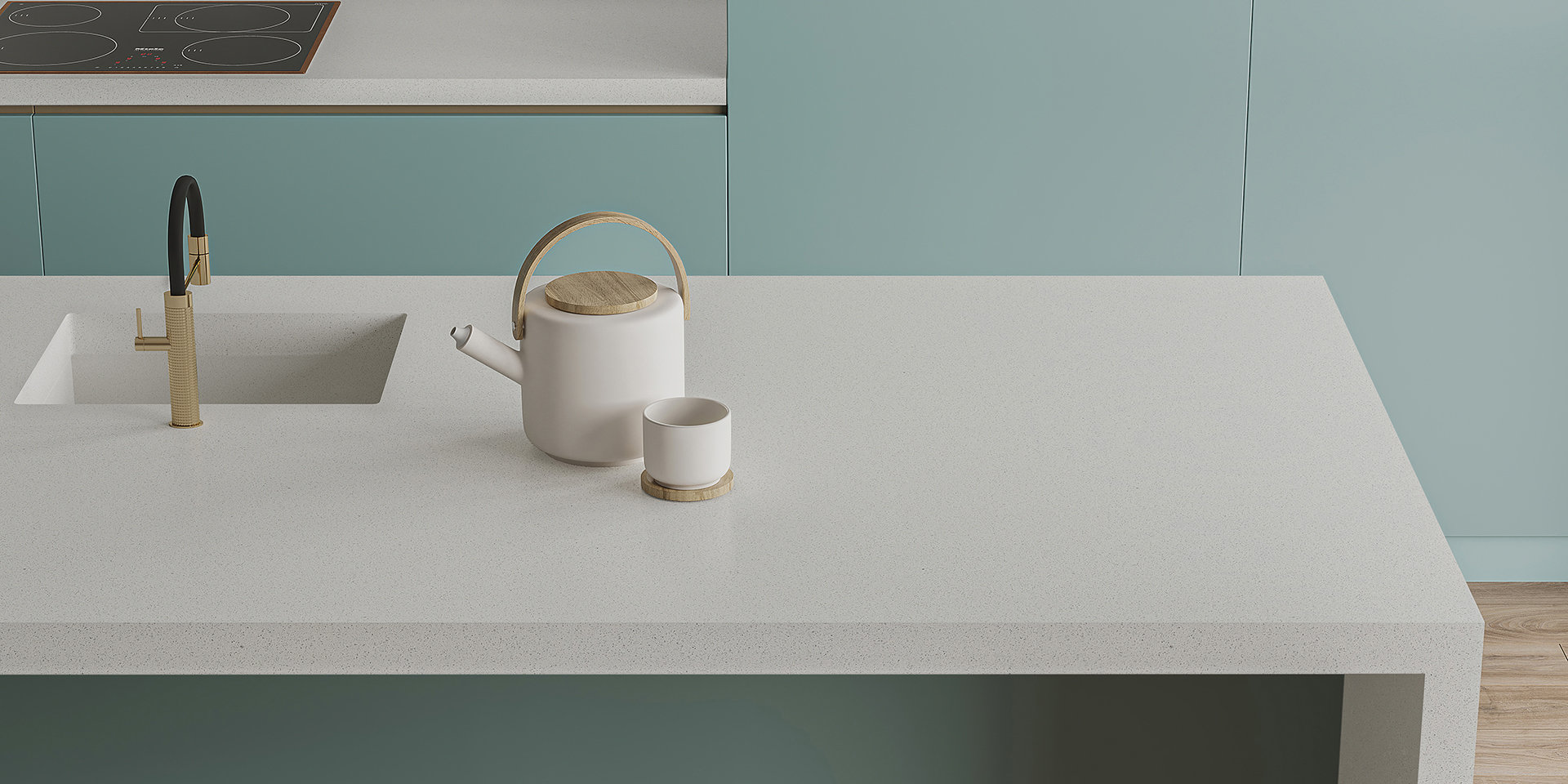 A softer option for white kitchen countertops, Corfu white quartz lets colored cabinetry shine.
Another crisp, clean option for your white kitchen countertops, Corfu white quartz brings the speckled look of white granite. Just enough depth to add interest, yet subtle enough to let other details shine, this white quartz is a timeless choice for white countertop lovers everywhere.
Pair with colored cabinetry or light woods for a beachy vibe, or let it shine against dark cabinets for a bit of high-contrast drama in your dream kitchen.
What are the best white countertops for your kitchen?
Well, that's subjective, of course. But if you're looking for the warmth and richness of natural stone countertops plus the added bonus of unmatched durability and stain-resistance, we recommend quartz countertops.
Want to learn more about our products? Order samples and speak with our customer service team at Quantra Quartz.
Sign Up For Our Newsletter
Subscribe to our newsletter to stay updated with the latest News, Case Studies etc.
[mc4wp_form id="779"]