Conversation with Nilesh Gupta, Home Affairs.
Nov, 2022 | All, Tête-à-Tête with partners,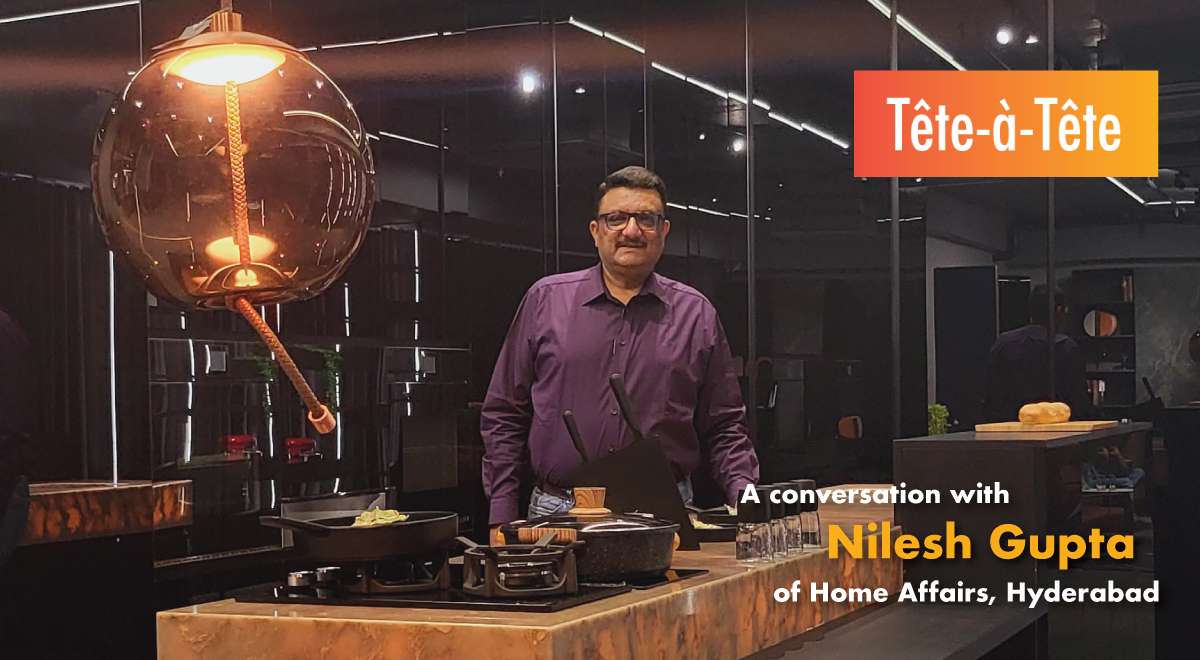 Custom Modular Kitchens Made Right Here in India? You Bet!
Meet the man who's betting on fellow Indian makers and entrepreneurs to bring the best modular kitchen designs to life.
The "Made in India" label should be a badge of honor. Here at Quantra, we know firsthand the quality and beauty Indian makers produce. And today's featured partner agrees 100%.
Today, we're so excited to introduce you to Mr. Nilesh Gupta of Home Affairs. Not only do they conceptualize and design gorgeous spaces, but they also offer custom modular kitchens — proudly built right here in India.
So let's get to know a fantastic Quantra partner — and learn more about his mission to deliver the most beautiful, customizable modular kitchen designs to Indian households.
Quantra Quartz: Hello Nilesh! We're so glad to sit down with you and learn more about your business and your achievements in the industry. Let's start at the beginning — what brought you into the world of modular kitchens?
Mr. Nilesh Gupta: Coming from a commerce background, I never thought I would end up in this field! But I have always been interested in math and calculations. So when I came across floor plans and layouts, something clicked.
I discovered my new interest and began working on layout designs for my family and friends' homes. After a number of positive results, I decided to enter this field.
So I worked with Ar. Aamir & Hameeda, executing their designs for more than a decade. Slowly, the industry began adapting to modular kitchen design. So we started an Indian modular kitchen facility to serve the market at par with Italian stdards.
What kind of experiences have you had with people seeking particular kitchen design or kitchen novelties? Any special or challenging design requests you had from your customers?
We're all about tailor-made modular kitchens, and we love customization. So special requests are always welcome.
The biggest challenge comes when clients ask us to incorporate really difficult and different accessories they've found through online portals. Then we really have to get creative.
What process do you follow in designing a project?
We always begin with an in-depth need analysis of the client's requirements. We get really clear on the overall theme and design concepts they're drawn to.
Then we explore the best solutions from our experience center's display. Clients love this because there are so many unique and versatile concepts that they can see, touch, and experience in person in our showroom. It really helps to clarify their wishlist and get them excited about what's possible.
Getting to see and experience your options firsthand is so key! Switching gears a bit, how did you hear about Quantra? What was your first impression?
I stumbled upon Quantra while researching the innovation of stainless steel modular kitchens. I saw the full Quantra catalog and found it really interesting.
How did your partnership with Quantra begin?
I was aware of the history of its parent company, Pokarna, and their reputation. I also was really drawn to the fact that you have a product that's manufactured right here in India and exported to Italy.
What were some challenges your customers faced before you started using the Quantra Premier Dealership program with an assured 360-degree service?
Before Quantra, our main major issue was that all the other brands do the fabrication at the site. This results in a lot of dust on site and also hampers our modular products.
We love that Quantra is a cleaner, more streamlined process.
What are some things that you enjoy about your partnership with Quantra?
You offer a quality, factory finished product that's the result of technology-oriented planning. This process results in less wastage without compromising on the design aspects. It's a win-win.
How has Quantra helped you grow?
The hand to hand partnership with Quantra brings a much smoother execution of projects. This translates to higher customer satisfaction, which is always the goal.
What are some of your favorite or most noteworthy projects of yours that you'd like to share?
Our biggest challenge to date was actually our own Experience Center display, as it was our first project with the Quantra team. It has complicated design elements which required a lot of R&D. But the Quantra team helped throughout and it resulted in a truly beautiful display, and a great representation of what we're capable of.
What is your favourite part of being in this industry?
Having love for the nation. We love promoting "Made in India' products and showcasing the patrons with world class quality within the country. We're really proud of what we make here, and we love getting India-made products into Indian households.
Yes! We love that too.
Ok, now it's time for the Rapid Fire round: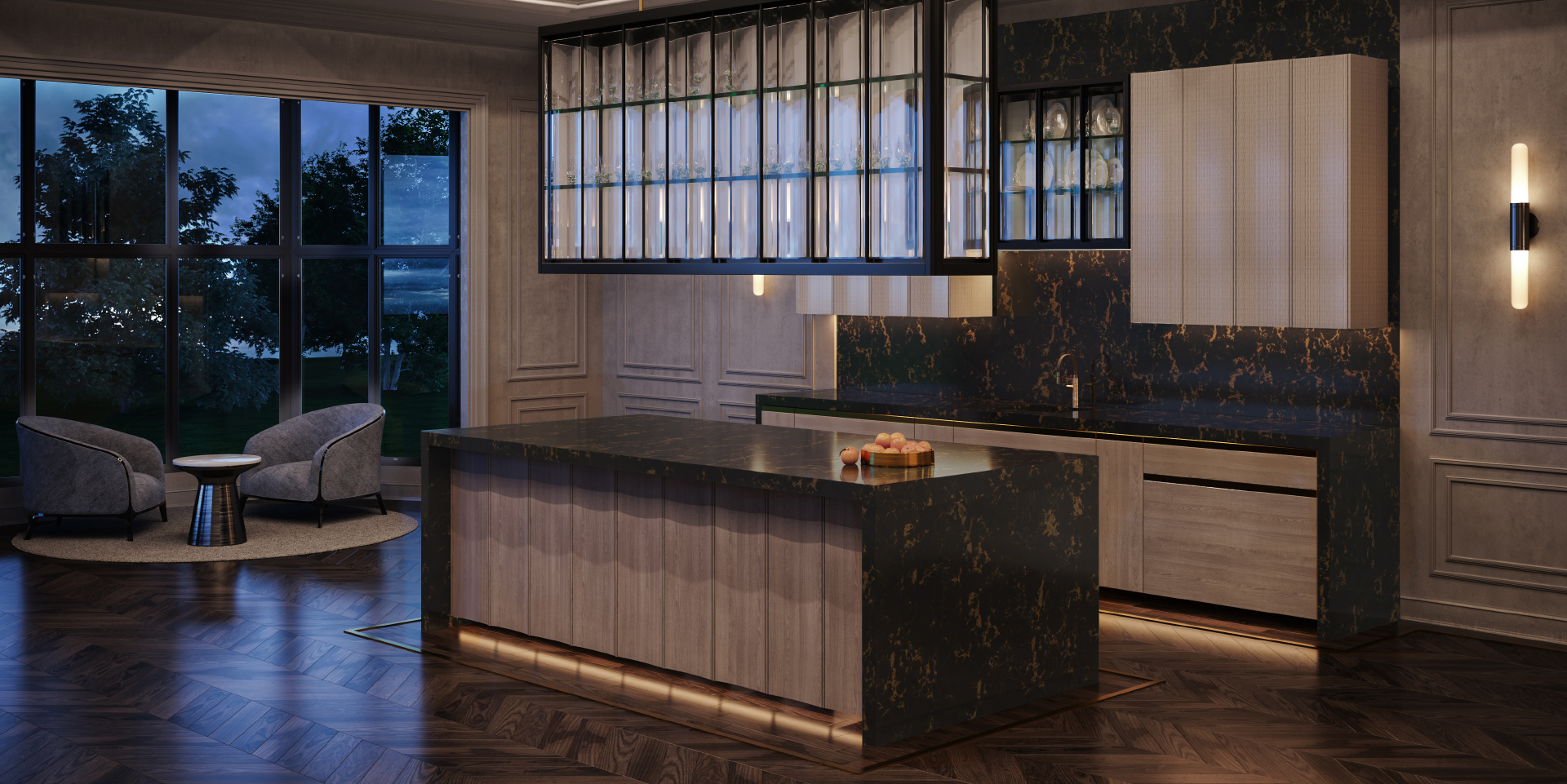 Rich black with a sweeping gold vein adds luxury to this modular kitchen design, featuring Quantra quartz countertops in Nero Gold..
Favourite design from Quantra's collection?
Artisan Wool and Nero Gold.
Any tips for our readers on things to consider while selecting a modular kitchen?
Considering portable accessories is always a better choice than the fixed accessories.
What is your favourite design style?
Back lit designs. They're always so elevated. And quartz countertops and backsplashes. We love the gold veining in Artisan wool. The hint of glam is so luxurious.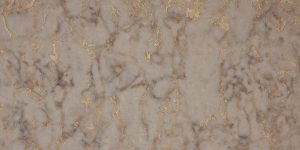 Back lit designs. They're always so elevated. And quartz countertops and backsplashes. We love the gold veining in Artisan wool. The hint of glam is so luxurious.
Curious to learn more about Mr. Nilesh Gupta and the custom modular kitchens Home Affairs offers?
Home Affairs has the biggest collection of Quantra® slabs on display in the city.
Sign Up For Our Newsletter
Subscribe to our newsletter to stay updated with the latest News, Case Studies etc.
[mc4wp_form id="779"]