Want to Design an Eco-Friendly Kitchen? Here's How
May, 2022 | All,
Whether creating a sustainable home is a top priority, or you're concerned about designing a healthy kitchen for your family, we're here to help you create a more eco-friendly kitchen.
Designing a kitchen is no small feat. From big-picture things like layout and color palette to the finishing touches like cabinet hardware, there are endless decisions to make. If sustainability and eco-friendly kitchen design choices are important to you, everything can feel even more overwhelming.
So how can you design a more eco-friendly kitchen? Start with where — and how — you shop. Vintage, second-hand, and local are key to creating an eco-friendly kitchen. You'll also want to consider the materials you're bringing into your space — both how they're made and how they'll fare over time.
Still sound complicated? It doesn't have to be. Let's break it down even further with these 10 tips to designing a more environmentally-friendly kitchen.
1. Shop vintage
When you think of a kitchen renovation, you're probably focused on selecting new products and materials. And that's part of it for sure. But don't forget to shop vintage when you can.
Shopping vintage is a true win-win for eco-friendly kitchen design. Vintage pieces are typically well-crafted, so you know you're getting good quality. (After all, they've lasted this long!) Plus, vintage wooden pieces are typically made of solid wood and high-quality veneers, unlike many of today's budget pieces. You're also helping trees stay in the forest while keeping well-made pieces out of the landfill.
Vintage finds can add some soul and instant charm to your new kitchen — and are much more eco-friendly than buying new.
So if you're looking to upgrade your furnishings or kitchen decor, check out some vintage options before you click "add to cart" at the digital big-box store. Chances are, you'll find something truly special — and support a small, local business in the process. See — we told you it was a win-win!
2. Reface instead of replace
While some items will likely be replaced in a kitchen renovation, you don't always have to start from scratch. If your kitchen cabinets are in good shape but you don't love the style, consider refacing them. This can save thousands of dollars, giving you some room to splurge on your dream countertops or statement lighting.
Refacing existing cabinetry also keeps a lot of materials out of the landfill, making it a much more eco-friendly option than replacing them altogether.
Existing cabinets need a bit of a function upgrade, too? Add roll-out shelves and drawer organizers to make the most of every inch. You can take personalization even further with specialty inserts for stand mixers or small appliances.
You'll be surprised how much of a transformation you can achieve by giving your existing cabinets a facelift and a countertop upgrade. You'll be proud of your eco-friendly kitchen renovation, too.
3. Clean up your cleaning products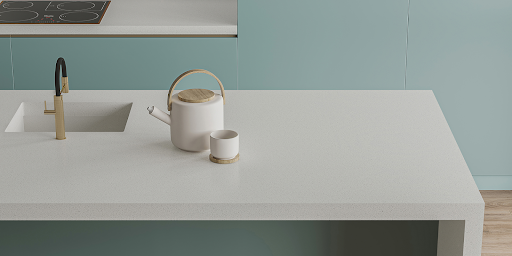 Eco-friendly quartz countertops are anti-microbial, so you don't have to use harsh chemicals to know your surfaces are safe.
Creating an eco-friendly kitchen isn't just about the initial design. In fact, our biggest environmental impact typically comes from our small, daily habits. And a big problem in a lot of kitchens? Cleaning products.
Many cleaners like bleach and other antibacterial products are much more powerful than we need — and actually contaminate indoor air. Most of the time, simple soap and water is the perfect solution to keep surfaces clean and healthy.
Still, you want to know your kitchen is clean and safe. The good news? Quartz countertops are antimicrobial — meaning bacteria and germs don't thrive on their surfaces (unlike other countertop materials).
Our promise: At Quantra, our quartz slabs prevent mildew and bacteria from growing, resulting in cleaner work surfaces. Every product — including our integrated quartz sinks — meet the sanitary standard NSF51 of the International Health and Safety Foundation, assuring that our product is safe in all food settings.
So you can use gentler cleaning products and still rest assured your kitchen is healthy and eco-friendly.
4. Use tech to save energy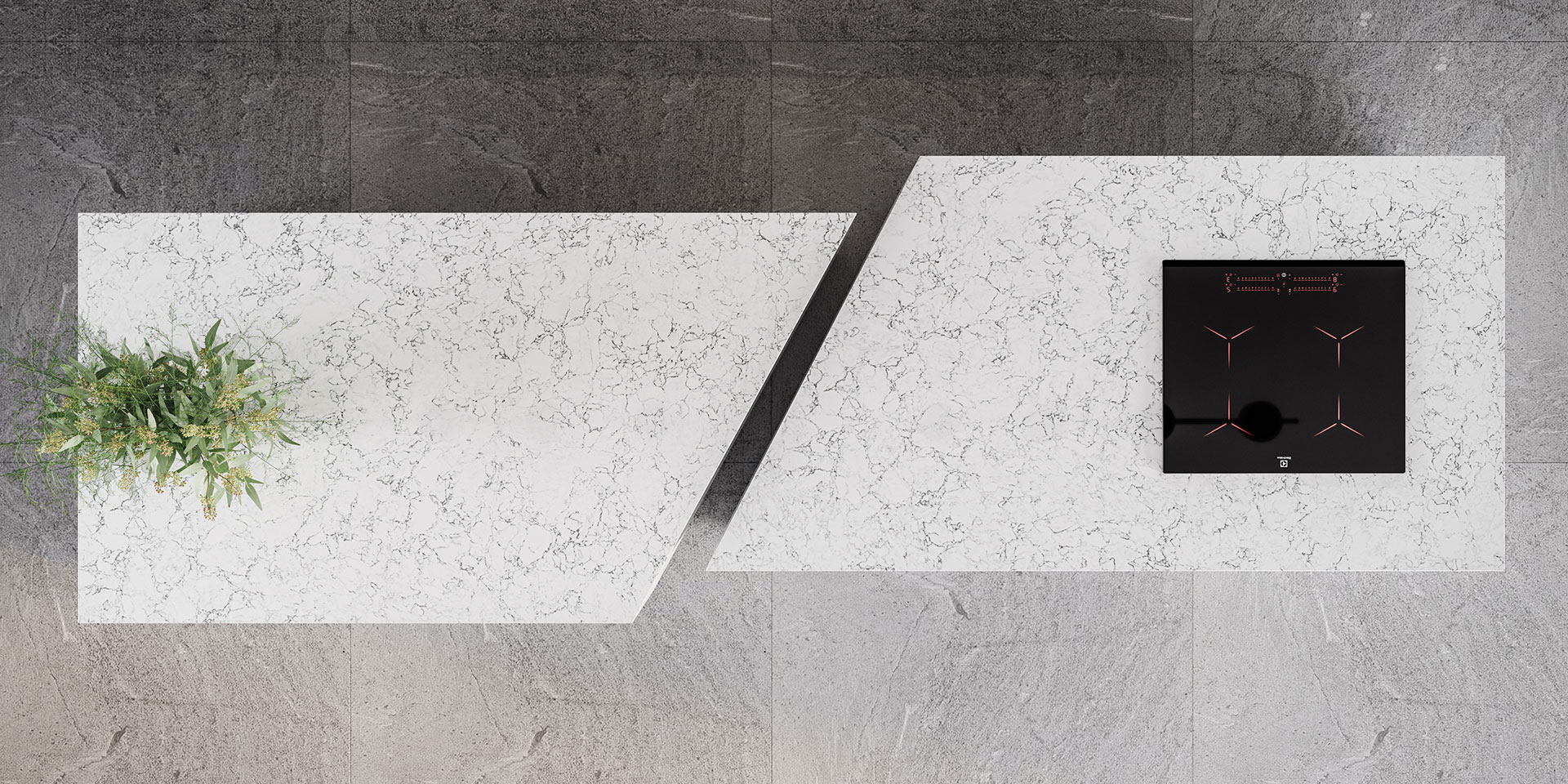 Looking for eco-friendly kitchen design options? Ask your appliance showroom representatives about energy-efficient appliances. You'd be surprised what a difference they can make.
Today's kitchen tech has come a long way. Energy efficient appliances can save both electricity and water, so ask your local showroom rep to show you what's possible.
For tea drinkers, consider a separate water tap for boiling water. This small upgrade can save a lot of energy — and time — each day instead of relying on your electric kettle to heat your water each time you need a cuppa. When it comes to designing an eco-friendly kitchen, every little step adds up.
5. Get thrifty
Check and see if your community has an architectural salvage or building resale shop. Oftentimes, you can score great deals on windows, doors, lighting, and more, simply because someone misordered or changed their mind mid-renovation.
At an architectural salvage, you can score vintage items like cast iron sinks, statement lighting, or gorgeous millwork that just needs a little TLC. Not only is the savings a major win, but you'll likely walk away with pieces you simply can't find anywhere else — and a more eco-friendly kitchen as a result.
6. Source FSC certified flooring and cabinetry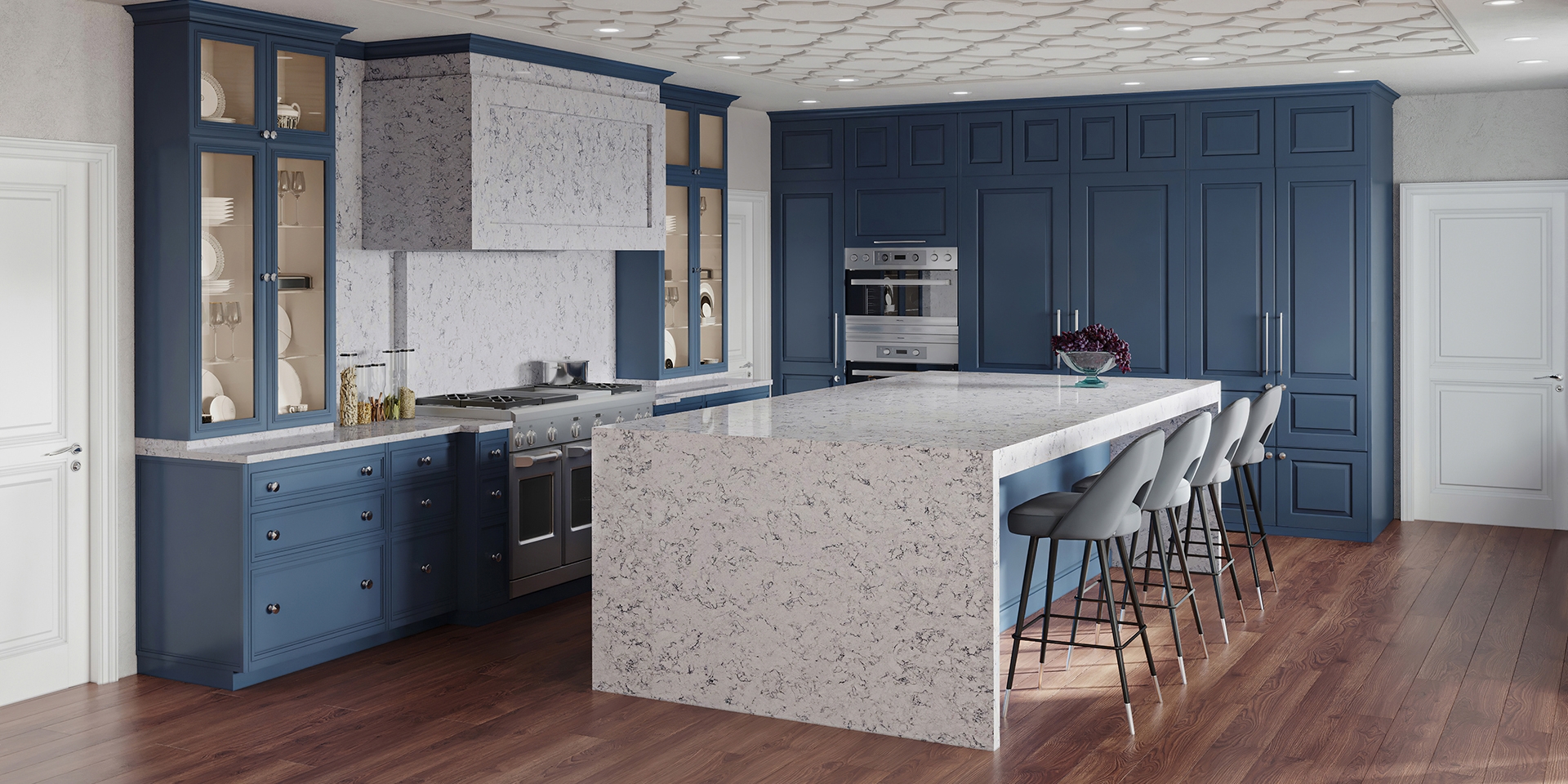 For a kitchen that's easy on the eyes and the environment, make sure all of your wood surfaces and cabinets are certified by the FSC.
If you're opting for hardwood floors or wood cabinetry in your kitchen renovation, ensure that the wood has been sourced responsibly.
The Forest Stewardship Council is a non-profit organization that ensures wood and paper products are sourced sustainably. This means forests are cared for and replanted, workers are treated fairly, and surrounding communities aren't harmed in the process.
If an eco-friendly kitchen renovation is important to you, FSC certified wood is a must.
7. Research manufacturing processes
Once you know your wood products are FSC certified, consider other kitchen materials, too — especially how they're made. Sustainable design isn't just about the way a product is harvested — it's also about the process involved, transportation and shipping required, disposal of waste, and the treatment of workers.
At Quantra quartz, we're committed to treating the planet — and our team members — with the utmost respect and care. Here are a few ways we ensure our products are as environmentally-friendly and sustainable as possible:
We prioritize efficiency in all of our manufacturing processes, including raw material management, energy conservation, water recycling, recycled packaging, and the efficient use of auxiliary materials.
100% of raw quartz is delivered in bulk, eliminating the need for additional packaging materials. We also use reusable ISO tanks to deliver 100% of the resin we need.
More than 80% of our raw materials, by weight, come from sources within a 75-kilometer radius around our facilities. This short distance ensures that the environmental impact of the transport to our factories is kept to a minimum.
Our facilities have invested in dedicated state-of-the-art water treatment plants. Currently, over 97% of the water used in industrial processes is treated and used in closed loop systems.
We ensure that emissions are kept well within legal limits. Styrene extraction systems are installed in the plants to collect styrene fumes from the products and surroundings. Dust collection equipment is installed across the plant to collect dust from the operating environment.
We are currently researching low-cost bricks for construction use — based entirely on the slurry generated in the manufacturing process — so we can minimize waste.
These are just a few of the commitments we make daily to our community and our planet. If the products you're considering for your kitchen upgrade don't share their manufacturing processes with pride, that might be a sign that they're not as committed to eco-friendly practices as they should be.
Bottom line: Don't be afraid to ask about sustainable practices before you buy. If the company can't give you straight answers, shop somewhere else.
Learn more about our eco-friendly practices here.
8. Pay attention to VOCs in your kitchen materials
VOCs (short for volatile organic compounds) have gained a lot of attention in recent years — and for good reason. These chemicals are found in many manufactured products — from furnishings to countertops — and some have been shown to cause cancers and other health complications. Not to mention, they pollute the environment at large, as well as inside your home.
The good news? Many companies are taking VOCs seriously — and are committed to creating low-to-no VOC products and materials. So creating an eco-friendly kitchen is possible — it just takes some know-how.
For example — laminate countertops use a variety of chemicals and adhesives that are typically high in VOCs. Quartz countertops, on the other hand, typically have lower VOCs, which is why eco-friendly kitchen designers often recommend Quartz countertops. This is especially true if you source from a company like Quantra, that's committed to sustainable,healthy manufacturing practices.
Our promise: At Quantra, our quartz surfaces have been independently certified as low-emitting by GREENGUARD GOLD Certification, a division of UL Environment (Underwriters Laboratories). Our products are also US Green Building Council certified.
From countertops to cabinets and flooring, VOC levels can vary a lot. So do your research and ensure your eco-friendly kitchen dreams aren't thwarted by VOC-filled materials.
9. Upgrade to energy-efficient lighting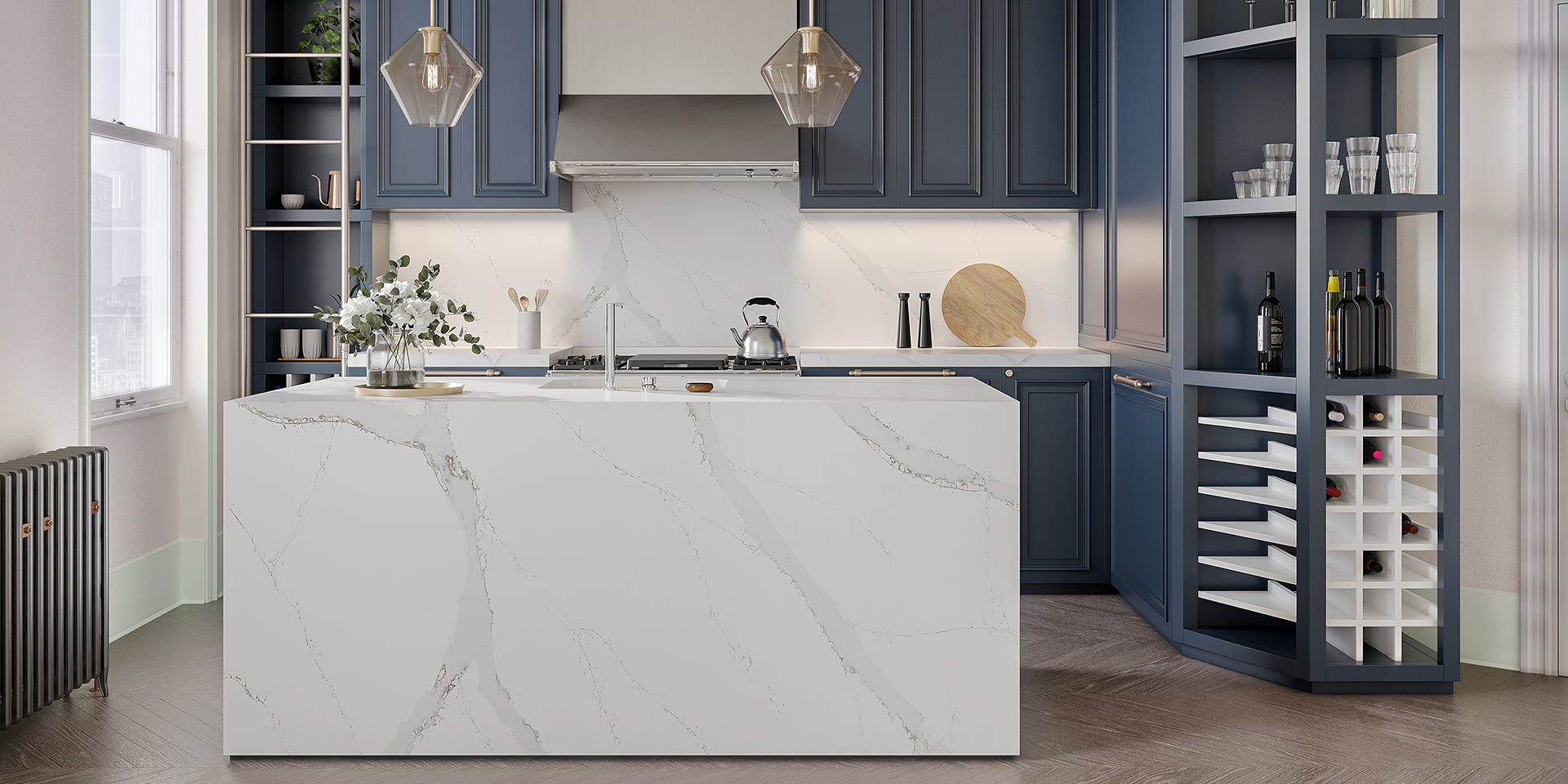 Today's tech means you can get much better lighting while saving a ton on your energy bills. A lighting upgrade is a relatively inexpensive eco-friendly kitchen upgrade that will improve your any space.
A kitchen renovation is a great time to update your lighting. Not only is it amazing what good lighting can do for a space, but today's LEDs save so much energy compared to their dated counterparts.
Consider putting lights on timers or dimmers, and break up lighting on separate switches so you only use exactly what you need.
10. Think long-term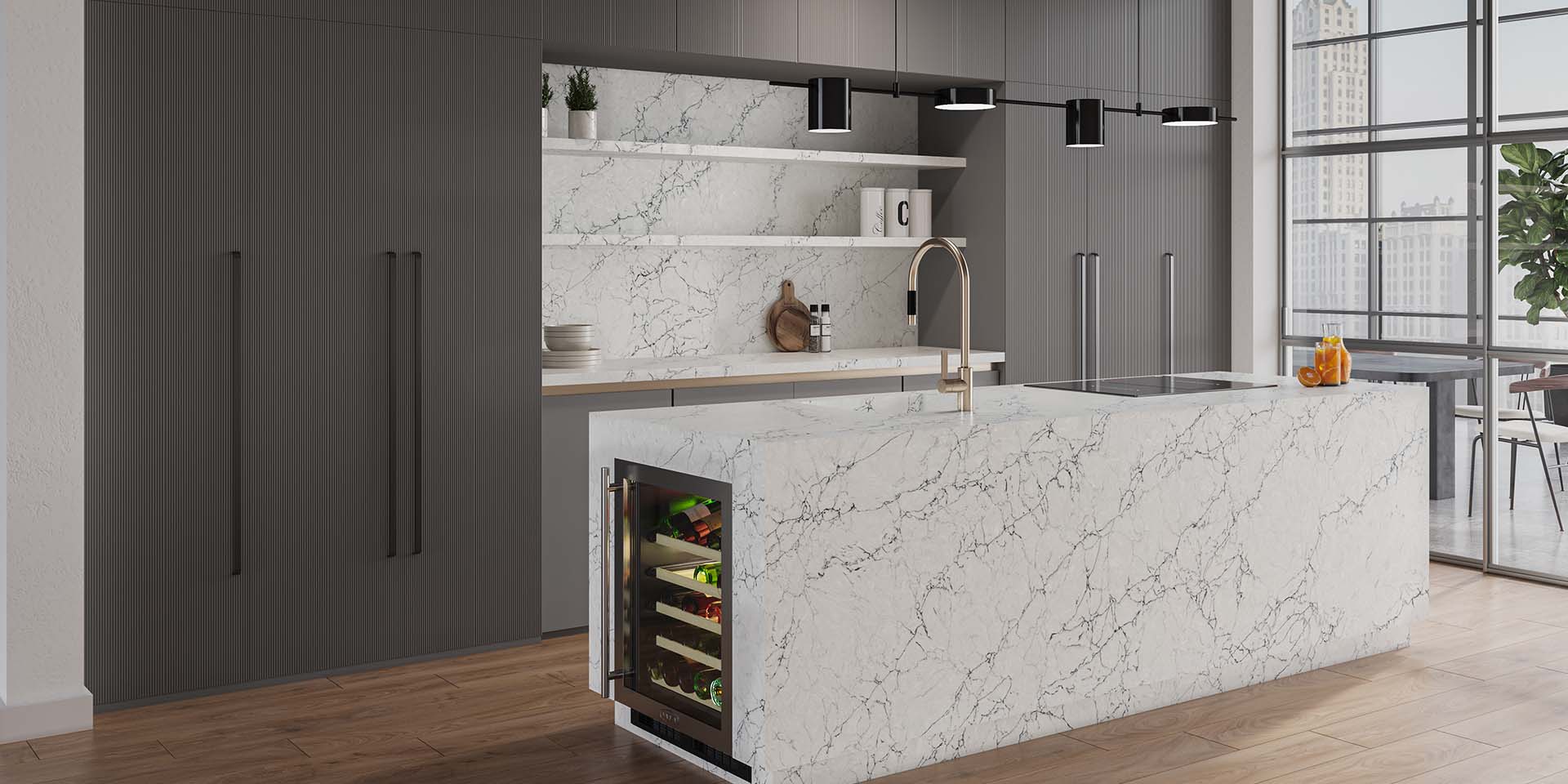 Marble-look quartz countertops are both eco-friendly and timeless.
One of the easiest ways to update your kitchen sustainably? Choose products that will stand the test of time.
Trendy kitchens feel good for a year or two, but they quickly feel dated. This means, they'll likely be remodeled sooner, contributing to the endless cycle of production and waste. Instead, choose materials that will stand the test of time — both visually and in durability.
At Quantra, not only do our quartz countertops mimic natural stone for a timeless appeal, but they're harder and more durable than wood, laminate, marble, and granite. Whether you opt for a timeless white Carrara, a rich Masaccio, or something in between, you're investing in countertops built to stand the test of time for an eco-friendly kitchen you'll love for years to come.
Looking to create the eco-friendly kitchen of your dreams? We can help.
Browse dozens of eco-friendly quartz slabs and get inspiration for your dream kitchen.
Sign Up For Our Newsletter
Subscribe to our newsletter to stay updated with the latest News, Case Studies etc.
[mc4wp_form id="779"]