6 Ultra-Durable grey Countertops for Your Kitchen and Bathroom
May, 2022 | All,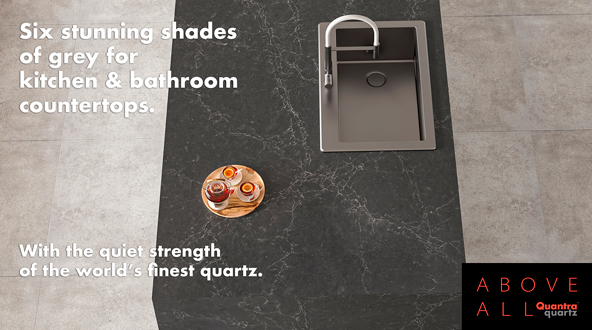 From industrial concrete to richly veined marble, soft speckled granite to deep charcoal grey, there are a lot of options out there. Choosing the right grey countertop for your home can quickly feel like an overwhelming task.
You want a timeless design that you'll love for years to come. And in hardworking rooms like kitchens and bathrooms, durability and stain-resistance is a must.
Are grey countertops a good choice for busy families?
Grey countertops are often better at hiding crumbs and daily messes than pure white or black counters, making them a great choice for busy families.
However, many grey countertop materials are prone to staining and scratching. And while grey stone and concrete countertops are all hard surfaces — and definitely more durable than laminate — they're not stain-proof.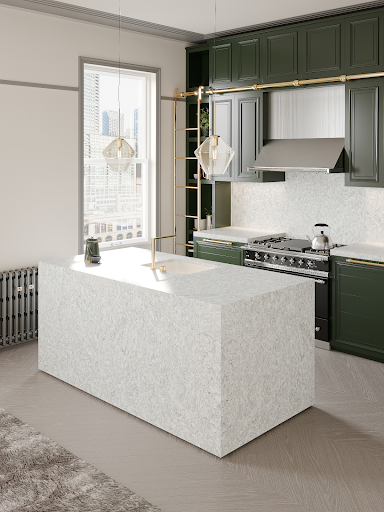 Light grey and white slab stone frames this modern island to perfectly pair with a more traditional style kitchen.
Let's take a look at a few common grey countertops to compare durability
Marble countertops:
Marble is beloved for its rich veining, and grey marble countertops are no exception. But many homeowners fear marble counters won't gracefully endure daily life.
Marble countertops are soft and porous compared to other countertop options out there. This means marble is prone to staining, scratches, and even chipping.
To help prevent stains, marble must be sealed at least 2x a year — and even then it's no guarantee.
Granite countertops:
Granite is another common grey countertop material. It typically has shorter veining patterns and more speckling than marble. Some granite slabs feature glittering specks that bring a bit of sparkle to the kitchen or bath.
Granite is harder and more durable than marble, but still requires regular sealing to keep it from staining and discoloration over time.
Concrete countertops:
Concrete countertops are wonderful for lovers of vintage farmhouse or industrial styles. They develop a patina overtime that marble and granite don't, and can be made in a range of shapes, styles, and colors.
Still, concrete is prone to cracking, and requires regular maintenance to help repel stains. If you prefer a pristine, stain-proof surface, concrete isn't a great countertop option.
What's the most durable grey countertop option for kitchens and bathrooms?
If you're looking for the leader in durability and scratch-resistance, quartz countertops are the way to go.
Quartz countertops are naturally:
Stain-resistant
Scratch-resistant
Antibacterial and antimicrobial
Heat-resistant
Chip-and-crack resistant
Uniform in appearance
Virtually maintenance-free
They don't require regular sealing or maintenance and they clean easily with water and mild soap. Quartz is a winner for anyone who wants ultra-durable, low-maintenance countertops for the kitchen and bathroom.
Quartz slabs expertly mimic other popular grey countertop materials, so you can get the style you want with the durability your busy family needs.
So now it's a question of finding the right countertop for your unique style.
Some good questions to ask yourself include:
Do you prefer a modern farmhouse look or an industrial edge?
Are you looking for something more traditional or modern in your kitchen or bath?
Do you love dramatic veining or prefer a more uniform appearance on your countertops?
The answers to these questions will help you narrow down your choices and choose a grey countertop you'll love for years.
Finding the right grey quartz countertops for your kitchen or bathroom
As you ask yourself the questions above, sites like Pinterest and Instagram are a great place to gather inspiration images featuring grey countertops. You can pay attention to consistent themes in your saves to see what continually captures your attention.
Then, once you've got a better understanding of your style preferences, you can decide which one feels best with your cabinetry, tile, and hardware.
Here are a few of our favorite grey countertops for every style
Whether you prefer a traditional kitchen, a modern bathroom, or something in between, we've got you covered.
1. Dark grey countertops for a modern kitchen or bathroom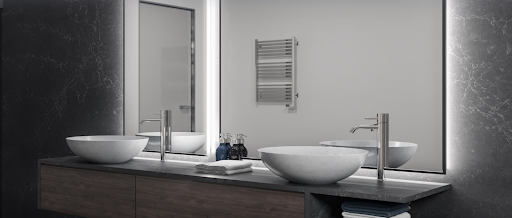 Deep charcoal grey countertops add richness and luxury to the countertop and walls of this modern primary bath.
Want to bring a bit of drama to your primary bathroom? Our Masaccio quartz gets the job done.
Inspired by the coveted Pietre grey marble, this quartz slab features a rich charcoal backdrop that perfectly captures the translucence of marble. Subtle white veining adds texture that perfectly complements white porcelain fixtures in your modern bath.
Want the same luxury charcoal countertops in the kitchen? Masaccio quartz brings the best of durability and beauty to your kitchen countertops. The perfect place for sipping wine and sharing charcuterie with your friends on a Friday night, you'll never have to stress about spills or scratches.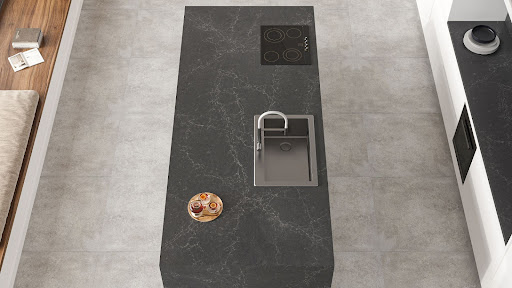 A modern white kitchen features a bold pop of luxurious charcoal on the waterfall island.
Enjoy the timeless beauty of your charcoal kitchen countertops, knowing this ultra-durable quartz will look equally beautiful for decades to come.
2. Light grey marble-look quartz countertops for your kitchen or bathroom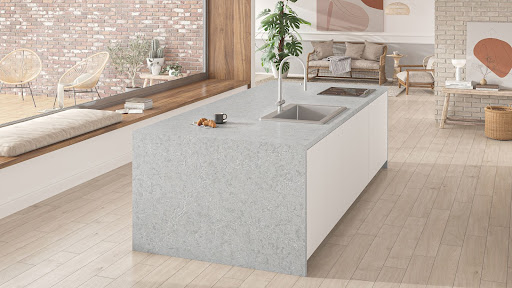 A soft grey background with light, swirling veins captures the best of grey marble in ultra-durable quartz kitchen counters.
Want the look of soft grey marble countertops — but need an ultra-durable surface for family life? Our Rogier quartz countertops let you have the best of both worlds.
Perfect in both traditional and modern spaces, this subtle swirl of white and grey veining pairs beautifully with any wood tone and brings richness to your kitchen or bathroom. Use this rich grey quartz slab for countertops, for a streamlined backsplash, or even on shower walls. No matter where you use it, you'll achieve a luxurious look that can withstand daily life.
3. A warm grey marble countertop that shines in traditional kitchens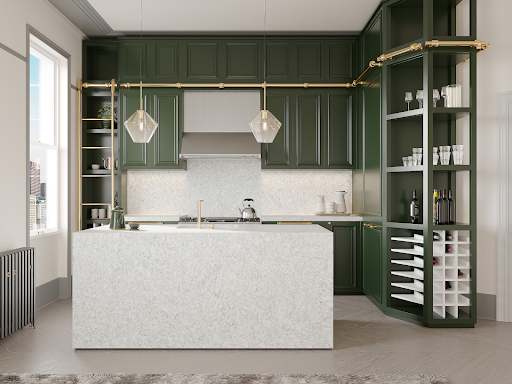 This warm, light grey quartz countertop perfectly complements the traditional olive green cabinetry for a timeless kitchen.
This warm grey marble-inspired quartz shines in traditional and modern spaces alike. Shown here as a seamless wrapped island, this stone is made to resist scratches, spills, and daily wear and tear.
The perfect neutral grey countertop for any kitchen and bathroom, we love the subtle veining of our Liquid Mercury quartz. Adds visual interest to your surfaces — from kitchen islands and countertops to your bathroom walls. It's equal parts luxurious and timeless, so you can update your decor and accent colors knowing your countertops will stand the test of time.
4. Dramatic veining on deep charcoal quartz countertops brings a touch of sophistication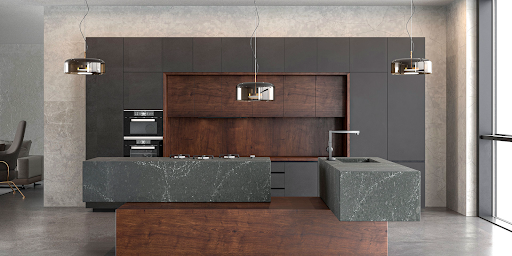 Long white veining in this rich charcoal quartz countertop adds a punch of drama to this loft-style kitchen
Talk about making a statement! The artistic long white veins of this kitchen island are a show stopper for sure.
Deep, dark grey Bellini quartz features dramatic white veins for an elegant island or backsplash. Want a truly seamless, low-maintenance kitchen or bath? Consider an integrated quartz sink to carry these statement-making lines through without interruption.
Shown here with rich dark wood tones, this charcoal quartz would be equally beautiful paired with light wood cabinetry or soft shades of green. From industrial to modern, or a traditional touch, this dark quartz slab brings a richness to your dream kitchen or bathroom.
5. Neutral grey stone countertops to pair with any palette and style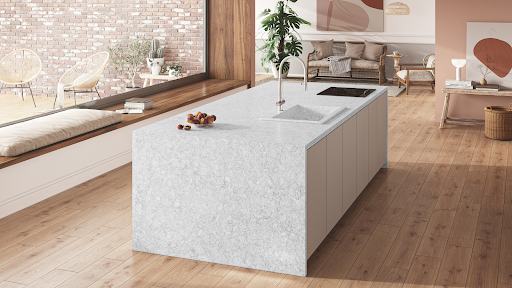 This neutral grey stone countertop pops beautifully against the wood floors and black accents.
Want a marble-look countertop that's not too dark, not too light, not too warm, not too cool? Alonso quartz might be your perfect choice.
With subtle veining that adds beautiful texture, this slab stone paris beautifully with black, white, a range of wood tones, and colored cabinetry alike.
Show it off with a slab backsplash behind open shelving, or let it shine on your bathroom walls behind a statement mirror. This marble-inspired medium grey quartz is timeless and durable, so you can invest once and love it for decades.
6. Concrete-inspired quartz countertops deliver minimalist style and maximum durability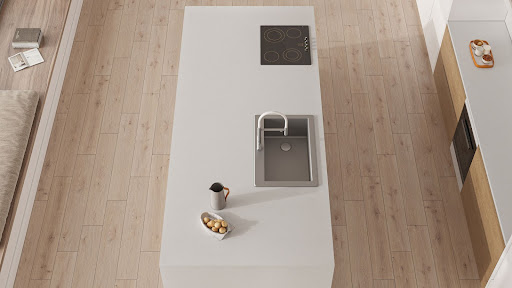 Our Concrete Tan quartz countertops provide a warm neutral backdrop for any kitchen style.
Love warm, minimalist design? Concrete Tan quartz might be your perfect countertop choice for the kitchen or bathroom.
Featuring a light concrete look with glass chips for a bit of sparkle, this quartz provides the perfect backdrop to highlight your own unique style. At home with rustic woods, beachy blues, or clean modern cabinetry, this quartz countertop complements any decor.
See a grey quartz you love?
The rooms above feature the following grey quartz countertops:
Click the above links to order samples and see them in your home.
Explore more popular grey stone countertops for your kitchen or bath
Want to see even more durable grey countertop options for your home? Explore some of our favorites to get the look of concrete, marble, or granite in ultra-durable quartz.
Sign Up For Our Newsletter
Subscribe to our newsletter to stay updated with the latest News, Case Studies etc.
[mc4wp_form id="779"]