An In-Depth Guide to Selecting the Right Kitchen Countertops
Aug, 2022 | All, Corporate,
Kitchen upgrades are often expensive and time consuming. So when you invest time and money into a renovation, you want to make sure you choose the right countertops and finishes.
With that in mind, we've compiled a list of top considerations to help you select the best counters for your kitchen and lifestyle.
To choose the right kitchen countertops, consider both form and function.
You might already have an idea for your kitchen countertops. Maybe you love moody black granite, pristine white marble, or something in between.
Countertops are a large surface in your kitchen, so you should certainly factor in aesthetics. However, don't stop there.
Most kitchen counters endure heavy use each day. And if you have children, or you love to cook and entertain, those countertops will also see even more spills and messes. Some countertops wipe down easily — others are prone to staining.
Ask yourself: "How important is durability in my kitchen countertops?"
Here's the truth:
When it comes to durability — all countertops aren't created equal.
For example, marble countertops are having a major moment in the design world right now. But any designer or kitchen expert will tell you: marble isn't the most durable kitchen countertop choice.
"Marble is a porous, high-maintenance surface," explain the design pros at House Beautiful. "[It's] vulnerable to staining agents (like wine, juice and oil) that seep deep into the rock. When this happens, it's difficult to reverse."
Even when sealed, marble countertops are prone to scratches, etching, and chips because they're softer than other natural stone countertops like granite. Their rich veining makes them a popular aesthetic choice — there's no denying their beauty. But for busy families, marble countertops are often impractical and don't hold up to the realities of family life.
Looking for a more durable alternative to marble countertops?
Consider quartz.
Beloved in the interior design world for its tough-as-nails reputation, quartz countertops offer the coveted natural look of stone countertops.
Did you know? Quartz is made from as much as 93% stone, retaining all the benefits of natural stone, without many of the downsides.
Here are a few of our favorite marble-look quartz countertops for a durable, family-friendly kitchen.
Want the dramatic veining of marble without the maintenance?
Calacatta Pietrasanta quartz countertops are an impressive reproduction of luxury marble. You'll enjoy the same pristine white backdrop and iconic grey veining, without the stress of high-maintenance marble.
These countertops pair beautifully with a range of cabinet colors and styles, from warm woods to moody grey or crisp white.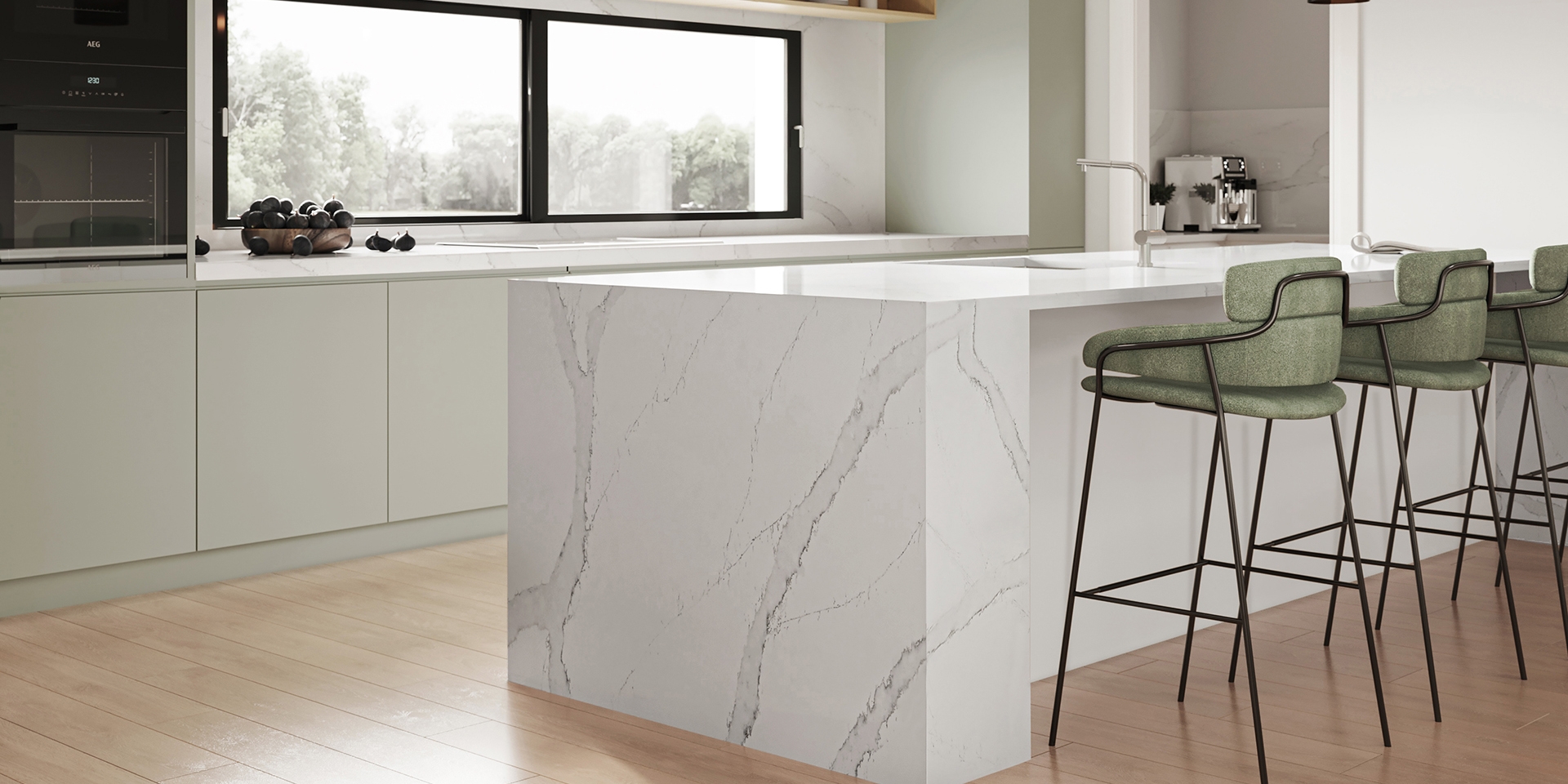 Get rich marble countertops without the stress. Our marble-inspired quartz counters bring warmth and richness with superior durability.
Another marble-inspired quartz countertop we love?
Our Himalaya quartz. Its subtle veining creates the perfect neutral backdrop that expertly captures the richness of slab marble.
This beautiful quartz feels like a 5-star resort — but you won't have to worry about a wine spill or messy dinner prep at your next party.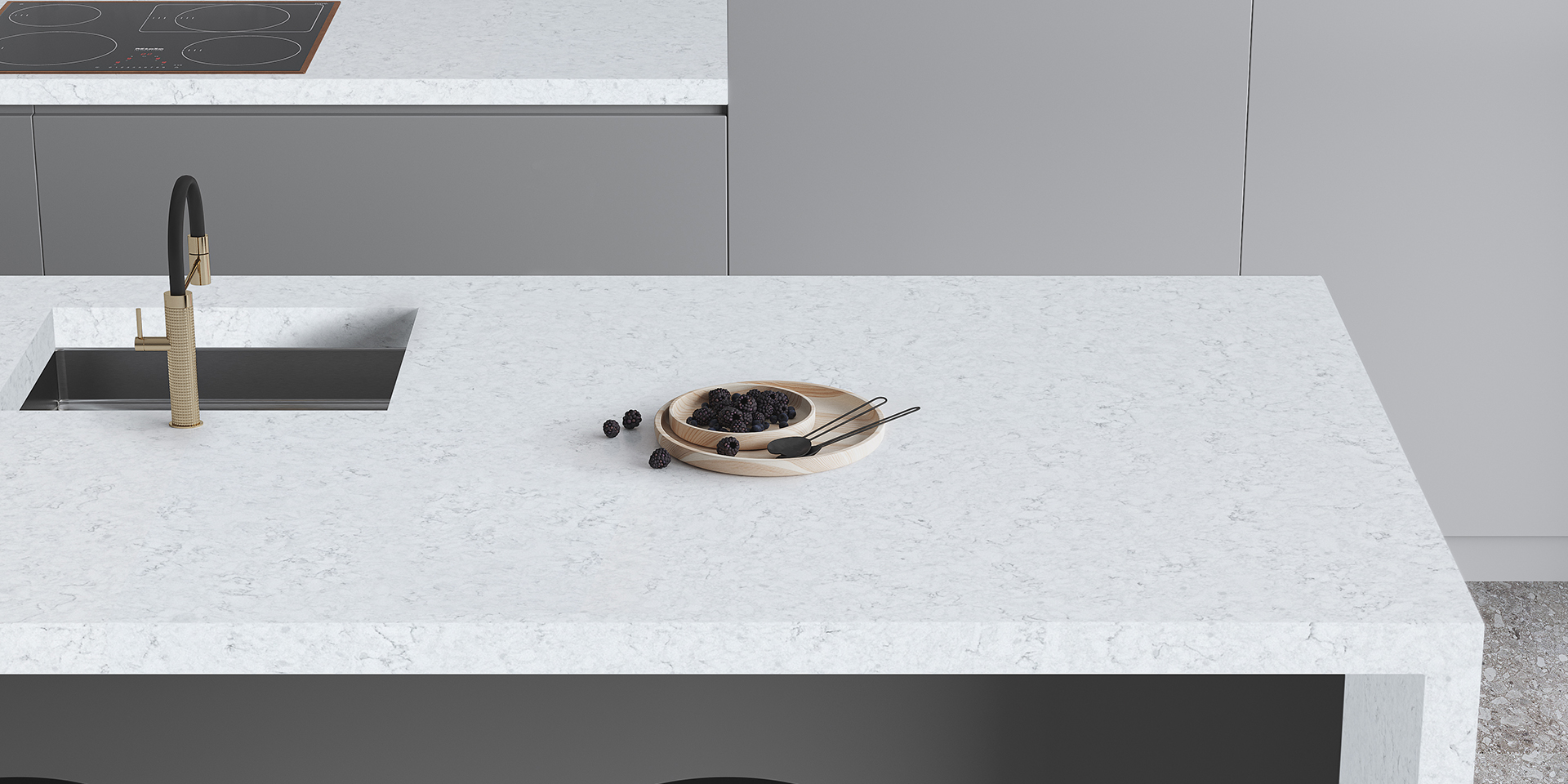 Our Himalaya quartz is the perfect timeless, durable kitchen countertop.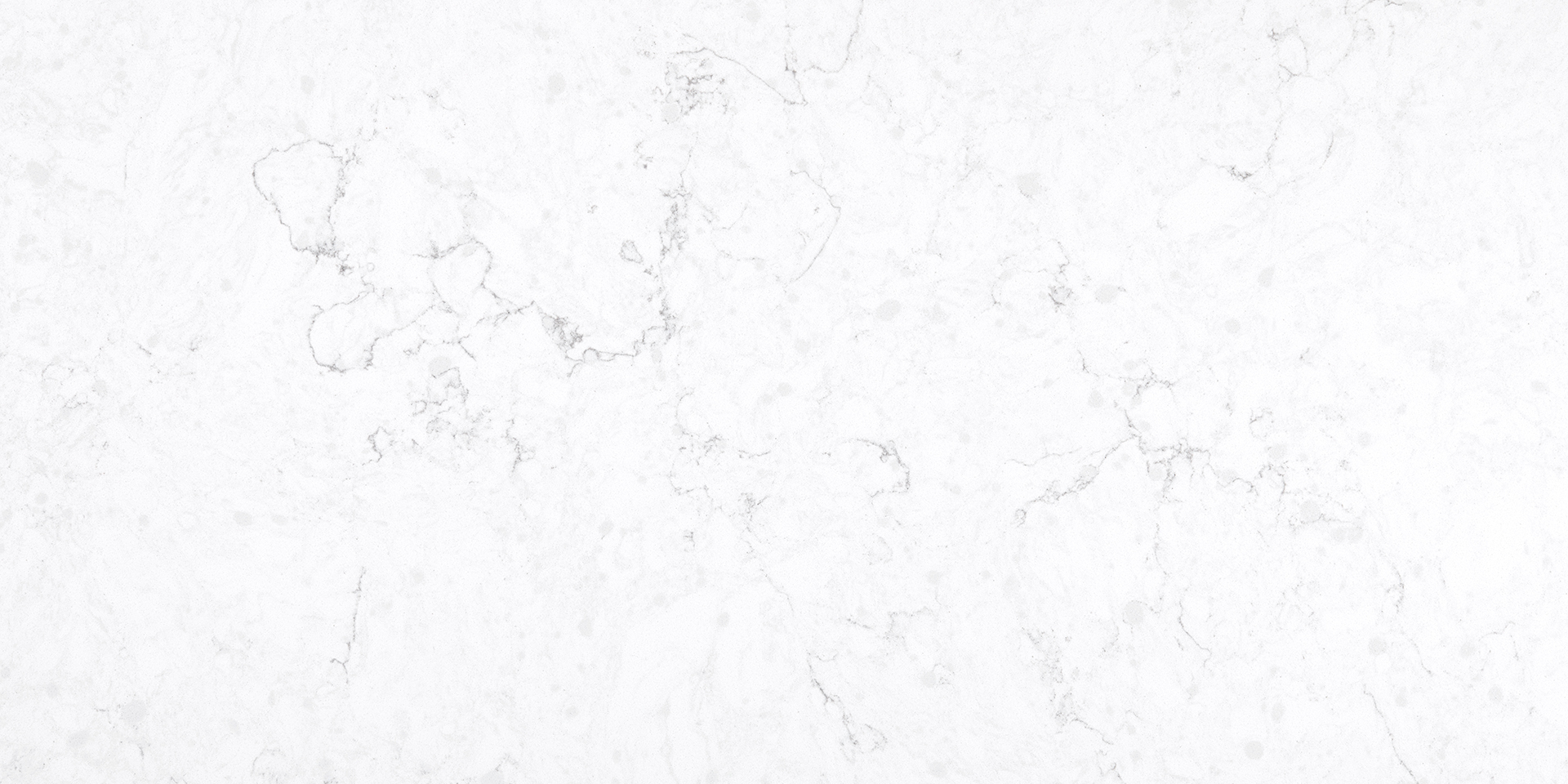 Close up of Himalaya quartz slab shows the subtle, organic veining that looks and feels just like marble.
These are a few of our favorite quartz countertops for marble-lovers out there. But quartz also comes in a wide range of colors, patterns, and styles. No matter which stone look you prefer, quartz can mimic the look and hold up better to daily wear and tear.
Top benefits of using quartz countertops in your kitchen instead of natural stone countertops
Like granite and marble, quartz countertops offer:
Anti-microbial properties to prevent the spread of bacteria
Sleek, natural look
A range of colors, veining styles, and finishes
Heat resistance
The above are true of marble, granite, and quartz countertops. But quartz has many other benefits, too.
In fact, industry pros consistently rate quartz above other countertops when it comes to durability and performance.
HouseLogic.com says, "The durability winner is quartz, the man-nature combo countertop. Crushed quartz stone is mixed with resin to produce countertops that range from solid colors to the look of real granite, but they'll beat natural stone in toughness."
So how tough is quartz? The experts at House Logic go on to say:
"Quartz is almost indestructible under normal kitchen prep conditions. It laughs at knife cuts, and, unless you take a sledgehammer to it, it won't chip or crack."
Not only is quartz more durable than marble and granite, it's also a great option for people looking for low-maintenance kitchen countertops.
Curious which kitchen countertops are easiest to maintain?
Again, the answer is quartz.
Most natural stone and concrete countertops need to be sealed a few times each year. But quartz is virtually maintenance-free. Simply wipe down spills with a damp cloth or sponge. For sticky messes, a mild dish soap will do the trick.
Its surface is naturally resistant to stains and bacteria growth — two big wins for keeping your kitchen pristine and your family healthy.
Want the look of stone with the maintenance-free durability of quartz? Here are a couple of gorgeous countertop options for your kitchen.
Our Nero Gold brings the drama of black stone in a maintenance-free quartz. Bring a pop of rich black to your countertops, or extend it up the backsplash for a true showstopper.
Dramatic gold veining in our Nero Gold quartz captures the look of dramatic black granite or marble, but in a durable, zero-maintenance countertop option.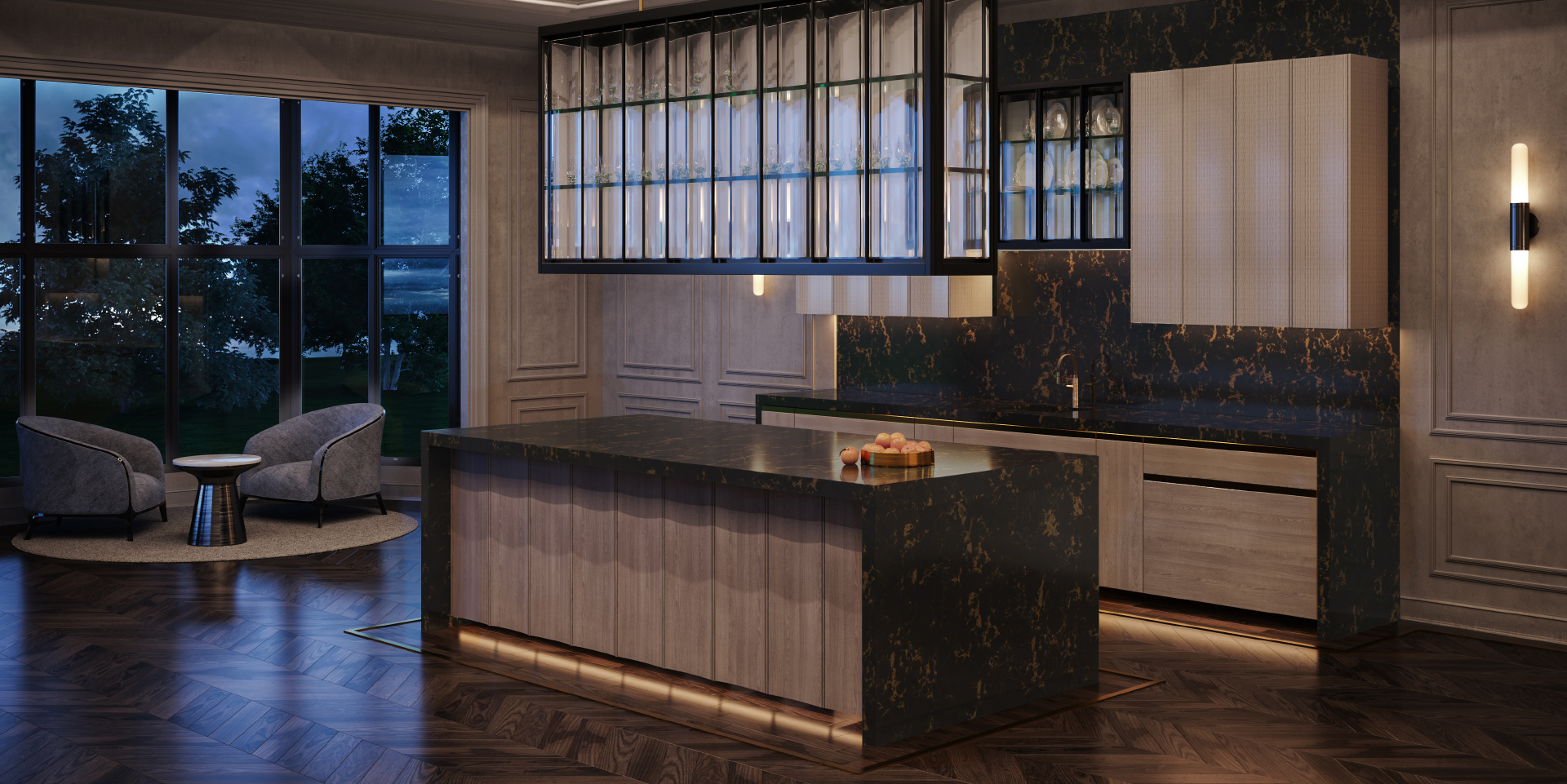 Get rich natural stone veining in a low-maintenance kitchen countertop
Ghiberti quartz delivers the show stopping rich veining of quartzite. Unlike quartzite countertops though, this one doesn't require annual maintenance or sealing. If you're looking for maintenance-free countertops that bring warmth and nature into your kitchen, this one might be your new favorite.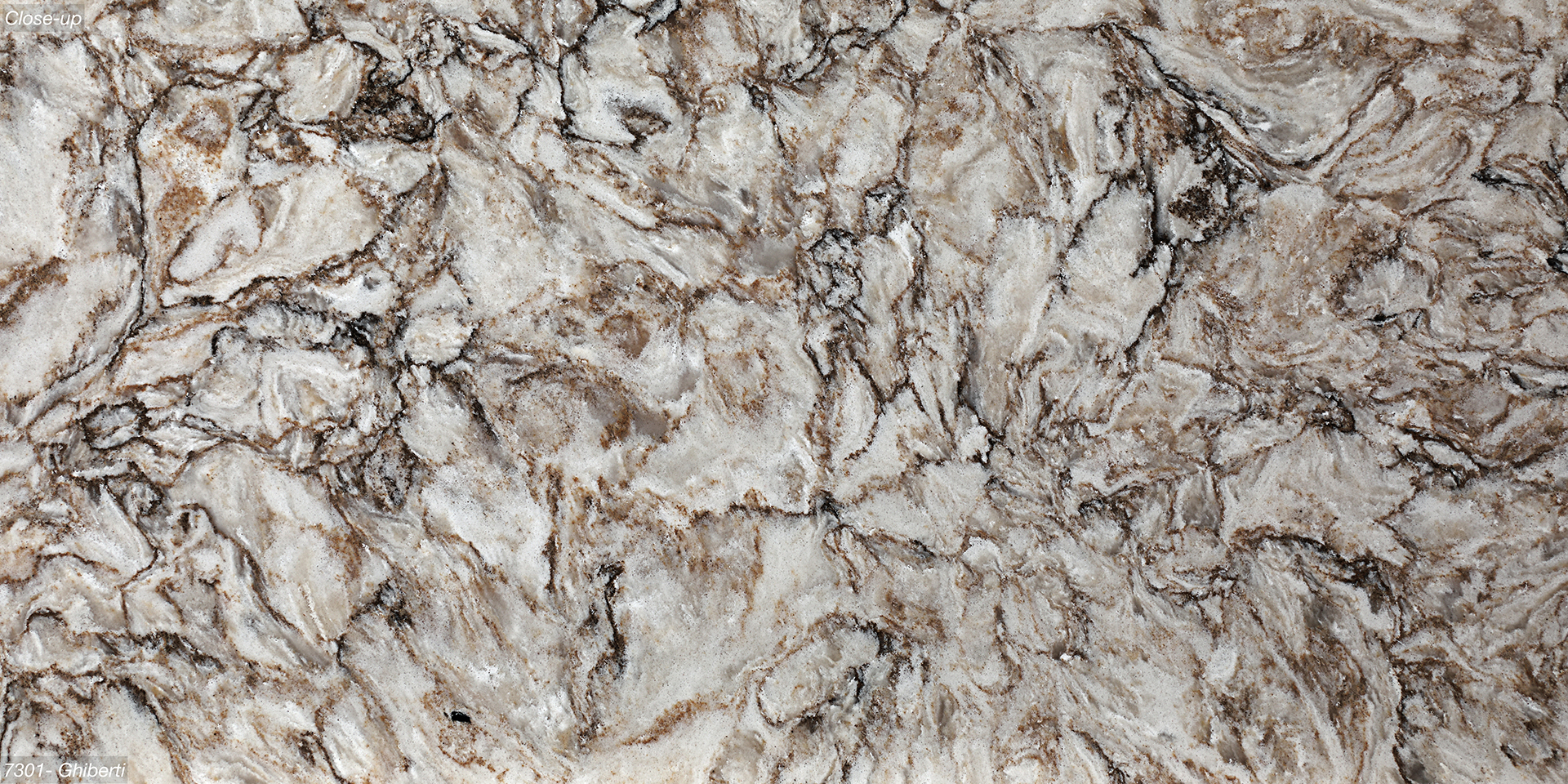 Close up: Perfect for more traditional or vintage-inspired kitchens, the Ghiberti quartz countertop brings brown and warm grey veining for a rich, earthy feel.
Because of the way it's made, quartz has other key properties that are often missing in other countertop materials.
Quartz counters are also:
Scratch-resistant — Quartz is harder than marble, making it less likely to scratch.
Chip-and-crack resistant — It's also less likely to crack or chip from impact.
Uniform in appearance — Unlike granite and marble, quartz countertops can offer a more consistent look from the perimeter countertops to the island and backsplash.
Easier to repair — In the unlikely event of damage, quartz's uniformity makes it much easier to fix than marble or granite, where color matching is difficult.
Available in a wide range of colors and looks — Quartz countertops provide a huge range of options, from granite-like pebbled appearance, rich marble-look veining, or pristine solid white. No matter the look you prefer, there's a quartz countertop option out there.
Virtually maintenance-free — Marble, granite, and concrete countertops all require sealing and special cleaning routines. Quartz never needs to be sealed. Any spills can simply be wiped up with a damp rag or sponge.
Comparable pricing to natural stone — While some granite countertops are cheaper than Quartz, many natural stones are considerably more expensive. On average, quartz countertops run similar in price to other stone countertops.
Backed by stellar warranties — Because quartz countertops are so durable, manufacturers are happy to back them up. In fact, here at Quantra, we offer a lifetime warranty. So in the unlikely event of damage, you're covered.
As you can see, quartz countertops deliver the benefits of natural stone countertops, plus added benefits you'll enjoy for years to come.
Looking for the best countertops for families?
Because quartz countertops are antimicrobial, stain resistant, low-maintenance, and incredibly durable, we think they're the perfect choice for busy families. They're created to withstand the realities of hectic family life — spills and all.
Here are a few more great countertop choices for families.
Our Concrete Grey quartz countertops bring the earthy feel of concrete, without the maintenance and inevitable staining. So in 10 years, you'll love these rich countertops as much as you did on day one.

Maintenance-free countertops that look like concrete? It's possible with our Concrete Grey quartz countertops.
Pairing beautifully with industrial, modern, minimalist, or bohemian kitchen styles, our concrete-inspired quartz is the perfect neutral backdrop to let your personal style shine.
Another grey quartz counter you'll love?
The Lorraine quartz slab brings a rich medium grey countertop with subtle veining you'll love. With the warmth and movement of rich marble, this grey quartz is perfect for countertops, backsplashes, even an integrated kitchen sink.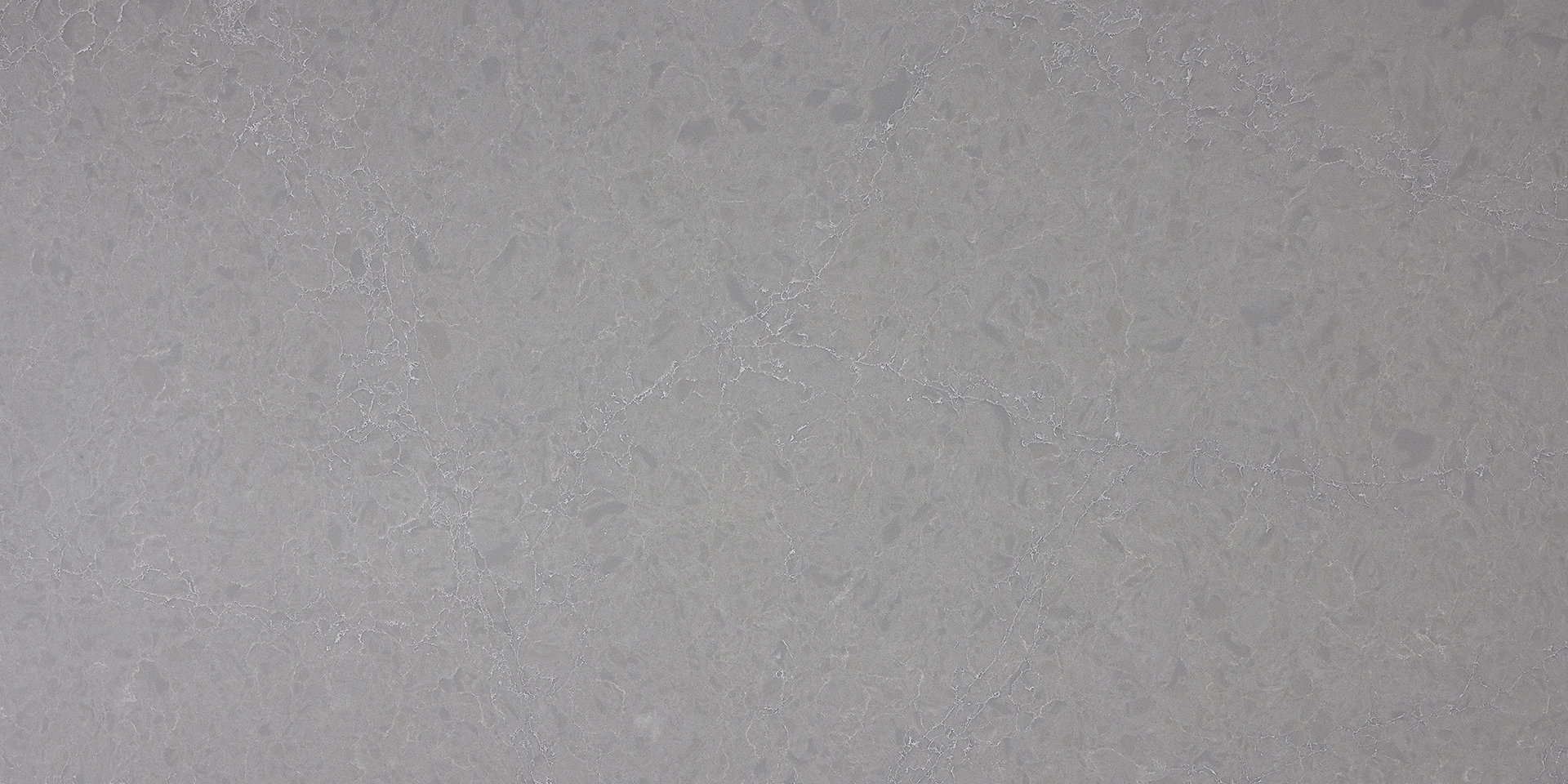 Close-up of the Lorraine quartz slab shows the shades and undertones of rich grey with an organic white veining.
Finally, our Classic Ivory quartz is the great countertop choice for any family kitchen.
A mix of white and ivory with a warm grey veining, this quartz slab brings the best features of both marble and granite. Get a neutral quartz countertop that pairs with any color palette and style.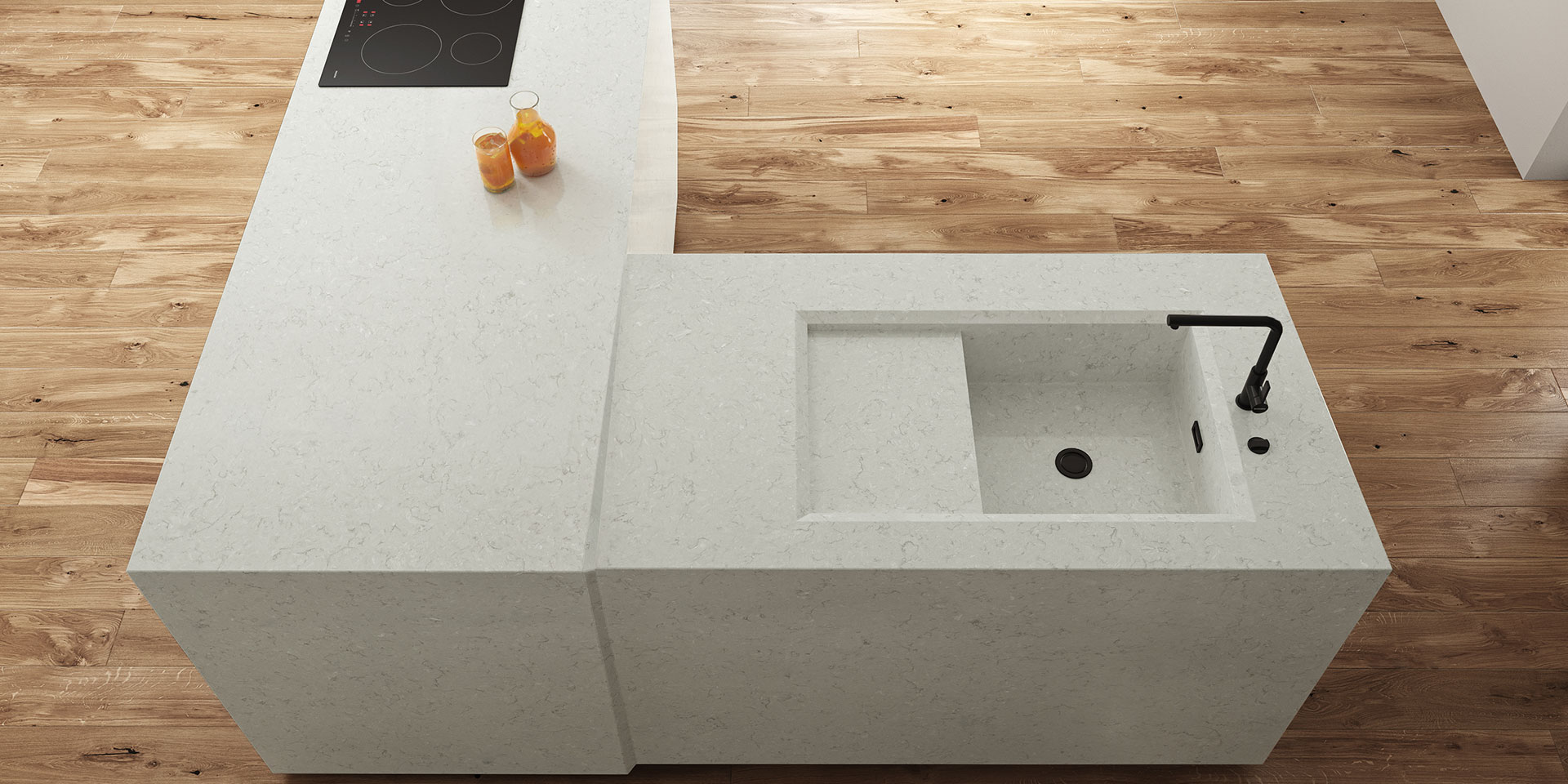 This light quartz countertop has a subtle veining for visual interest, with a timeless warm white look to pair with any style.
So what's the best material for kitchen countertops?
Well, that's a bit subjective. But if you're looking for a maintenance-free countertop that's highly durable, naturally antimicrobial, resistant to scratches and damage, and backed by a lifetime warranty, we recommend quartz countertops.
Available in a wide range of colors and styles, there's one for every aesthetic out there.
Plus, quartz countertops are comparable to many natural stone countertop options, making them an affordable choice, too.
Want to learn more about durable quartz countertops for your kitchen?
Explore more kitchen countertop options here. We can't wait to help you choose the right countertop for your dream kitchen.
Sign Up For Our Newsletter
Subscribe to our newsletter to stay updated with the latest News, Case Studies etc.
[mc4wp_form id="779"]