10 Stunning ways Quantra Quartz can transform your interiors
Jan, 2022 | All,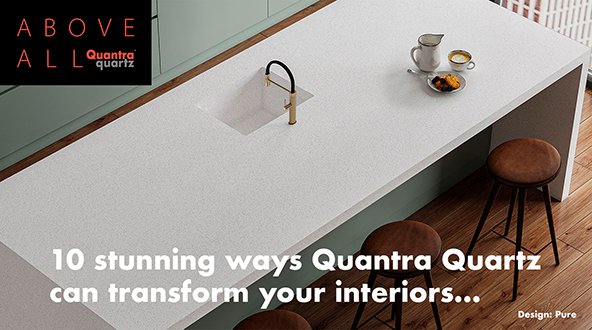 10 ways quantra quartz can elevate your interiors +trendy design ideas you can follow
As a versatile product, Quartz has been used in many imaginative ways since its introduction in the market. Designers have the freedom to design and reimagine spaces in the most creative manner. However, Quartz biggest flex lies in its ability to pack aesthetics and functions in a singular product. Available in a myriad of colors, patterns, and finishes, Quartz can be used as a countertop, internal wall cladding, and in a host of other vertical and horizontal applications in interior environments. Quantra also provides a complete solution of prefabricated quartz sinks, wash basins and shower trays that complement its eclectic range of quartz slabs. These solutions are exclusive to Quantra, produced using proprietary technology developed by Pokarna.
Infact, Quantra is the first Indian manufacturer to deploy Bretonstone technology. Along with its proprietary production process, Quantra manufactures the most stunning and toughest quartz surface in the world. Quantra has curated a comprehensive and sustainable range of products that are perfect for residential as well as commercial interior applications. Here are ten ways you can make the most of the Quantra Quartz beauty and functionality in your space.
Durable countertops
The mark of a good Calacatta design is its rich white body, featuring prominent yet fluid veins that lyrically stream through the surface. And if you look closely, you will be treated to rich details in those outlines, mimicking natural mineral deposits in all their absolute brilliance. What was once an exclusive marble found only in the Apuan Mountains in Carrara, Italy, can be yours to experience thanks to the pioneering technology employed by Quantra Quartz. Plus, you get the advantage of a more durable and lasting material that ensures your Calacatta adorned surfaces stand the test of time.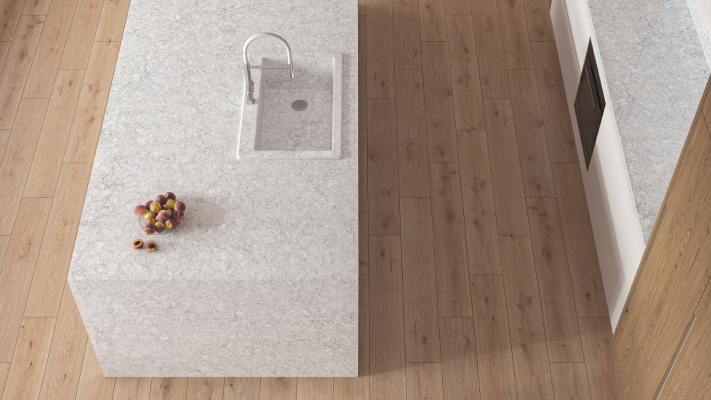 Over the years, quartz has effectively replaced granite as kitchen countertop. It is far more resistant to stains and prevents liquids from seeping into the surface. In porous materials such as granite and marble, liquids can seep through and stain the surface permanently. Quartz countertop also doesn't need any sealing and can still effectively prevent growth of molds, viruses, and bacteria, resulting in a hygienic surface.

Design tip: If you are aiming for a Scandinavian or minimalist kitchen, create a seamless look by using one type of quartz (such as Alonso, Capri or Arctic Breeze) for both the countertop and the backsplash/wall cladding. It will result in a unified, monolithic space that you can contrast with other Scandinavian elements such as light-toned wooden kitchen accessories, panels or furniture.
Statement wall cladding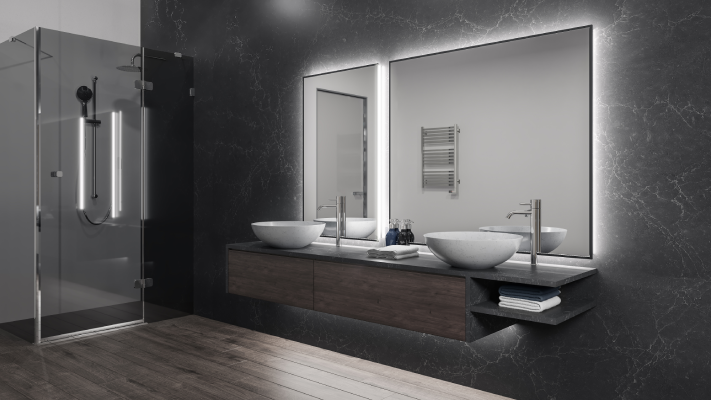 Not only is quartz perfect as an attractive cladding solution, it is also an excellent surface protectant. The non-porous material does not absorb moisture, and it also won't chip or peel like wall paint. In terms of designs, the possibilities are limitless. Quantra's selection is available in the slim 20mm profile that is perfect for wall installations. From pooja rooms, foyers, living rooms, to office lobbies, Quartz wall cladding can add a touch of luxury and grandeur to just about every space.
Design tip: For foyers or statement walls in the living room, create a geometric wall cladding with a single quartz style such as Masaccio. You can also mix two distinct quartz styles or colors for a bolder aesthetic.
Resilient flooring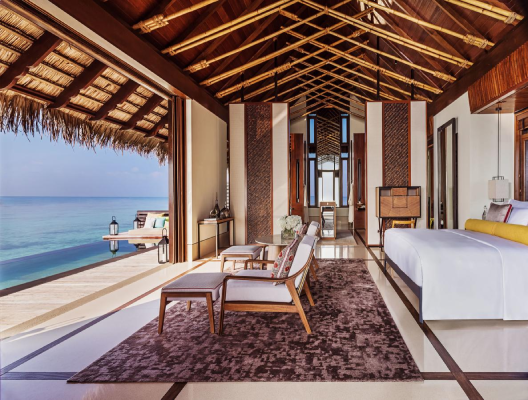 Perfect for both commercial and residential spaces, Quartz flooring is known to withstand heavy foot traffic. Quantra offers large slabs in Super Jumbo and Jumbo sizes that makes homogeneous flooring possible with practically invisible joints. The engineered stone also tolerates humidity exceptionally well, making it a good fit for balconies, patios and bathroom floors as well. Available in contemporary as well as classic granite and marble styles, Quartz flooring doesn't require sealing, buffing or reconditioning.
Design tip: Quartz is the ideal solution for hospitality projects. Picture an ocean facing villa in a resort that has an unobstructed view of the outdoors. In this space, Quantra Quartz flooring from the Calacatta series will perfectly reflect the clear blue skies and bring its calming vibe indoors.
Versatile sinks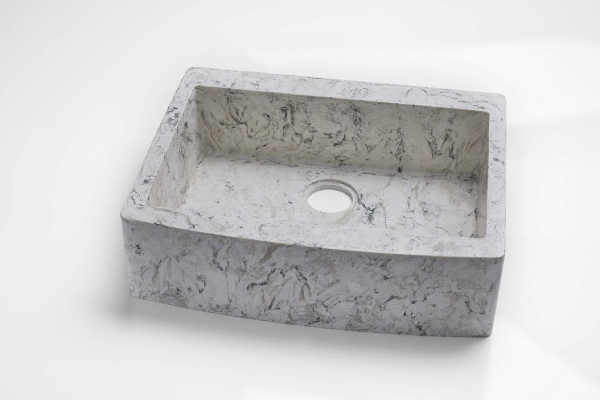 Choose a Quantra Quartz sink over composite, fake quartz (that is full of resin), or stainless steel sinks. Trust us, it can make a world of difference in your kitchen. Besides the organic appearance that can be easily coordinated with the countertop, Quantra Quartz sinks also have a soundproofing quality and aren't as noisy as other sinks. The seamless finish of the material also prevents the build up of dirt and germs on the surface. They are also perfect for open kitchens where every detail – including the sink – needs to make a style statement.
Design tip: Natural, earthy designs are in vogue this season. Consider integrating the Quantra Lugano sink with the countertop for an elegant, flawless kitchen design. Match the apron of the counter with the top and you will have a functioning work of art in the space.
Contemporary wash basins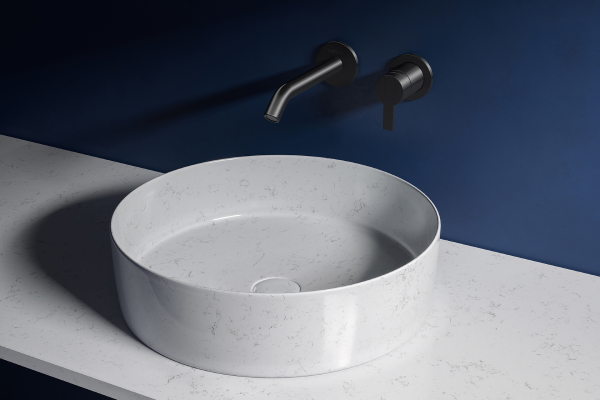 Prefabricated quartz wash basins are becoming the default choice for bathrooms. It offers both aesthetics and functionality, with an emphasis on the hygiene factor. The non-porous surface is odor-resistant and prevents dirt from accumulating on its smooth finish. The Quantra range of wash basins are also designed to fit every imaginable design trend. Whether it's a contemporary bathroom with a neutral palette or a bohemian design with bold elements, the eclectic collection of washbasin merges with each style harmoniously.
Design tip: For a vernacular meets contemporary bathroom, opt for a spherical wash basin such as Colico, Domaso, Lenno or Bardolino, with a quartz countertop resembling natural stone and contrast it with a brass faucet. You can accessorize this ensemble with indoor plants, towels with traditional prints, patterned or bright coloured wall cladding.
Sleek shower trays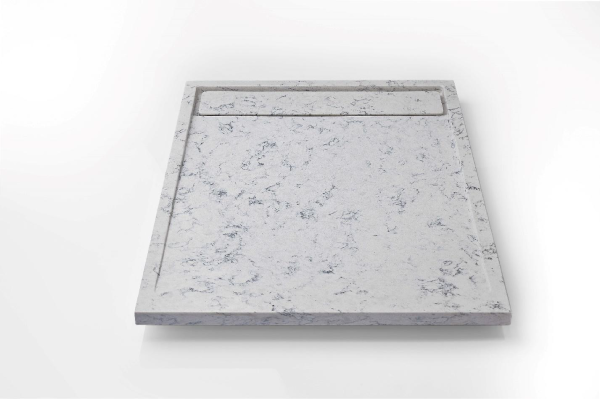 A sophisticated way to separate wet and dry areas, shower trays can be easily integrated with the bathroom flooring. The Quantra range of shower trays is available in varied shapes, including space-saving corner solutions. Unlike porcelain or natural stone, these low maintenance shower trays always look brand new. Soap suds and debris don't accumulate on its smooth, anti-slip surface. It's the most hygienic solution for shower areas because the solid structure is impervious to water and prevents growth of bacteria, germs, molds, etc.
Design tip: Pair a rectangular shower tray such as Hvar or Valeta with a black framed glass shower enclosure for an uber chic, industrial look. You can also offset the tray with a rectangular wall niche to store bath products and accessories for a neat, symmetrical look.
Ritzy elevator cladding
Elevators can get that sophisticated, high-end touch with Quantra Quartz in the form of jambs or as wall cladding. Given it is a high traffic space, elevators can benefit from a durable quartz cladding that will not lose its lustre. You will never have to worry about scuff marks and dents around the elevator. Its natural look complements the high-tech metal panels of the elevators perfectly. Quantra Quartz is a great way to capture your brand identity in both the elevator and the lobby.
Design tip: Neutral palettes are preferred in an elevator lobby, but the space can be elevated by choosing a Quantra Quartz that has a distinct pattern such as Ios or Concrete Gray. It will add more character to the lobby and elevator, while ensuring the color scheme is subtle and professional.
Radiant backlit quartz
Quartz is an excellent, all-round furniture solution, and the backlight feature makes it even more desirable. Highlight an island kitchen, the reception in the lobby, the bathroom vanity, or create a stunning executive cabin furniture or backlit panels for walk-in wardrobes, the designs will be more captivating. The gentle illumination puts a spotlight on the intricacy and beauty of Quantra Quartz. It is also a great way to reduce harsh lighting in a space and replace it with an ethereal, indirect illumination.
Design tip: Style the island kitchen counter or the bar counter with a backlit Quantra Quartz apron in white, adding function and aesthetics to an otherwise plain surface in the counter. Choose a quartz with delicate veins such as Amalfi for a calm vibe in the living space.
Impressive furniture tops
There is a good reason why stone tops have been a classic solution for furniture such as credenzas, coffee and dining tables. Now imagine getting the same exquisite look with a custom cut Quartz, which is lighter and, yet, more robust than natural stone. You don't have to worry about glass rims staining your furniture or spilled wine ruining the marble top – it will all easily wipe off if it's a Quantra Quartz top. It is the perfect solution for furniture in residential spaces, hospitality projects such as restaurants and cafes, and in commercial spaces such as boardrooms and cabins.
Design tip: Repurpose and upcycle your existing furniture with a Quantra Quartz top using Cerata or Monteguidi. It will pair well with both wood or metal details of the furniture. It's a sustainable design solution where the furniture gets a new lease of life.
Grand fireplace cladding
Fireplaces are a central feature in most living rooms; the perfect spot for holiday decorations and family pictures too! It needs to stand out, whether it is through a traditional design or a sleek modern aesthetic. Quantra Quartz makes for a stunning cladding solution for fireplaces, defining the aesthetics of the space just the way you want to. Opt for the classic marble design or a more avant garde contemporary stone style, both options result in an easy to maintain fireplace.
Design tip: Vertical veins are perfect for fireplaces to complement the height and grand nature of the living space. For the perfect match, pick a quartz with a warm palette such as Calacatta Tuscany, which features a warm white base and hints of taupe along its veins.
Want more design inspirations? Check out our featured projects to learn more about the versatility and quality craftsmanship of Quantra Quartz.
Sign Up For Our Newsletter
Subscribe to our newsletter to stay updated with the latest News, Case Studies etc.
[mc4wp_form id="779"]