The perfect fusion of bold and elegance: Quantra's Calacatta Series
Jan, 2022 | All,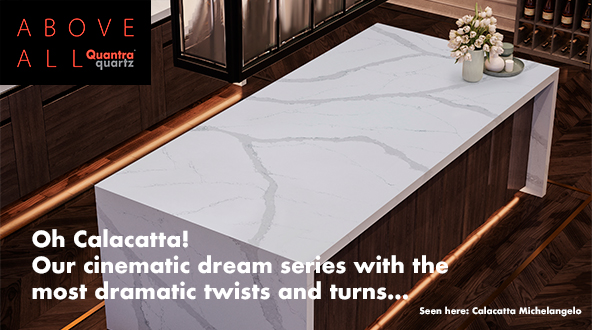 Industry's most extensive calacatta series is here – Thanks to quantra quartz
When it comes to timeless designs, Calacatta will always reign supreme. If you are on the lookout for that classic, vogue-on-point look and feel, the new and improved selection of Calacatta by Quantra Quartz is the perfect match for you. Quantra has transformed the everpopular design that is known for its radiant white quality, and curated an unparalleled, durable quartz range for Calacatta connoisseurs. As the most sought-after material, Calacatta is known for its signature appearance and the new selection presents the enigmatic design in 11 unique styles.
Know your calacatta
The mark of a good Calacatta design is its rich white body, featuring prominent yet fluid veins that lyrically stream through the surface. And if you look closely, you will be treated to rich details in those outlines, mimicking natural mineral deposits in all their absolute brilliance. What was once an exclusive marble found only in the Apuan Mountains in Carrara, Italy, can be yours to experience thanks to the pioneering technology employed by Quantra Quartz. Plus, you get the advantage of a more durable and lasting material that ensures your Calacatta adorned surfaces stand the test of time.
The quartz advantage
Because of its inherent non-porous nature, Calacatta by Quantra Quartz is resilient and durable. It has an unique ability to withstand damage unlike traditional marble, which is porous and susceptible to irreversible scarring. It is also incredibly easier to maintain and clean, while marble demands specialized maintenance and care. As an engineered product, you can enjoy Calacatta in its most seamless form, making large format applications possible. It simultaneously eliminates undesirable surprises in vein patterns that otherwise occur in natural marble.
Additionally, the flawless quartz surface is stain-resistant and doesn't react as poorly to acids(such as citrus juices, vinegars, tomato juice, etc) as well as regular cleaning products. Marble on the other hand doesn't tolerate acidic liquids and most cleaning products. With the Quantra Quartz advantage, Calacatta can still work beautifully for kitchens, living rooms, bathrooms, and as wall and floor cladding in heavy traffic areas – without needing laborintensive, expensive cleaning and maintenance.
When it comes to the Calacatta selection by Quantra, each product boasts of these robust features. However, they also exhibit individual characteristics and intriguing design traits.
Calacatta Michelangelo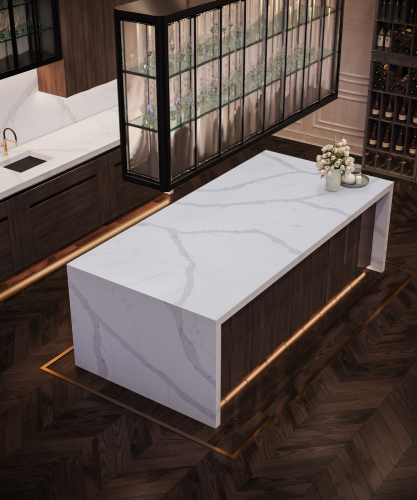 Making a bold statement is ipso facto with Calacatta Michelangelo. It is the ideal choice for spaces that need the unapologetic, extravagant touch. The pronounced gray veins with its subtle blue undertones have a way of capturing your attention. Be it as a wall cladding or countertop, the surface exudes charm with its rare, organic appearance. It is truly a fitting tribute to the artist Michelangelo who always found Calacatta to have a divine, creative quality to it.
Calacatta Pietrasanta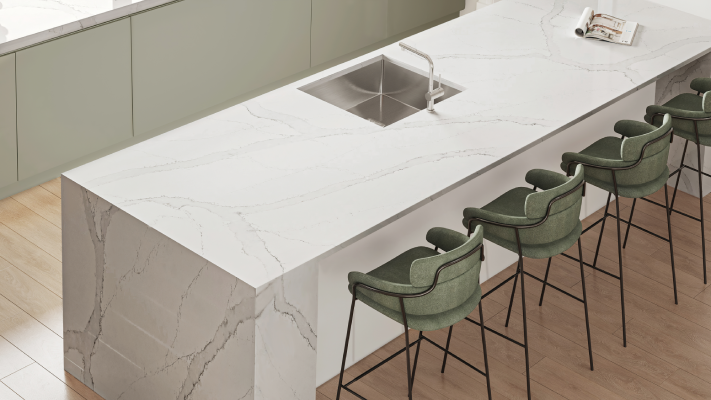 The perfect fusion of bold and understated elegance, Pietrasanta alternates between strong and delicate veins almost in a poetic fashion. The patterns are comparatively more saturated and have a unique character of their own. Interestingly, when light reflects from the surface, the veins get distinguished and softer at the same time. Pietrasanta is all about harmony, a play of opposing styles that seamlessly merge with each other.
Calacatta Capri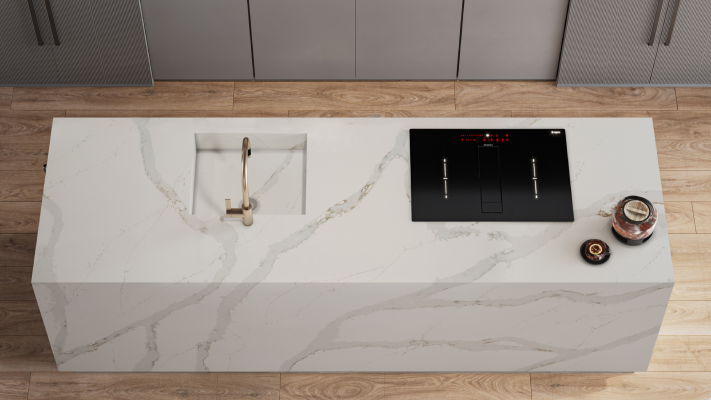 Contrasting the bright white body, Calacatta Capri unabashedly stands out for its grandeur, most visible in its apparent gold tones. The glamor quotient on display is undisputed. When accessorized with brass or bronze elements, Capri has all the traits needed for ultraluxurious, high-end interiors. It's for spaces that want to be noticed, and desire an inviting, gracious appeal in its ambience.
Calacatta Superwhite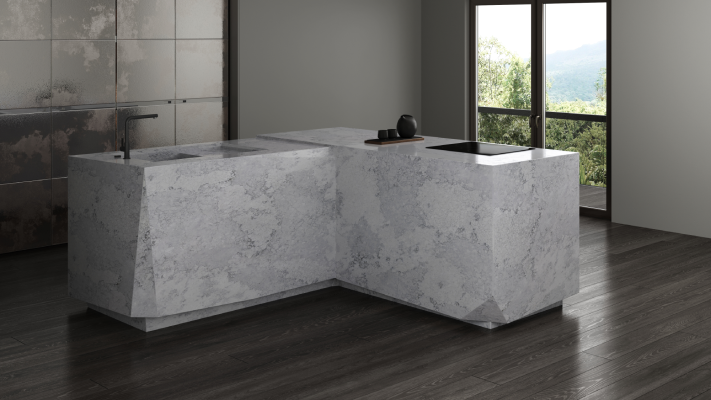 Both substance and style come together in Calacatta Superwhite. It closely resembles natural stone owing to its rich white base and the fractures of light gray and dark gray veins. Superwhite pairs beautifully with sleek inbuilt appliances, and will appear as a monolithic masterpiece when the top, apron and sink are all crafted with it. As a complete furniture solution, Superwhite is perfect for maximalist designs that need the classic Calacatta touch.
Calacatta Amalfi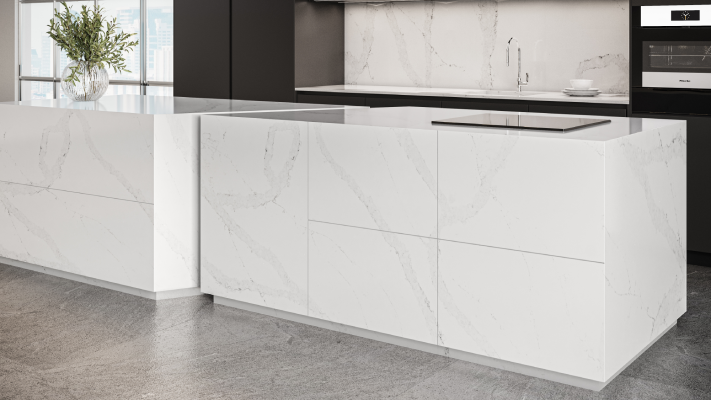 For designs in cool palettes, Amalfi is an excellent choice. The stark white base of Calacatta Amalfi features prominent veins with gray and mild taupe undertones along the borders. Since the contrast between the base and the veins is subtle, the quartz has a pristine white allure. Pencil thin veins complement the more pronounced veins that are comparatively thinner than other Calacatta designs, and extend both horizontally as well as vertically across the surface.
Calacatta Monteguidi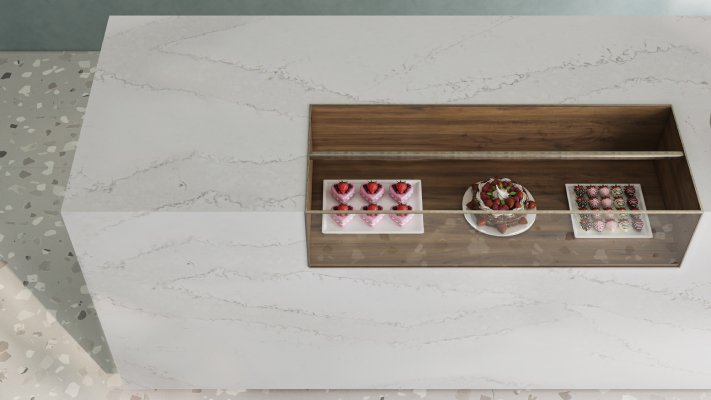 Pair it with natural wood and Calacatta Monteguidi is bound to make a style statement. The warm palette of the quartz has an organic appeal. It features broad taupe veins with gray pencil silhouettes that stand out over its creamy beige plane. The streams of gray veins aesthetically offset the warmer taupe details along its border. Monteguidi is without a doubt one of the boldest Calacatta designs in this collection.
Calacatta Oro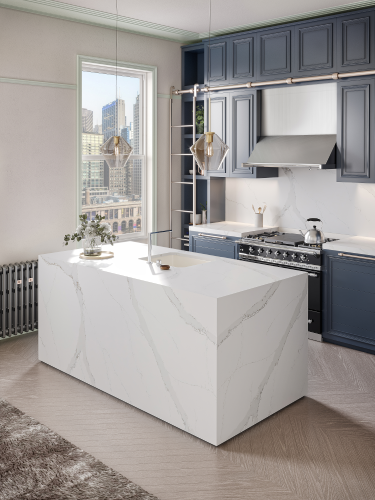 Rustic gold undertones harmonize with the traditional Calcatta veins in Oro. It is marked by arresting vertical veins that contrast majestically over its snowy white base. The versatile Ora balances beautifully with bold, solid colors and the gold deposits along its vein can effortlessly heighten the aesthetics of any given space.
Calacatta Borghini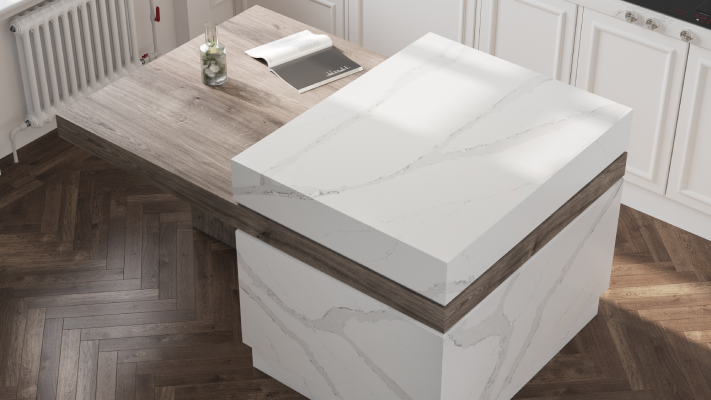 With both horizontal and vertical veins, Calacatta Borghini reflects the beauty of organic, natural stone formation. The earthy quality is also represented by the lovely taupe and subtle gray veins extending across its surface. Style it alongside an all-white interior or with rustic elements such as wooden flooring, rest assured Borghini positively synergizes with eclectic designs.
Calacatta Viola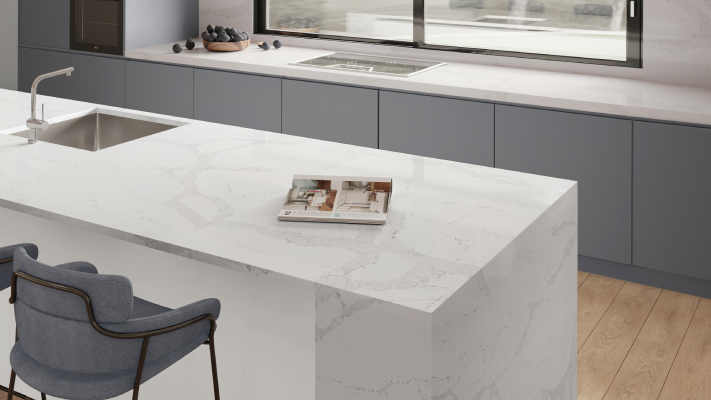 Viola's remarkable similarity to Calacatta marble comes from its hint of bluish gray undertones. The marble detailing is denser with the wider veins in random shape spanning horizontally over the plane. The broad veins' internal structure also bear a faint resemblance to Carrara. It is perfect for Scandinavian designs and for spaces defined by cooler shades or a neutral palette.
Calacatta Statuario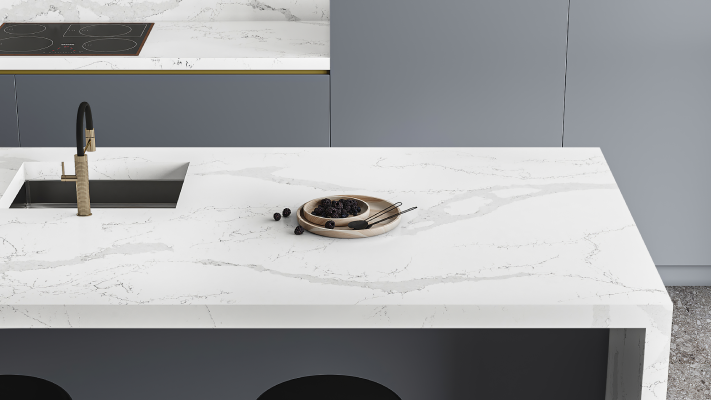 The eternal Statuario is the favored choice in the Calacatta series. Rich, lush details of dark gray and rustic gold formations punctuate the bright white surface. Statuario has a mystical quality to it, like a millennia of geological history is etched on its immaculate build. More than a quartz solution, Calacatta Statuario is an artwork to behold and, thus, looks magnificent as a wall cladding.
Calacatta Tuscany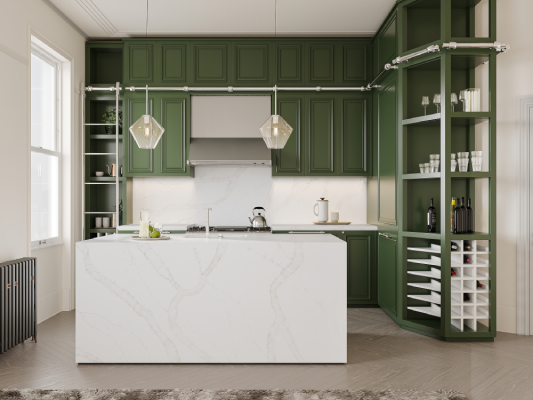 Part of the warmer Calacatta selection, Tuscany features a dual toned translucent white and off-white base, peppered with wide as well as pencil veins in light hazel. The smooth yet precise formations gently blend in with the solid base. It is easy to imagine Calacatta Tuscany in contemporary spaces with trendsetting design elements and pops of color.
Made for modern life
Each Calacatta from Quantra is distinct in design but united in its characteristics. They can tolerate wear and tear better than most marble and even other quartz products available in the market. The designs are available in 20 and 30mm, and in two sizes – Jumbo, and Regular. From the minimalist to the most avant garde styles, the Quantra Quartz Calacatta series can adapt to all design aspirations.
As a classic, Calacatta fuses perfectly with the latest trends in architecture and design. Its neutral yet striking palette can also be easily matched with different quartz and other materials such as wood, metallic panels, etc. Its versatility extends to its application too – from countertops, cladding, flooring, to interior and exterior surfaces, be it in residences, offices, cafes, hotels, just about every space imaginable!
Sign Up For Our Newsletter
Subscribe to our newsletter to stay updated with the latest News, Case Studies etc.
[mc4wp_form id="779"]