Conversation with Amit Khandelwal of SEA Bauformat, Delhi.
Nov, 2022 | All, Tête-à-Tête with partners,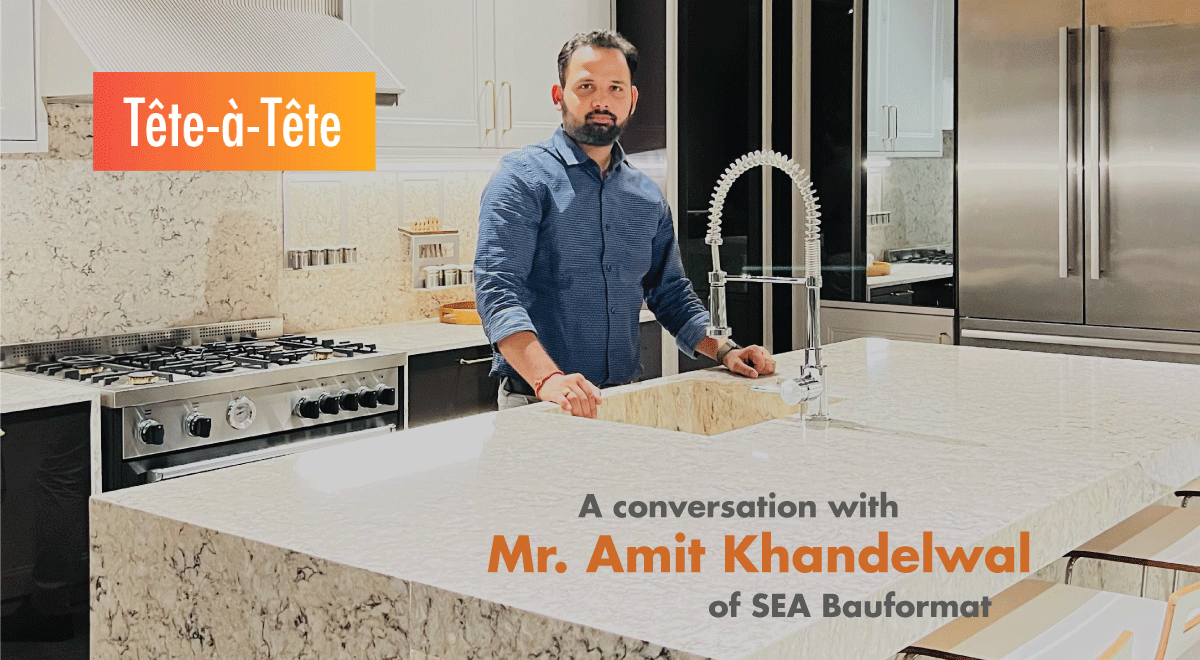 German Engineering for Your Indian Kitchen: Discover the Custom Modular Kitchens Designed for the Way You Cook and Live
Whether your style is classic, modern, or a bit extravagant, SEA has a modular kitchen design for you.
Founded on the ideals of impeccable German engineering and exceptional customer care, SEA modular kitchens are highly-customizable and jaw-droppingly beautiful.
Which is something we at Quantra can certainly get behind.
Today, we're sitting down with Mr. Amit Khandelwal of SEA Bauformat to learn more about their brand, their process, and their philosophy of luxury modular kitchen design.
Hello Mr Amit! We'd love to know — how did you initially come to the world of modular kitchen design in India? 
Initially, I was in the consultancy business, bringing European companies to India. We started with market research, and then we helped them establish their brand in the Indian market.
Bauformat was one of the companies we brought to India back in 2010. After doing this consultancy for about one year, we thought of starting this on our own. So we started a kitchen business in India and formed a company SEA Bauformat India. 
It's been 12 years now that we've been doing kitchens & wardrobes, and today SEA operates 6 showrooms across India.
What process do you follow in designing a perfect modular kitchen?
We try to understand our client's requirements, their tastes, the budget, etc. Then, keeping these parameters, we start the initial design and layout of the kitchen. 
For aesthetics, we follow the theme of their house and the selection of shutter finishes, appliances, and countertops are chosen accordingly. While designing we also keep in mind the Vastu of the kitchen, the kitchen triangle, and other layout considerations. 
How did you hear about Quantra? What was your first impression? How did this partnership happen‌?
Initially, one of your representatives approached me with your samples. We don't add any new brands to our range so easily, so we just kept the samples in our stock. 
But one day when we were looking for a design called "Ghiberti" which was not really available with any other good brands. We could only find it with Quantra. So we ordered that design from Quantra, and we were really impressed with the quality and finishing we received from them. 
Later we got to know that Quantra has over 100 designs in their collections, which covers almost every design we require to enhance the look of kitchens. So today we are doing many projects together.
What was the main reason you chose Quantra?
First, the 100-plus designs available with you, covering all our design requirements. 
Then, your 360-degree service which starts by taking all the measurements and includes delivery and installation with a factory finish. 
What were some challenges your customers faced before you started using the Quantra Premier Dealership program with an assured 360-degree service?
Earlier, we were getting very good quality quartz stones, but due to manual fabrication, the quality finishing was not there.
With Quantra, we get machine-made joints and edges, which gives a seamless and very premium overall finish to the products.
Why do you think the kitchen countertop is an important element in kitchen design?
The countertops have a big impact on the overall look because they cover most of the visible area in the kitchen. Also, good quality and sturdy stone with proper fabrication increases the life of the kitchen. 
What is your favourite part of being in this industry?
Every day you learn something new. I feel this is the only industry in which you are not just learning from masters of the industry — the architects —  but you also learn from customers.
Oh, we love that perspective!
Ok, now it's time for the rapid fire round…
Favourite design from Quantra's collection?
Artisan Wool and Calacatta Oro
Any tips for our readers on things to consider while selecting and designing a modular kitchen? 
While selecting a modular kitchen, we should evaluate three things:
Appearance 

Utility

Quality 
Most people consider the appearance — the selection of shutter finishes along with counter stone, flooring and ceiling. 
But it's also imperative that we keep the utility and the quality in mind, too. The selection of the right materials, hardware and appliances is a must and should always be at the top of your priority list.
Not only does it make for a more beautiful kitchen, but a more functional one that will be durable for years to come.   
2022-23 trending design style?
Classic patterns in matte, bright colours.
Curious to learn more about modular kitchen design here in India? Meet some more of our partners:
We know you'll find the styles and designs you're looking for. And because they're Quantra-approved, they're all committed to top-quality modular kitchens, customized and designed for the way you live.
Sign Up For Our Newsletter
Subscribe to our newsletter to stay updated with the latest News, Case Studies etc.
[mc4wp_form id="779"]