Conversation with Rajesh Ahuja of Saviesa Homes
Nov, 2022 | All, Tête-à-Tête with partners,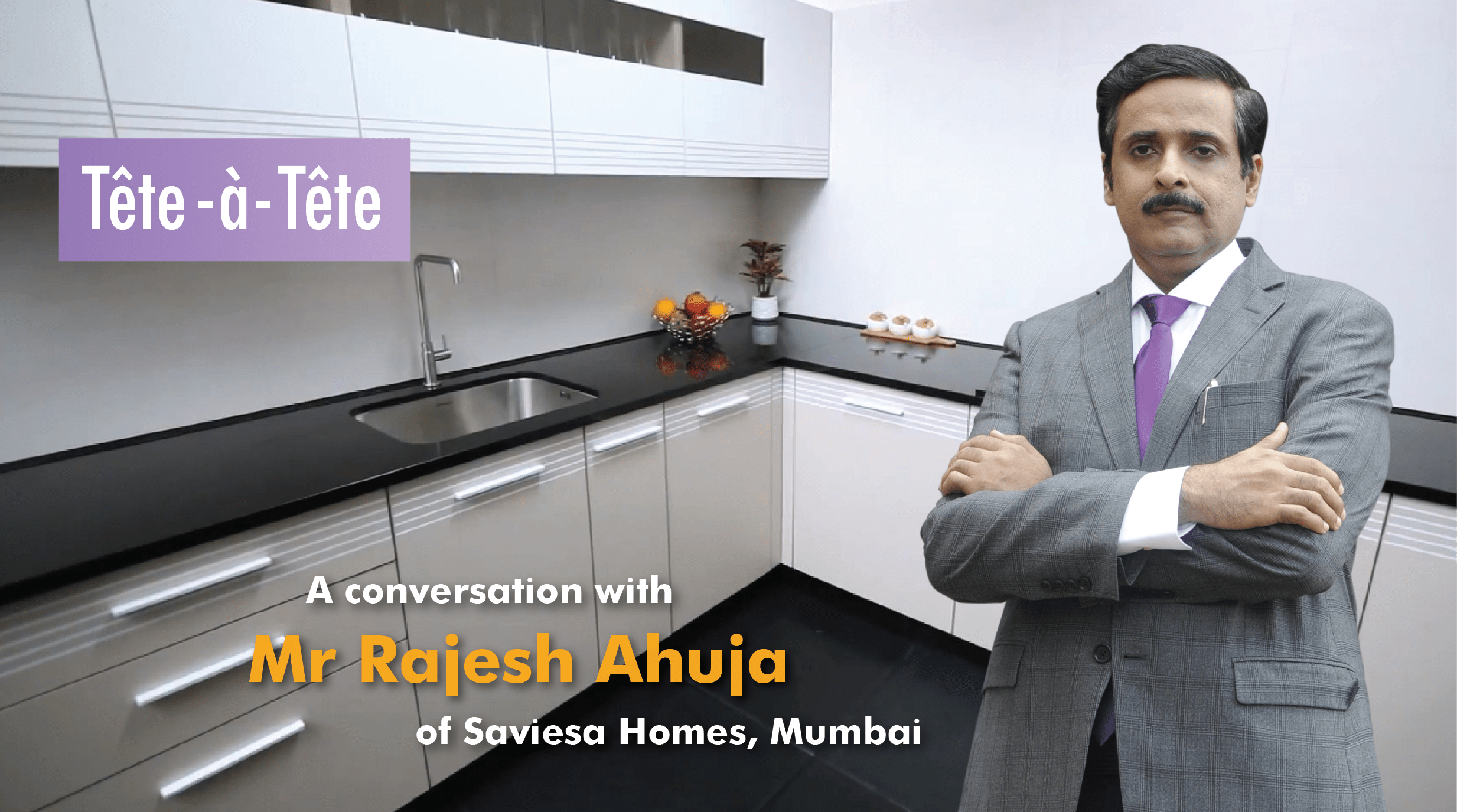 The Secret to Designing Your Perfect Modular Kitchen? This Quantra Partner Might Have Cracked the Code
Because the best kitchens — and the best countertops — are always tailor made.
At Quantra, we love customisation. So our partnership with Saviesa Homes — custom modular kitchen builders — makes total sense.
Today, we're chatting with their founder, Mr. Rajesh Ahuja, diving into their unique approach to modular kitchen design. Explore their origin story — and discover Mr. Ahuja's number one tip to getting modular kitchen design just right.
Quantra Quartz: Hello Rajesh! We're excited to know more about you and your achievements in the industry. How did you come to the world of modular kitchens?
Rajesh Ahuja: Well, you could say I came to this modular industry by chance.
We started in the manufacturing of plastic wire products for carousel kitchens. Over time, modular kitchen manufacturers started asking us to manufacture wire baskets specifically for their cabinetry. And that's how we originally got in touch with modular kitchen manufacturers.
After designing and creating these accessories for kitchens, we developed a full range of products of our own under the brand of Sleek, a cabinet organisation line specifically designed for modular kitchens.
In order to show customers the full application, we began displaying our products in modular kitchens in our showroom. Over time, we slowly began selling the complete kitchens — cabinetry and all.
There's an abundance of ready information and design ideas for modular kitchens across the internet today. How is your company's ideology — Guidance Through Mastery — helping your customers with their needs?
We don't see it as competing, but rather, supplementary. For example, there's a lot of medical information available on the internet today, but people still go to the doctor to get medical treatment.
Modular kitchen design is similar. Getting information on the internet makes consumers aware of the possibilities. But truly effective modular kitchen design comes with the help and guidance of professionals.
The average Indian household updates their kitchen every 15 or 20 years. Once or twice a lifetime. So you want to get it right.
We take the time to ask all the questions. To make a diagnosis, if you will. Only then, can we prescribe the best treatment — the best course of action — for your modular kitchen design.
What process do you follow in designing a project?
First and foremost, we try to visit the existing kitchen of the customer. We want to see where they're starting from.
We want to understand the customer's view of their existing kitchen:
Which features they would like to keep or replicate in their new kitchen design
Any current pain points in the existing kitchen that they definitely don't want in the new kitchen
Design details they'd love to incorporate (features they've read about in a magazine or seen with their friends)
Once we understand and gather that information, then we focus on their new design. We start with function, focusing on our 5 Zones approach, and asking questions like:
Where should the hob, sink, refrigerator and all those key items be located?
What kind of space is required for meal preparation?
What kind of storage is given for consumables and non-consumables?
What crockery do they have? How much?
How much space is needed for each category of kitchen utensils, gadgets, etc?
Only once we understand these things we move forward and plan the kitchen for them. Finally, we focus on the colours, finishes, and aesthetic plan.
How did you hear about Quantra? What was your first impression?
I first heard about Quantra from one of my architect friends. He referred me. I noticed right away that you have nice and exclusive colours, which is one benefit. The thing that excited me the most, though, was the fact that Quantra does all the fabrication on CNC (computerised numerical control) and robotics in their own plant. 
Then, you deliver the ready-formed product from Hyderabad and your people are responsible for installing and maintaining the countertops. That was the thing which was really attractive: we aren't dependent on the skill of a contractor on the site. Because if the person fabricating and installing the quartz is not up to the task, then the expensive material becomes pointless. With Quantra, you get the best of both worlds.
What was your sole reason to partner with Quantra?
In India, it's extremely difficult to find a person or company who uses CNCs to fabricate countertops. We knew if we were going to offer countertops, we wanted to deliver a top quality product. That's the strength of Quantra, which is pretty unique.
What were some of the challenges your customers faced before you started using the Quantra Premier Dealership program with an assured 360-degree service?
Before partnering with Quantra, we weren't trying to sell countertops. We were telling our customers to install the countertop themselves because we never wanted to engage the contractors on the site and do the moulding on the job site.
Overall, countertops were never something I was satisfied with. I never wanted to sell that to my customer because the quality just wasn't there. 
With Quantra, I know our customers are getting a factory finished product that's expertly installed. I trust the process and know I can take accountability for it. Only after Quantra did I start promoting the countertops to the consumer.
What are some of the things that you enjoy about your partnership with Quantra?
The sales team is very cooperative. They understand the drawings and installation on the sites. As far as the company is concerned, it is hassle-free for our customers. The people who are going and taking the measurements, the people who are installing the stone, are experts. They know how to do the job well.
We specialise in kitchen design and details. Our customers can select the stones they love, and you have a huge range to select from. The quality of the material is good. The finishing is excellent. It's a smooth sailing process with Quantra.
How has Quantra helped you grow?
We were never talking about any solid surface to be supplied from Saviesa. Today with Quantra it added on to the sales level. We are selling the countertops now. For us, it is an additional vertical which we've added to our business.
We were not involved in the selling of countertops before. Now, we are giving our customers full end-to-end kitchen solutions.
What is your favourite part of being in this industry?
Continuous innovations. It's a very lively industry. We have a lot of information coming up from the west like exhibitions and fairs. You get to see what is happening in the western world and we are able to apply ideas, designs, and principles into your day-to-day work.
Modular kitchens involve a lot of product innovation. We are constantly learning new ideas, and this is an industry that is growing beautifully in India. It is much better to be in a sunrise industry
Absolutely. Ok, now for the rapid-fire round!
Favourite design from Quantra's collection?
We have all tones of white. Every design is unique and I genuinely have no favourites! We have our favourite designs in terms of fabrication details, because that's what we're focused on. But we truly have no favourite colour combination.
Any tips for our readers on things to consider while selecting and designing a modular kitchen?
It's important to understand their individual goals. To know:
What are their design and style preferences?
What are their pain areas in their current kitchen?
What do they wish their kitchen looked and felt like in the future?
It is not just the aesthetic piece to be considered but also the functional angle, which people often forget.
You have to live and use the kitchen for years. The functional angle is more important. And without considering that before the aesthetics, once they start using the kitchen, things may not be comfortable. 
So, function first!
Is there a 2022-23 trending design style you're drawn to?
Trend that is coming up in Europe normally follows the Italian styles. Today, the new modern style of kitchens is very popular. We're seeing a lot of aluminium profiles and fluted glass right now.
Looking to upgrade your kitchen this year?
Sign Up For Our Newsletter
Subscribe to our newsletter to stay updated with the latest News, Case Studies etc.
[mc4wp_form id="779"]