The Kitchen Experts Have Spoken: Top Kitchen Design Trends for 2022
Apr, 2022 | All,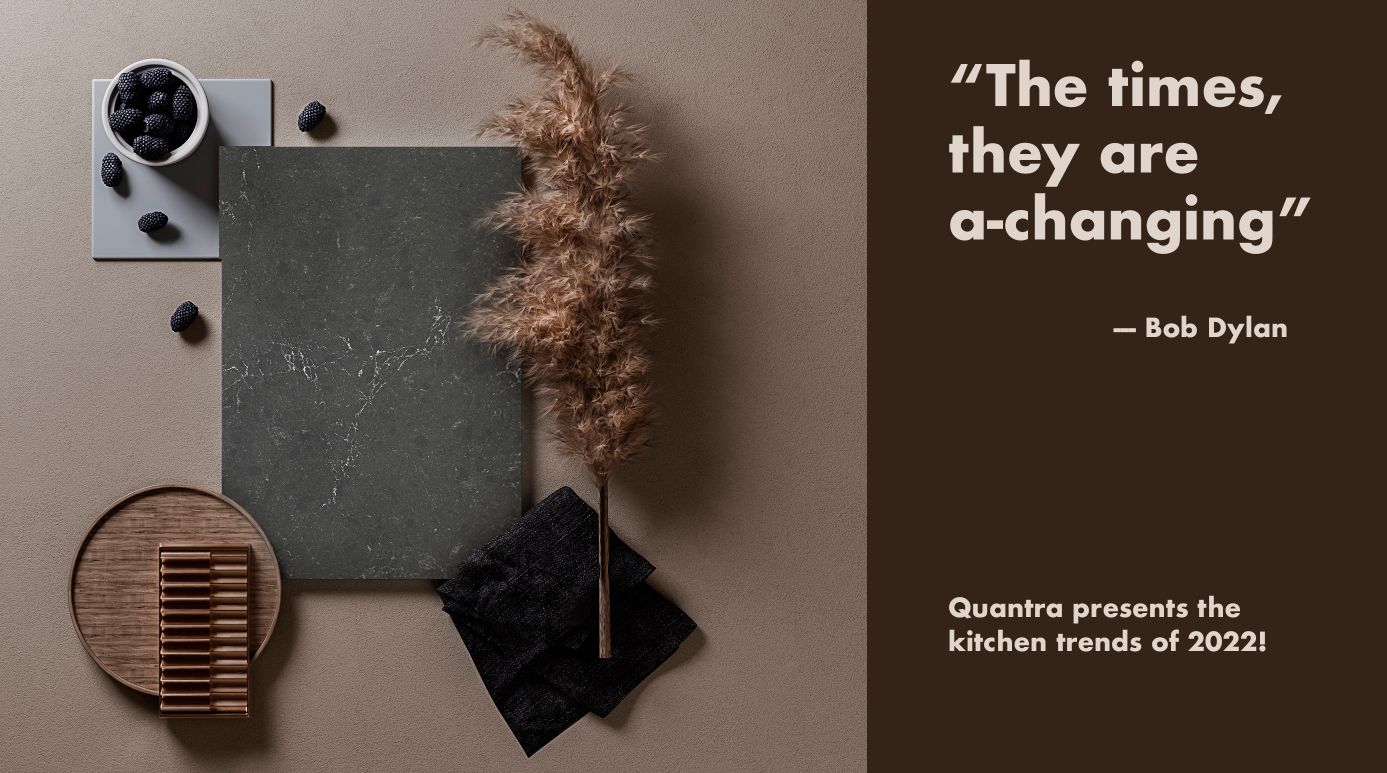 The Kitchen Experts Have Spoken: Top Kitchen Design Trends for 2022
Plus, discover the countertop material top kitchen design experts can't get enough of.
The design industry is booming.
And the renovation boom is showing some clear shifts in our home design wish lists — especially in high-functioning spaces like kitchens and baths.
Kitchen design trends in 2022 are shifting away from the familiar bright white spaces we've grown familiar with. Instead, kitchen trend experts are noticing more color, more customization, and more design with an emphasis on functionality.
So what are the leading kitchen design trends this year?
We're digging into 5 top trends kitchen experts are seeing again and again.
1. 2022's top kitchen trends are heavily influenced by millennials and their lifestyle.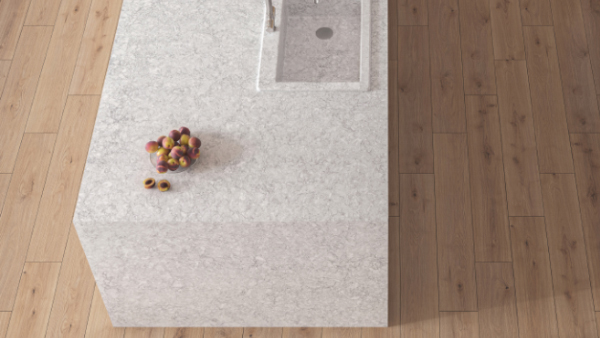 The millennial generation has a lot of buying power. And their preference for clean, streamlined, and approachable design influences every industry — from home and kitchen trends to marketing and branding.
As far as kitchen design trends are concerned, millennials value fuss-free spaces for practical living. They're willing to eschew convention in the name of convenience. They're also willing to take design risks, mixing and matching textures and materials to maximize function and style.
Kitchen designer Emma Cowburn says this is a key reason today's kitchens often feature multiple surface materials and varied countertop heights.
"The majority of worktop features, especially for breakfast bars, use contrasting materials like wood and quartz composite."
Millennials also value individuality and personalization of their spaces. So while we see strong overarching kitchen trends, this generation also enjoys finishing their spaces with personal touches and customized styling details.
2. Multi-functional spaces are key for kitchen design in 2022.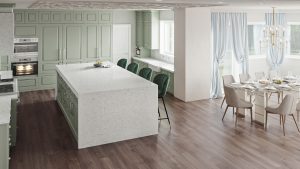 Over the past few years, our kitchens have seen a lot more use. As public spaces closed and we hunkered down at home, our kitchens became our restaurants, coffee shops, makeshift home offices, and homeschooling centers. We quickly realized many of our kitchens weren't set up to serve all of these functions.
Plus, with home prices continuing to rise, many millennials and Gen Z-ers are living and working in smaller footprints than their parents — all while adjusting to the new-normal of remote work. In a post-pandemic world, kitchens — no matter their size — need to serve many functions.
Not only were yesteryear's kitchens lacking seating and surface area, but storage. And as we all know, cluttered spaces add stress to an already-stressful situation.
Kitchen designers and homeowners have spent the past few years getting creative — coming up with kitchen design solutions to make their spaces more functional.
This often means:
Better — and smarter — storage. Appliance garages have seen a huge comeback in 2022 kitchen designs.
Multiple surfaces and seating areas for dining, work, and leisure.
Durable materials to withstand increased use.
Tying in adjacent spaces — i.e. adding built-in cabinetry and countertops to the dining or living rooms for more storage and better flow between rooms.
Less formal living, more integration with the rest of the home. Many homeowners would happily give up a formal dining room in exchange for a larger, eat-in kitchen. 2022's kitchen trends include large kitchen islands for added seating, dining, with plenty of space to work and entertain.
Together, the above kitchen trends create spaces that are beautiful and functional for today's homeowners and families.
3. Popular kitchen design trends include a nod to nature.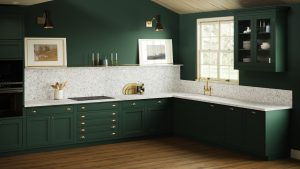 Looking for kitchen design ideas? You can't go wrong taking a cue from mother nature. Natural colors, textures, and materials are a top design trend for kitchens this year — and they tend to age well, too.
Across the board, paint brands and color experts predicted shades of green as the top color trend for 2022, and we're seeing it in kitchen cabinets, backsplash tile, and wallpaper. There's also a huge demand for more organic, earthy materials — from the perfectly-imperfect zellige tile trend to warm woods instead of bright white kitchens.
Trending kitchens often feature slab-style backsplashes in marble, stone, or ultra-durable quartz, many with dramatic veining for a one-of-a-kind kitchen.
From colors and materials to textures and unlacquered metals, this year's top kitchen trends are all about embracing the best of nature.
4. Another top kitchen design trend this year? Streamlined, easy-to-clean spaces and surfaces.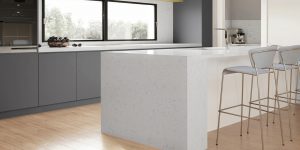 Today, homeowners want kitchens that are low-maintenance and easy to clean. Not only is this kitchen trend convenient, but it's hygienic, too. And after years of being hyper-vigilant when it comes to germs and protecting our families' health, it's no wonder homeowners want their kitchens to support a healthy life.
Today's kitchens often include touchless faucets and panel-ready appliances for a streamlined, fingerprint-free look. Another material designers and homeowners love? Durable, easy-to-clean surfaces like quartz.
This high-demand material brings natural colors and textures of in-demand stone like Carrara marble and speckled granite, but in a maintenance-free, ultra-durable option.
Made from one of the hardest minerals on earth, quartz slabs are stain, scratch, and burn-resistant as well as resistant to mold and mildew.
Citing the National Kitchen and Bath Association's report on Kitchen Design Trends for 2022, Builder.com says:
"The pandemic-generated trend toward cleanliness and safety is not expected to fade soon. Quartz, as an easy-to-clean surface, is more popular than ever as a countertop preference."
The editorial team at Architectural Digest agrees: "Quartz is the hottest kitchen material right now, as it's nonporous, harder, and more durable than granite." Speaking with their team, designer Vanessa DeLeon tells AD quartz is "elegant yet resilient" and said it's a wise investment for homeowners who prize durability.
Even better news? Quartz isn't just for countertops.
A quartz backsplash wipes down easily without hard-to-clean grout lines. You can even get the look and feel of a luxurious natural stone sink — without the sticker shock and endless upkeep.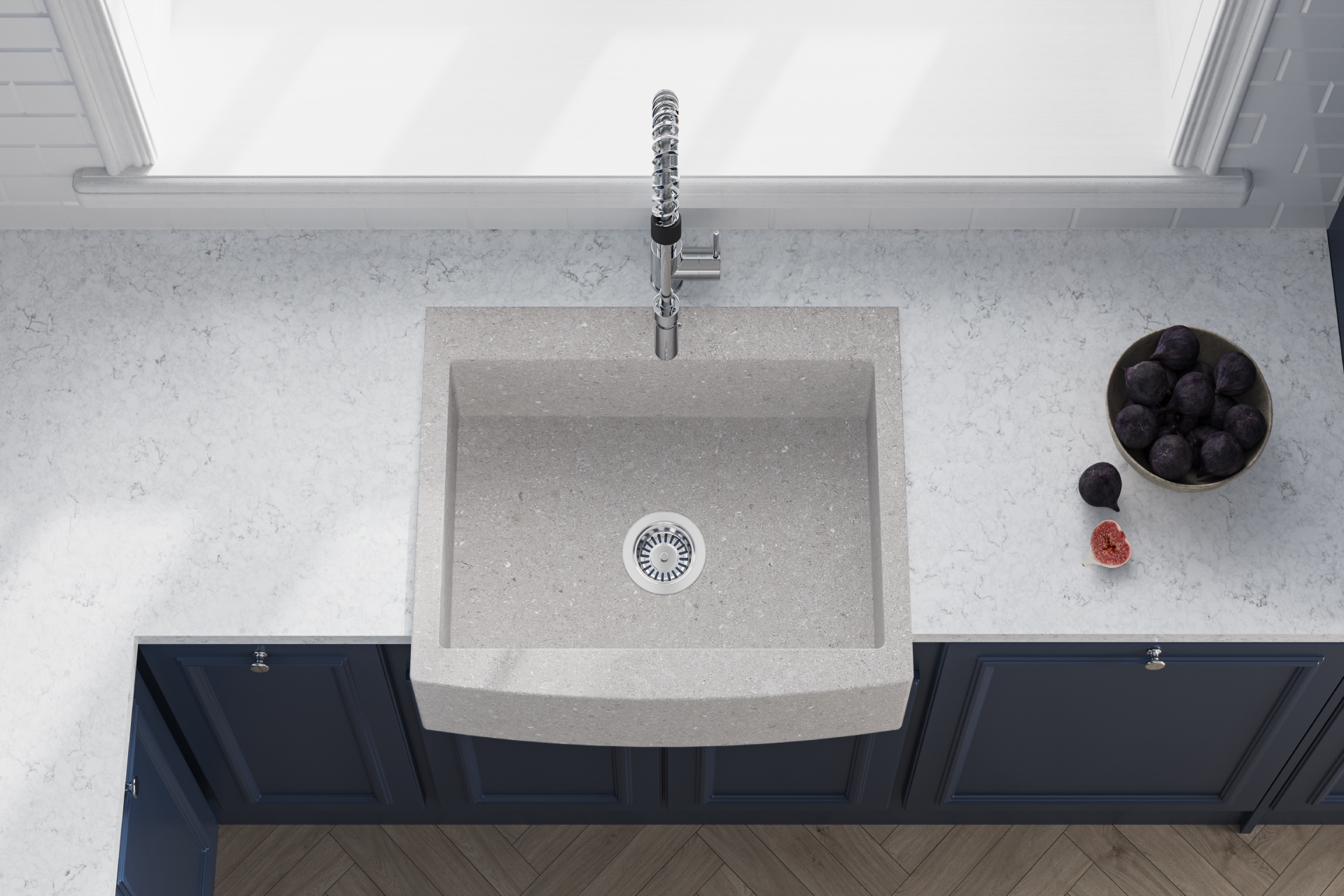 These seamless, ultra-durable quartz sinks blend effortlessly into the surrounding countertops for a sleek, show-stopping option that's both high-functioning and high-style. All while being wonderfully low-maintenance.
5. This year's kitchen trends highlight a growing interest in sustainability
Homeowners are increasingly concerned with their home's environmental impact — both in terms of materials used as well as energy consumption long-term.
The NKBA notes that buyers are interested in using recycled materials when possible, and are also more savvy about the environmental impact of the products and materials they select.
Finally, homeowners want their kitchens to save energy and support a more sustainable lifestyle. That's why today's kitchen design plans often include designated recycling areas. The majority of homeowners are also making the switch to energy-efficient appliances, water-saving fixtures, and LED lighting.
Integrating the top kitchen design trends of 2022 into your home.
Whether you're looking for ideas to give your kitchen a bit of a refresh or a total overhaul, there are many ways to incorporate this year's top kitchen design trends into your home.
For a quick, budget-friendly tweak, consider adding a handmade tile backsplash or swapping out your faucet with an unlacquered brass beauty.
Looking for a more dramatic update to your kitchen?
First, consider how you use the space. Take inventory of your storage needs and design your cabinetry accordingly.
Then, give your kitchen the show-stopping look of natural stone with low-maintenance quartz. Whether for your countertops, backsplash, sink, or all 3, this material is on-trend, sustainable, and ultra-durable.
And when you partner with Quantra Quartz, you can be sure your kitchen's design choices are sustainable, too. We're a proud member of the U.S. Green Building Council and our products are Greenguard Gold, NSF and Kosher certified. So you know they're safe for the planet and your home. Our quartz products lead the entire industry, so you get the unparalleled durability you want — in a kitchen that's built to last.
At this year's KBIS (Kitchen and Bath Industry Show) in Florida, kitchen designers and industry pros from around the globe were blown away by our 80+ designs. With an impressive range of colors, finishes, and applications, you don't have to sacrifice style to do right by the environment and build your dream kitchen.
Explore our quartz slabs and seamless quartz sinks to see what's possible when you combine sustainability and durability for a kitchen design that's both on-trend and timeless.
Sign Up For Our Newsletter
Subscribe to our newsletter to stay updated with the latest News, Case Studies etc.
[mc4wp_form id="779"]