The amazing alchemy that makes Quantra Quartz unique
Jul, 2022 | All,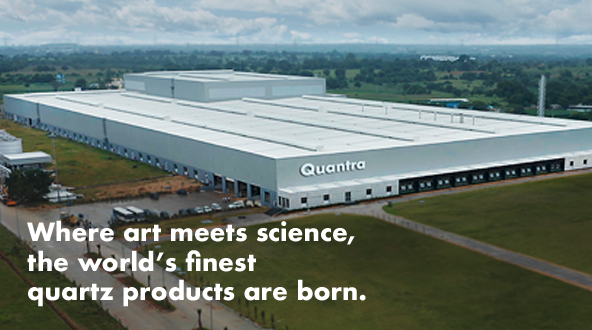 Quantra's second manufacturing unit
Get to know what exactly sets us apart from the rest.
Today, we're sitting down with our CEO, Paras Kumar Jain, to learn more about Quantra's story, products, and the mission that sets us apart in the industry.
We're proud to be trusted industry leaders in the world of quartz slabs for offering top quality, integrity, and customer service. And our reputation for excellence is possible in part because of our partnership with the company that literally invented the product. Nearly 60 years ago, the Breton company in Northern Italy began developing the world's first engineered stone.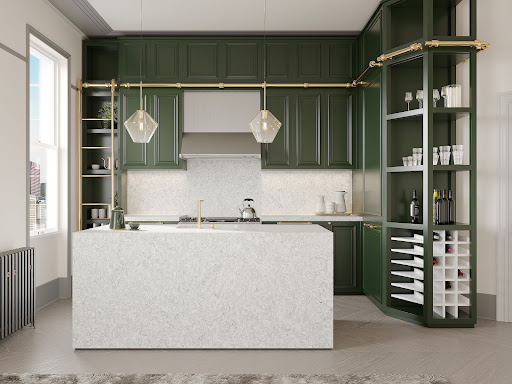 A quartz-wrapped kitchen island and matching backsplash elevate this modern kitchen design.
Quartz countertops get their name from the natural material — one of the hardest, most durable surfaces on earth. Breton developed a way to fuse solid quartz chips with high-quality resin to form a solid surface to create a durable, eco-friendly alternative to traditional solid stone slabs.
Over the years, many other companies have used their methods as inspiration. But few have achieved their high quality standards in materials or design.
While the technology of quartz holds incredible possibilities, we noticed that many modern-day makers of engineered stone countertops were falling short of this potential by taking shortcuts. Using less stone and more fillers. Compromising both the look and performance of this amazing material.
We knew clients and homeowners deserved a better product than what was readily available at the time. And that's how Quantra began.
Started by Gautam Chand Jain more than a decade ago, Quantra Quartz was founded with the goal of making the most beautiful, durable quartz surfaces in the world.
Jain knew that homes and businesses needed ultra-durable surfaces for their flooring, countertops, and more. But they also wanted surfaces that look elegant and elevated. Surfaces that brought the same subtleties and organic veining as natural stone. He also knew he was uniquely positioned to bring this vision to life.
"Quantra stems from a group of companies that have a deep commitment and decades of expertise in two global industries: fashion and natural stone," explains CEO Paras Kumar Jain.
"This pairing uniquely equips us to design and manufacture the toughest, most beautiful quartz surfaces in the world. Because we understand design, our clients always receive the most stunning, nature-inspired surfaces. And because we're experts in the world of natural stone, you can be sure that our quartz takes the best properties of stone slabs… and then goes way beyond."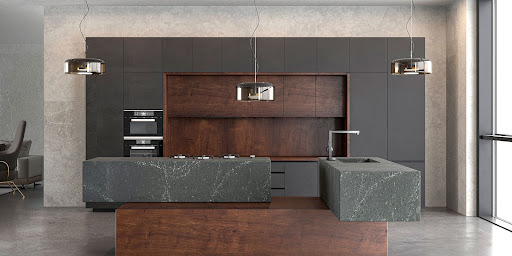 Rich, charcoal Bellini quartz brings this modern kitchen to life with moody tones and dynamic veining.
In fact, Quantra didn't just take a page out of Breton's book — we actually enlisted their help and expertise.
Using state-of-the-art technology developed by Breton itself — our quartz facilities are the most advanced in the world.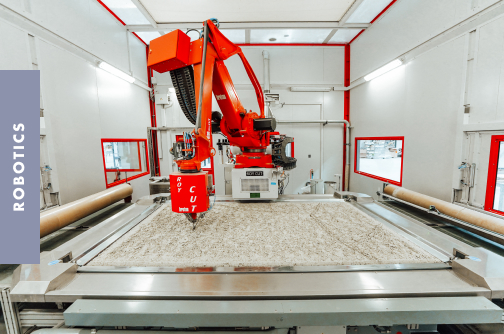 With Breton's guidance, we established one of the most advanced quartz manufacturing facilities in the world.
We rely on sophisticated automation to ensure every single surface exceeds global standards.
We're also ruthlessly committed to quality, and that starts with the materials we use. While some engineered stone companies use a mixture of marble and granite chips, we only use raw quartz. It's harder, more durable, and helps ensure every slab is uniform and flawless.
"We never compromise on our materials. That's why we only use the world's finest raw material: quartz. It's one of the hardest substances known to man. Then, we utilize the best technology for manufacturing our products.
We employ the most sophisticated technology in the world, along with extensive use of industry-leading robotics throughout our manufacturing processes."
Our state-of-the-art technology allows us to fulfill two key pillars of Quantra's mission: caring for our local communities and the globe at large.
In fact, in 2022, we were the first company from the Indian stone industry to receive a Gold Standard Certification as a great place to work. We're committed to the safety, satisfaction, and ongoing education of our team members, and it shows.
"Our team is built with the finest talent in the world. Our designers, engineers, shop floor team members, and all of our human resources across the board are united by a single-minded commitment to quality and excellence."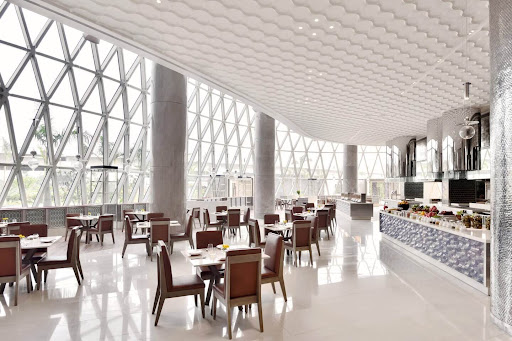 Quantra is proud to provide quartz surfaces like this flooring and countertops at the JW Marriott Kitchen in Kolkata.
At Quantra Quartz, we're also committed to the impeccable care of our natural environment.
We use and source materials responsibly, with more than 80% coming from within a 75km radius to minimize our transportation impact on the environment. We've also invested in state of the art water treatment at our facilities to ensure we return resources to the earth responsibly.
"Quantra is determined to be one of the world's most innovative and responsible quartz surfaces manufacturers. We leverage state-of-the-art technology and the knowledge of passionate architects and engineers. In the end, we've created an unparalleled breadth of quartz surfaces inspired by nature and driven by passionate commitment to doing good business, for our customers, our people and our planet."
As we take care of our community and our environment, we also focus on producing the most beautiful, natural-looking materials out there.
"Nature, art, design and fashion are some of the important pillars of our design development process. In turn, these pillars are always reflected in our products. By analyzing them in depth, we spot the emerging and on-going trends that we translate into our design palettes. We believe that the balance of tradition and innovation produces meaningful and contemporary products, and that's what we're always aiming for."
And we're not the only ones who think so. Quantra was honored to receive Luxury Product of the Year by Realty+ INEX interior and exterior awards.
We've partnered with top companies across the globe, bringing our beautiful, durable quartz to their world-class campuses and resorts.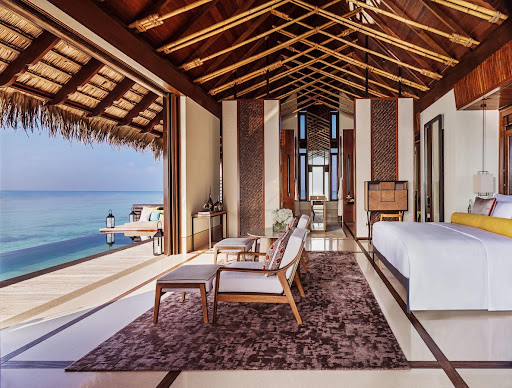 This private villa in the Maldives relies on beautiful quartz for beautiful, durable, and easy-to-clean flooring.
At Reethi Rah Resort in the Maldives, our quartz surfaces provide a durable, glistening backdrop to enjoy the crystal blue waters beyond each suite. From flooring to luxurious soaker tubs, quartz ensures superior durability and unparalleled beauty.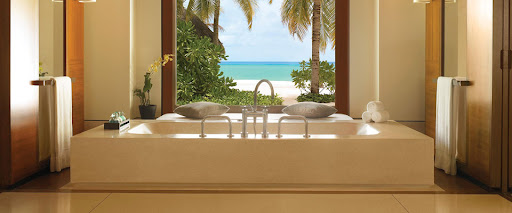 A quartz soaking tub provides the perfect place for resort guests to relax and enjoy pristine ocean vistas.
At Quantra, we never stop innovating
Committed to keeping at the forefront of the engineered stone industry, we're constantly adjusting, improving, and developing new collections.
Recently, we launched our Calacatta collection — 13 designs that mimic the iconic Calacatta marble unlike any other quartz surface.
"Our Calacatta designs are epitome of luxury & sophistication and we are working on adding more designs to this collection," Jain explains.
Above are 3 designs from our Calacatta quartz collection. Click here to see them all.
We're here to help you find your best quartz countertops, flooring, and more
Whether you're looking for quartz surfaces for your home kitchen or a durable commercial flooring option, Quantra is proud to provide a wide range of styles to choose from. Plus, our commitment to excellence and community means you can invest your dollars with confidence, knowing your values are honored and shared.
Over the past 14 years, Quantra has been proud to not only produce beautiful products, but to do so with integrity and care. Explore our website to learn more about our team and the values behind Quantra Quartz.
Sign Up For Our Newsletter
Subscribe to our newsletter to stay updated with the latest News, Case Studies etc.
[mc4wp_form id="779"]