8 Ways To Create A Luxury Kitchen On A Budget
Jun, 2022 | All,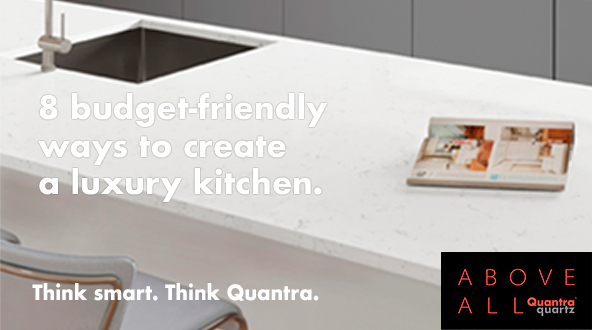 There's no way around it: the kitchen is one of the most expensive rooms to renovate.
Unlike a bedroom or living room, a kitchen renovation goes beyond surface elements like wall colors, flooring, and decor. When you update your kitchen, you're likely bringing in multiple skilled trades — including plumbers, electricians, carpentry experts, and more.
A kitchen remodel also requires a lot of expensive materials, from countertops to appliances, cabinetry and an array of lighting fixtures. It can all add up quickly. Especially if you're starting from scratch.
Luckily, there are some ways to save money on your kitchen renovation — and still get the luxury look and feel you want. Today, we're sharing 8 ways to design a luxury kitchen without blowing your budget.
1. Make (and stick to) a plan
It sounds like common sense, but you'd be surprised how much planning is required to design your dream kitchen. And how quickly unexpected purchases can add up if you haven't anticipated them.
Before you start shopping for your dream kitchen, there are key things to consider that can save you time, money, and headaches. For example: what (if anything) are you keeping from the original design and layout? If you're making structural changes, what permits do you need? If you plan to DIY some parts of your kitchen, what tools and equipment do you need to purchase or rent?
It's tempting to jump into "add to cart" mode on your dream kitchen renovation, but some careful planning first can ensure your project stays on budget.
Design tip: not sure where to start? Here are some key design considerations before you start your dream kitchen renovation.
2. Get a professional in your corner
Now I know what you're thinking: I'm trying to design a small kitchen on a budget. Why would I spend money on a fancy designer? But hear me out…
A full-service interior designer might not be in the budget for your kitchen renovation. But that doesn't mean you need to go without any professional guidance. Many design pros offer paid consultations or design rendering services that can help iron out your plans and make the most of your kitchen renovation.
Designers don't just make things pretty. They're experts in organization and efficiency — both of which are HUGE factors when it comes to how much you love (or hate) your kitchen. They can also help you avoid costly mistakes or design missteps you'll regret down the line.
Interior designers also have industry connections and trusted trades they only share with clients, giving you insider intel you might not have access to otherwise. So while the cost of a designer might seem superfluous at the onset, you might just be surprised at the difference it makes in the final design. And it might just help you stretch your budget farther in the end.
Design tip: Want to pick a designer's brain and make sure you're on the right track? Check their websites to see if they offer an hourly consultation. You'll be shocked at what you can achieve in a 30-minute or hour-long Zoom call. It just might be the best money you spend on your luxury kitchen renovation.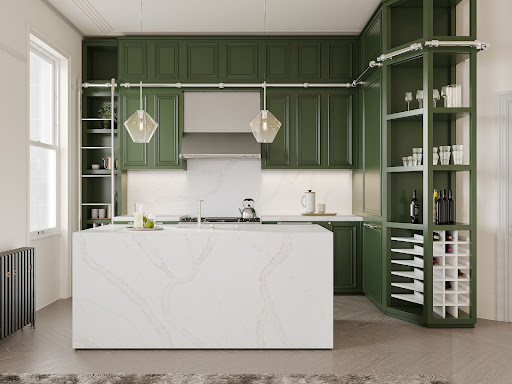 Current cabinets function ok but you don't love the style? Consider painting or refacing them for a whole new look.
3. Don't replace what you can reuse
It's amazing the transformation you can create in a kitchen renovation without gutting everything and starting from scratch. For example, if your cabinet boxes are in good condition but you don't like the style or finish, consider painting or refacing them.
This can save you thousands of dollars, keep your kitchen semi-functional while you update it. The added benefit? You'll prevent tons of materials from ending up in the landfill. Plus, you'll be shocked at the "before and after" you can achieve by refacing the fronts of your cabinetry. You can even add a few extra cabinets to tweak your kitchen's layout and increase storage space, without breaking the bank on a whole kitchen's worth of new cabinetry.
Design tip: Want a big change in appearance with minimal spending? Replace some upper cabinets with open shelving. Not only does this make your kitchen appear larger and more open, but it can give a cramped, dated space a modern, streamlined look.
4. For a beautiful low-cost kitchen design, research your options
If you do have to replace cabinetry, spend time researching what's out there. It used to seem like there were two options: quality, custom cabinetry or cheap particle board. So homeowners felt like they were left with no good options if they wanted to design a kitchen on a budget.
Today though, kitchen cabinet choices have come a long way. And, the internet is brimming with blog and video tutorials to help you make builder-grade cabinets look high end.
Even budget cabinets like IKEA come in more options than ever. Can't find your style? You can purchase just the cabinet boxes from the warehouse, then add your favorite doors.
Finally, you could shop at kitchen outlet stores that sell display cabinetry and misorders for cents on the dollar.
Design tip: The bottom line? There are endless possibilities for creating luxurious looking cabinetry while staying on budget. Ask around and spend some time researching your options to save major cash on your kitchen redesign.
5. Make big change with small design adjustments
Really trying to design a kitchen on a budget? Some of the smallest features of your kitchen bring the most style. Cabinet hardware, sink taps, and lighting are three design elements that bring a major wow-factor, and are relatively inexpensive. Plus, you can swap them out with zero construction dust — perhaps even DIYing all 3 if you do some research beforehand.
It's amazing how big of a difference modern drawer pulls, a statement faucet, and sleek pendant lighting can make, even if the rest of the kitchen undergoes few changes.
Design tip: While faucet and lighting upgrades can be relatively simple swaps, don't neglect safety to save a few bucks. If you're feeling unsure about doing the work yourself, plumbing and electrical tasks are great ones to outsource.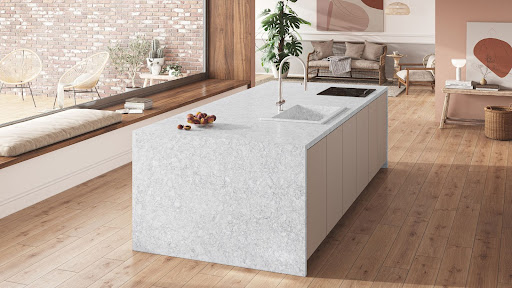 A statement faucet and elegant marble-look countertops(countertops must be countertop) instantly give…..
6. Invest your renovation funds wisely
Some things are worth splurging on when you want to create a luxury kitchen on a budget. We might be biased, but we think quality countertops are definitely a great place to spend your dollars.
First of all, what surface in your kitchen gets more use? You touch your countertops countless times daily — from your morning coffee to the final wipe down before bed. So you'll want to invest in a countertop surface that looks and feels luxurious — and one that's durable enough to withstand real life.
For stain-resistance, anti-microbial protection, and a vast range of luxurious styles, you can't beat quartz counters. Made from one of the hardest materials on earth, quartz countertops beat their marble counterparts in durability and stain-resistance (so juice and wine spills are no sweat).
A durable doppelgӓnger to natural stone, these eco-friendly countertops are built to last while giving you the luxurious look you want in your kitchen renovation.
Design tip: Love the look of Calacatta marble but don't want to stress about stains and scratches? Check out our Calacatta quartz collection for ultra-durable look-alikes that let you breathe easier.
7. Splurge on under cabinet lighting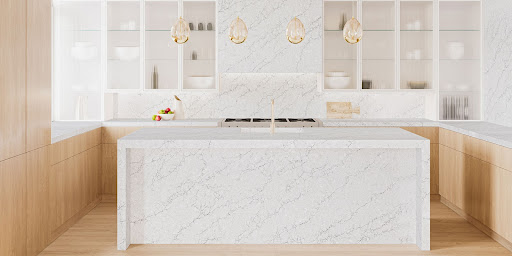 A sure-fire way to elevate your kitchen's design? Install under-cabinet lighting for a warm, luxurious look.
Under cabinet lighting highlights your beautiful backsplash, and countertops — while also providing a soft warm glow. The good news? These little lights are budget friendly and available at most home improvement stores.
Hiring an electrician to install them isn't cheap, but under cabinet lighting is one of the quickest ways to make a budget-friendly kitchen renovation feel luxurious. Plus, having a variety of light sources ensures you'll always have the lighting you need.
Design tip: Really want to add a touch of luxury? Install lighting inside glass-front cabinetry. It highlights your favorite dishware and decor, and makes your kitchen look extra high-end.
8. Shop vintage to make a statement
Furniture-style cabinetry is a popular choice in today's luxury kitchens. Whether that's a farmhouse-style island or a built-in coffee bar, designers love to mix and match cabinetry styles to bring in some charm. But custom cabinetry can add up quickly.
Instead, hit up local thrift stores and estate sales to score one-of-a-kind items for a fraction of the price. You'll enjoy a statement-making piece and the satisfaction of a good find. Plus, shopping vintage is better for the environment than buying and shipping new.
Design tip: Simple updates can bring a vintage piece to life. Refinish the wood, replace the hardware, or give a hutch-style cabinet a new quartz countertop that matches the rest of the kitchen. Not only will this tie the piece into the overall design, but it provides a durable surface for your morning coffee (or Friday night happy hour) routine.
Ready to start planning your budget-friendly luxury kitchen?
Use the list above to help reduce any overwhelm and create a kitchen you'll love for years. And when it's time to choose your countertops, don't forget about quartz. We've got dozens of marble-look quartz slabs to give you the luxury countertops and backsplash you want — with the durability your busy family needs. Invest once, enjoy it for life.
Sign Up For Our Newsletter
Subscribe to our newsletter to stay updated with the latest News, Case Studies etc.
[mc4wp_form id="779"]