Conversation with Charan and Swaroop of D'Curve, Bengaluru
Dec, 2022 | All, Tête-à-Tête with partners,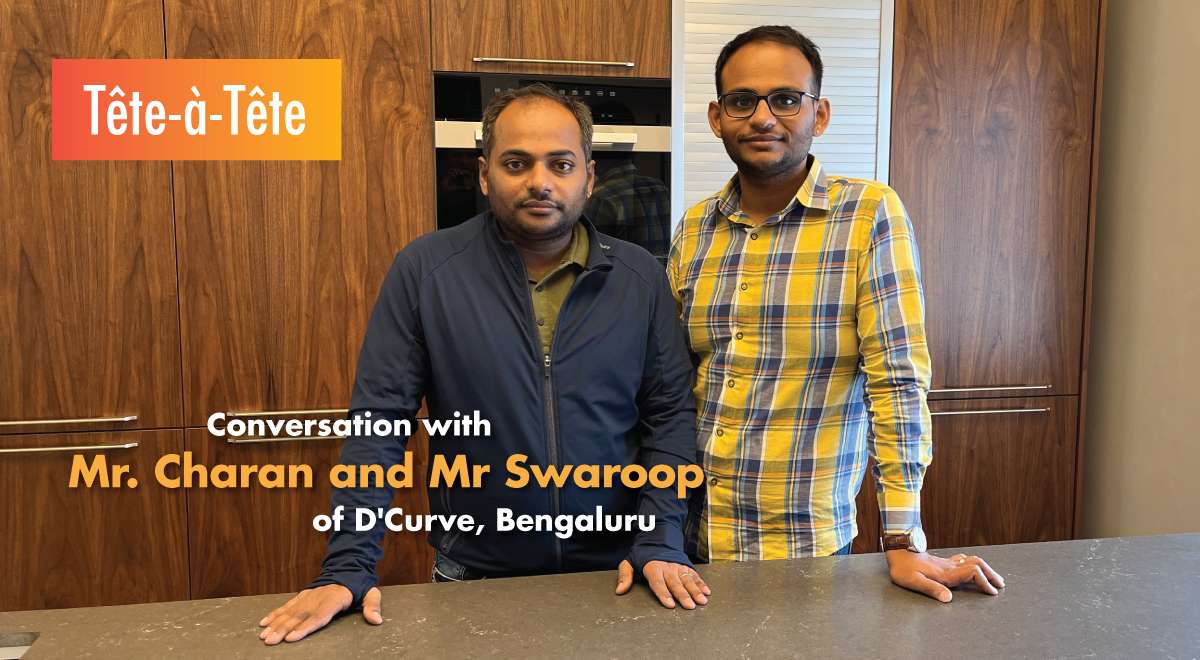 Proudly Made in Bengaluru: Modern, Modular Kitchens for India and Around the Globe
At Quantra, we're proud to make quality quartz countertops for Indian households and businesses. And we love when our partners feel the same way.
That's why today we're thrilled to introduce you to another one of our Quantra Partners, DCurve. Founded by Mr. Charan Pommarapalli and Mr. Guru Swaroop, DCurve offers an impressive portfolio of "Made in India" kitchens, wardrobes, and sideboards, DCurve delivers the best of functional storage with streamlined, timeless designs.
Like Quantra, they pride themselves on their unmatched quality and durability, for kitchens that are built to last — and look beautiful doing it. Join us as we chat with one of the founders and directors, Mr. Charan Pommarapalli, to learn more about DCurve's history and mission.
Hello Mr. Charan! Thank you so much for chatting with us today.
We'd like to know more about you and your achievements. First, what determined your passion for modular kitchens? 
We started our operations in 2014. We have a manufacturing facility for furniture, and one of our core strengths is our in-house design team. We design the product, we build it, and then we handle installation of the products. We provide a complete solution from start to finish. 
Since inception, we have been able to do around 120-130 houses and happy to say that we have done kitchens and wardrobes for some notable people – from doctors to IT professionals. Currently we are even doing projects for founders of the u Unicorns, a privately held startup company valued at over US$1 billion.
You have been in this Modular Kitchen industry for a long time. What observations have you made over your career about how the Indian Modular Kitchen industry changed over time? 
Over the years, we've seen the spending power of the Indian citizen increase year after year. That one is very evident. 
And second, exposure to the European or American market is increasing. The concept of modularity actually started in those countries. There, people are used to the functionality of the kitchen. So, many people who travel to these countries, or people who are moving to India, expect the same functionality from the kitchen. There is growing acceptance for factory-made modular kitchens or furniture when compared to the carpenter-made. 
And recently, given the lifestyle and restrictions in luxury apartments or villas where people can't stay there in the site to get the work done themselves; there is a growing demand for factory finished products. From the modular cabinets to countertops, customers want complete modular kitchens. 
Very true. What process do you follow as you design a project?
Our process starts with conversations with our client. Our major focus is on functionality, so we want to understand what they want from the finished product. We also note the customer's existing style — their storage style, appliance, and accessories style. 
We get to know their current pain points and we create custom storage and functional design plans for a better solution.
In the end, we know we're successful when they have better usage experience in their day-to-day activities. For something like a shirt, we can judge its success by looking at it, but kitchen design aspects can be experienced only once you start using it. So we love when clients come back and tell us how much they're loving their new spaces.
How did you hear about Quantra? How did this partnership happen‌?
I think about 3 and a half years ago; we heard about Quantra in one of the online forums. Going by the name Quantra, we thought it was an imported product manufactured somewhere in Europe. After speaking to the team at Quantra, we realized it's a Made in India brand made for the world. 
A major portion of Quantra is exports. That's the moment we felt we were sailing in the same boat: Quantra was looking for partners who can make world class kitchens and we were looking for world-class countertops to go with our kitchens.
It was a philosophical match. Ours and Quantra's goal to make world-class products in India for the Indian market and also for the world was in complete alignment. So we started working together and became a partner for Quantra's surfaces. 
What was your sole reason to choose Quantra over another countertop brand?
Foremost, definitely is the pride feeling. We love the pride they take in their work and their products — it matches our own. 
Second, we loved the thought that together we are capable of doing something for clients around the world. Not just importing the material from Europe or America, but manufacturing the world class material here in India and exporting it to the European market and the US market. 
Third, we appreciate the approachability of their team. This is one thing that made us think that Quantra would be a good countertop partner for us. They truly feel like partners and collaborators. 
We love to hear that! 
Looking back, what were some challenges your customers faced before you started using the Quantra Premier Dealership program with an assured 360-degree service?
Firstly, there isn't any industry-standard process that customers can count on. For instance, in the installation process, every person has their own way of doing it. Installation of the product is a challenge that our customers have always had. 
Second, the logistics part where the material has to be carefully moved and delivered at the site of installation. And logistics was more of a challenge for us than for a customer, since we deliver assembled kitchens — we call it the hardware. There are umpteen chances of dust getting into the lubrication part of the hardware, and that's where the client may not experience the softness, the uniqueness of the hardware we build. 
Quantra is making life easier for us. Now, if I give an order to Quantra,
I definitely know that measurement and installation are taken care of and there is a professional team handling the logistics and installation
. 
Earlier, though we weren't into the execution part of the kitchen, the client always wanted our presence there at the site to assure that things were going right. Now this is taken care of by people we know we can trust. 
That's great to hear. What are some other things that you enjoy about your partnership with Quantra today?
Definitely the pride that it is a "Made in India" product. Secondly, Quantra is the only company that can provide the same material in three surface finishes for us — polished, super honed, and brushed. I don't think any imported product offers these options.
Thirdly, close interactions we have with the Quantra team. For any challenges and any issues we face, we know that there is a professional Quantra team member that will address our concerns. 
What are some of your favourite or most noteworthy projects of yours that you'd like to share?
One is definitely a project we have done with Quantra in Banjara Hills in Hyderabad. Where we have installed quartz surfaces, we used what's called the reverse mitred edge, where it is chamfered into the unit. Pairing it with the waterfall was a challenge. Only some of the European brands had the capability of doing this beforehand. We are proud that we executed the same quality and style easily and with beautiful detail, in an Indian-made kitchen and with Made In India products. 
So impressive! Thanks for sharing.
Ok, now for the rapid fire round…
Favourite design from Quantra's collection?
Any tips for our readers on things to consider while selecting a modular kitchen? 
While selecting a modular kitchen, there are a lot of subjective things that vary from person to person. But, there are certainly some objective things that every client can consider or ask for.
One is that functional hardware is the heart of any kitchen. Clients should know that there's a certification that the hardware companies have to get certified – called LGA – certification on the hardware in terms of usability and quality of the product. Under LGA, there are a certain number of tests conducted to certify the product. Clients can ensure this certification to make sure they're investing in quality hardware that will be durable and functional over time.
What is your favourite kitchen design style?
I like Scandinavian or Nordic style. We don't have a lot of artistry or carving in this style, and most of them are straight lines. It's very function-forward, and streamlined in its look. This design is easy to maintain and easy on the users. 
2022-23 trending design style?
I think the addition of aluminium and glass to furniture, wardrobes, and cabinets is a growing trend. Wood might get replaced with aluminium and glass over time.
Looking for exceptional-quality modular kitchens made right here in India? Look no further. 
Our partners at DCurve in Bengaluru can create the kitchen of your dreams — from inception to the final installation. Connect with their team here.
Sign Up For Our Newsletter
Subscribe to our newsletter to stay updated with the latest News, Case Studies etc.
[mc4wp_form id="779"]