Conversation with Sudheer Chakravarthy Sadhu of Cromatica, Vijayawada
Oct, 2022 | All, Tête-à-Tête with partners,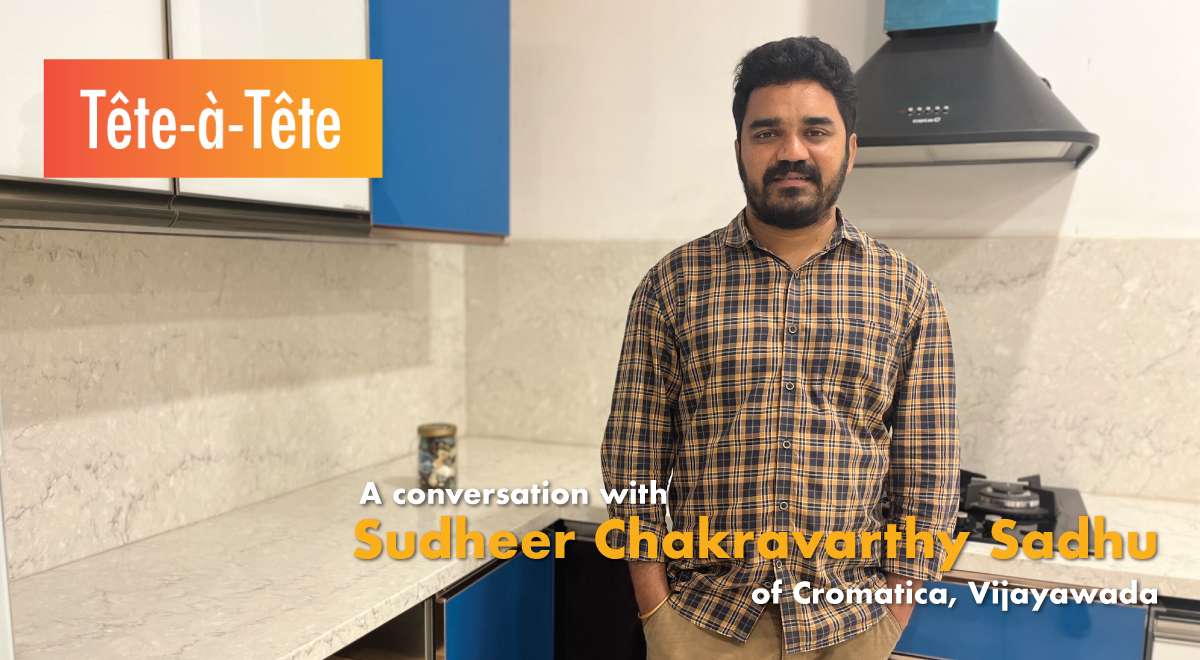 The New Modular Kitchen Material Taking India by Storm
Discover the modular kitchens people can't get enough of — and meet our partner at Cromatica, Vijayawada. Know how Quantra's products and Quantra's Premier Dealership program with an assured 360-degree service have helped them grow.
When you picture kitchen cabinetry, you are likely to think of wood. But Cromatica is changing the game and offering a more durable product that's changing our notions about kitchens.
Not only do their stainless steel kitchen cabinets make pests like termites a non-issue, but they're durable, quiet, and provide endless color options and opportunities for customization. Today, we're sitting down with Mr Sudheer Chakravarthy Sadhu of Cromatica, Vijayawada to learn more about stainless steel modular kitchens — and why his clients love them so much.
Hello Sudheer! Thanks for sitting down with us today.
We'd love to hear more about you and your experience in the kitchen industry. What initially brought you to the world of modular kitchens?
After completing my Masters in Civil engineering from the University of Queensland, Australia, I returned to India to become an entrepreneur. I was eager to start a business in my native town, near Vijayawada, Andhra Pradesh.
I noticed a lot of lacunae in the construction industry, so I put my focus there.There was a growing trend, a tendency of changing from traditional kitchens to a more modern style, and customers were asking for modular kitchens. Some of our clients asked me to refer to some good modular kitchen companies or workers, but there were no such companies in and around Vijayawada. Customers were ready to look out in other places like Hyderabad or Bengaluru for modular kitchen companies.
I didn't know about this industry until my clients asked. Then, I started researching the modular kitchen industry and wanted to solve the problem of the non-availability of good modular kitchen companies. I wanted to bring the people the products they were asking for.
In an era where most kitchens are made of wood, plywood, or MDF, how did stainless steel gain popularity? And what are the benefits of stainless steel kitchens?
At that time, I faced termite issues in my home. The wood was damaged by termites, so I googled for a solution for termite issues in the kitchen. I learned stainless steel modular kitchens are the best alternative. I read through all the steel kitchen suppliers and decided to start a stainless steel modular kitchen business in Vijayawada.
I am a first-generation entrepreneur. I didn't want to do the same business that all others are doing. I wanted to be different and unique. I didn't want to sell wooden, plywood, or PVC cabinets like everyone. So, I opted for stainless steel kitchens.
Two reasons I ultimately started this business: One, mainly to solve the problems customers faced due to wood, fiber, or plywood cabinets and two, there were no good players in Vijayawada. And that's how we began.
Was it difficult to get started — to bring a product to the market that people weren't familiar with?
When we started selling stainless steel kitchens, our customers had an apprehension that steel cabinets would make clanging or ringing sounds when they used them.They'd picture some metal almirahs — how when you knock you can hear a ringing sound. But this doesn't happen with our cabinets; they do not make noise.
After 2-3 months of initiation, people started believing us. They started visiting our studio and slowly falling in love with our kitchens like we had. Then, we invested in marketing and began putting up stalls at trade fairs and property shows to explain this new product. We could explain how it solves the termite problems and other issues that come with wood. And also we could show them the zero noise features.
Now people are happy and we are getting referral customers also. We are now focusing on scaling the business by getting more orders.
What is Cromatica's competitive advantage over other companies in this industry?
Our competitors are providing kitchens made of pure steel but they do not have the option called Galvanized Iron (GI). They have the issue of ringing sounds and limited customization.
We do customization with lacquered glass shutters, acrylic shutters, and particularly stone shutters. Now the trend is importing Italian stones of about 2-3mm thickness and using them for wardrobes and cabinet shutters. This customization is possible only with our GI option which many competitors are not providing.
This customization is our main edge over the competitors. People have more options to create their dream kitchen.
We love that! And obviously we're all about customization here, too. So switching gears a bit — how did you hear about Quantra?
One of your sales team members came to me and introduced me to your products. At that time, I didn't have any knowledge of countertops — granite or quartz or marble. Up until then, we were servicing the clients only on cabinets, and we used to tell our clients to take care of the stonework themselves.
But this person from Quantra explained everything about countertops. So I researched your website and your social handles, and then he took me to your Office in Hyderabad where Mr Abhinav showed me all the products, samples, and designs. I was impressed by the textures and the range of products. I thought, "Let me try displaying two countertop designs in my studio." 
Because of these two stones in the display, the kitchens got elevated and clients walking into my studio started liking the kitchen model along with the stone and bought the kitchens. 
What was your sole reason for choosing Quantra?
Initially, I was doubting if I could sell at least 1 complete kitchen a year, but thanks to the skilled professionals that Quantra is providing with its 360-degree service, it's changing the way we do things.
Now, measurement, fabrication, logistics, and installing the countertop are completely taken care of by Quantra professionals. In places like Vijayawada, finding professionals for such work is difficult. And selling premium kitchens with no support from skilled people is a huge risk. Quantra helped me here. 
What were some of the challenges your customers faced before you started using the Quantra Premier Dealership program with an assured 360-degree service?
Quantra helped me in finding experienced skilled workers to cater to the partners' needs. This made it an easy job for us to pitch our customers. We can now honestly say, "Select your kitchen and leave everything to us."
Sometimes, clients come to me quoting a high price of Quantra compared to other quartz. But I can explain to them all the add-on professional services that Quantra is giving that others do not provide. If you go with others, all the services combined will take you to the same price but without professional workmanship and foolproof installation. The value is there with Quantra.
How has Quantra helped you grow?
My business has increased in value and quality after I partnered with Quantra. One beauty about our Quantra partnership is it adds cross-sales to other products I have. It has given an immense value to me. And I am so happy with Quantra that I recommended it to other Cromatica stores across states as well.
What I understood from having a partnership with Quantra is that Quantra believes in its partners and supports them by giving products worth lakhs of rupees – for display in partner studios — even before having started a business — which I have never seen with any other company. I have immense gratitude towards Quantra for this.I assure you that every Cromatica store has become a next-level store because of Quantra. 
Customers are coming from as far as 150kms to our studio for Quantra because it is not available with every supplier. Millennials see kitchen design trends and premium quality stones on social media and come to us knowing that such premium quality is available from Quantra in our studio.
Earlier, if people wanted to choose white countertops they had to go with marble. But marble is porous, and it's prone to stains from turmeric and cracks. Quantra is the only brand providing the best white designs with veins in quartz that look like marble and are stain-resistant and scratch resistant.
I suggest everyone go for Quantra Quartz if they want to have white or light-coloured kitchen countertops and keep it white forever. 
We love to hear that! Is there anything exciting coming up from Cromatica?
We are starting our new store in Visakhapatnam. It will be ready soon. For the display of kitchens, we are using the Vizag store and Vijayawada store to cater to areas around these cities.
Congratulations! Ok, now for the rapid-fire round:
Favorite design from Quantra's collection?
Any tips for our readers on what factors to consider before selecting a modular kitchen?
Modular kitchens can be broken into 4 parts:
1. The carcass or cabinetry (wood/steel)
2. The accessories (hinges and handles)
3. The appliances
4. The countertop
Countertops and shutters are the first things you see in a kitchen design.Go for the best ones. People compromise on the countertop and shutters but those are the ones most used, and they're the ones that will elevate your kitchen.
What is your favorite material in your collection?
Stainless Steel with Lacquered glass shutters, paired with a Quantra countertop.
2022-23 trending design color?
We're loving white and blue right now.
Explore our entire range here
Sign Up For Our Newsletter
Subscribe to our newsletter to stay updated with the latest News, Case Studies etc.
[mc4wp_form id="779"]