The Best Quartz Countertops and 5 Types to Avoid
Jul, 2021 | All,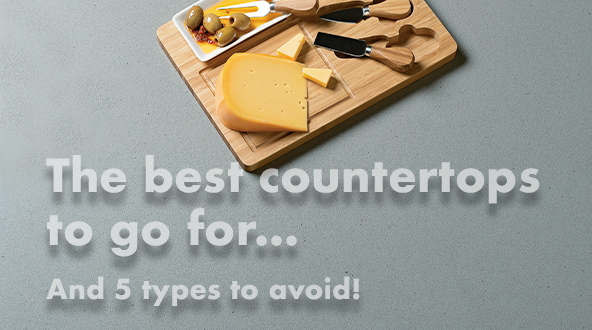 Thanks to its reputation for durability and aesthetics, the popularity of quartz countertops has risen exponentially.  Unsurprisingly, the global market and supply of this product have increased in response to the demand.  But not all quartz countertops are made equal.  And as the repercussions of choosing an inferior product are far-reaching, it's worth knowing the difference.  This article will help you to recognize the best quartz countertops from sub-standard products.
The best quartz countertops use Bretonstone Technology
As an engineered stone, quartz has a reputation for durability and longevity.  Its unique combination of aggregate stone (mainly quartz) and resin results in a material harder than most mined stone.  Even though the engineering of quartz slabs is universally similar, there are vast inconsistencies in the end product quality.  This is mainly due to variations in the ratio of quartz, other stones, and the resin that binds them together.
Bretonstone quartz is engineered using licensed Bretonstone Technology – a patented manufacturing process and bespoke machinery developed by Breton Company.  Approximately 60 Bretonstone plants are operating globally, supplying some of the world's best-known quartz brands and some lesser-known ones.  Bretonstone commits to using upto 93% aggregate stone (mostly quartz) in their products. This high ratio of stone to resin ensures that the end product is highly resistant to scratches and chips. Engineered quartz that contains too much resin can result in slabs prone to scratches, chips, stains, bending, and melting.
5 types of quartz countertops to avoid
A quartz countertop produced by a Bretonstone-licensed manufacturer is guaranteed to serve you well throughout the years.  But with so many other retailers competing to sell you a product that appears, on the surface, to tick all the same boxes, it can be tempting to jump at a bargain.
Here's what to look out for.
1. Quartz countertops that are not NSF/ANSI 51 Food Zone certified
It's easy to assume that a product sold for use primarily as a food preparation area will be safe.  Buyer beware – that's not always the case.
The National Sanitization Foundation/American National Standards Institute (NSF) is the public health and safety institution that approves products as safe for use as food preparation surfaces. Countertop manufacturers are issued with NSF/NSI 51 certification if their products meet both the Food Zone and Splash Zone requirements of this food safety standard. But not all companies are reputable. Some claim that their product is certified when it only satisfies the Splash Zone requirements of NSF/NSI 51. Fortunately, the NSF website has a register of all accredited manufacturers so that you can check a company's claims. You can visit it here.
2. Cheap quartz countertops
The old cliche is true here – you get what you pay for.  Quartz, as a countertop material, does lie at the costlier end of the spectrum.  The demand for lower prices has brought with it the availability of more inferior quality products.  And while China and other countries have been penalized for selling below market value, these low-quality products are still available.  It may be tempting to make a saving with a seemingly competitive price and no apparent drawbacks.  But keep in mind that, as mentioned above, the integrity and durability of a good quality quartz countertop are dictated by a high ratio of aggregate stone to resin.  Less scrupulous manufacturers will cut corners and hike up the levels of resin and pigment in the mix. What you are left with is a product that is more prone to melt, scratch, chip, and even bend during transport. Often it's only once the countertop is installed that you'll become aware of these defects.
It's also worth considering that quartz manufactured in other countries may not be held up to the same stringent legislation relating to chemicals and gasses gases(?). For instance, the categorization of VOCs (volatile organic compounds) differs between the US and China. China doesn't differentiate between acceptable levels of VOCs for inside and outside use.
3. Quartz countertops with visual inconsistencies
Picture this. You have painstakingly chosen the perfect color, texture, and pattern for your new quartz countertop. It finally arrives, and you have it installed. You're congratulating yourself on how your decor, fixtures, and countertop have all beautifully come together in the fresh, elegant, welcoming kitchen you've always dreamed of. Then you spot it. It might be two slabs with a subtle difference in shade. Or a pooling of pigment right next to where your long-coveted, chef-level gas cooktop resides. It's there, and it's a defect that you can't unsee no matter how subtle it is.
Visual inconsistencies are commonly associated with an inferior product, whether it's down to a higher percentage of resin or a sub-standard manufacturing process. Avoid disappointment by taking time to thoroughly research manufacturers before making your purchase. When your countertop arrives, inspect it thoroughly before installation, and make sure your supplier has a solid return policy should there be any problems. For absolute peace of mind, look for a quartz manufacturer that uses Bretonstone Technology.
4. Wholesale quartz countertops
It stands to reason that a high-demand premium product will inevitably attract the attention of the middleman. And with mass production of quartz countertops, the market has been flooded with cheaper, low-quality versions. We've covered the physical defects inherent in inferior quartz countertops. Still, there are also the environmental implications of large-scale importation, not to mention the impact on the domestic quartz industry.
5. Quartz countertops that don't have a manufacturer's warranty
Most cheap or wholesale products don't come with a manufacturer's warranty. Is that something you want to risk with a long-term financial investment that takes center stage in the heart of your home? Reputable manufacturers will issue a warranty that will give you peace of mind knowing that you have support if it's ever needed. Always check this out when buying a quartz countertop.
Sign Up For Our Newsletter
Subscribe to our newsletter to stay updated with the latest News, Case Studies etc.
[mc4wp_form id="779"]