Best colors for your kitchen countertops
Jul, 2021 | All,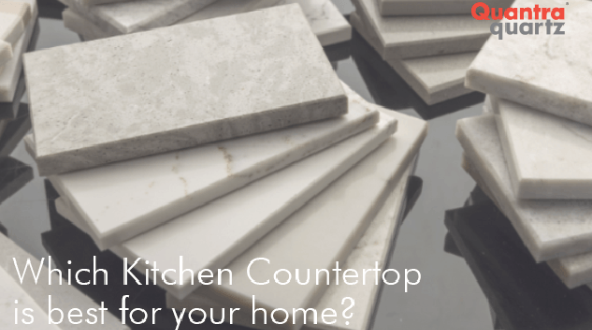 Your kitchen countertop is the hub of your home and the venue for every meal prepared. But it's more than a work surface. It's where you gather together for a glass of wine after a hard day. It's a magnet for visiting friends and family, propping them up while they bend your ear.  And it's a space where you can express your unique style. So choosing a kitchen countertop is a big deal. It needs to stand the test of time, both in terms of durability and the ambiance it brings to the heart of your home.
With so many materials, colors, and patterns to choose from, getting it right can feel like a formidable task. This article will help you decide which kitchen countertop is best for your home, no matter what your practical needs.
What is the best material for kitchen countertops?
It can be difficult to choose from the never ending list of countertop materials – natural mined stone, wood, quartz, steel, glass, and concrete, to name a few. It might be easy to get the look that you want, but each material has its pros and cons when it comes to performance. This is where quartz stands out amongst the crowd.
As an engineered stone, quartz countertops can be made to suit any kitchen. Whether you're looking to introduce the clean, fresh lines of a solid color or replicate the look of natural stone, the customizable nature of quartz allows you to express your individuality. Plus, its high durability and low maintenance mean that you're both investing in the long term and freeing up your own precious time.

Kitchen countertop colors
It's important to establish what role your kitchen countertop will play in the ambiance of the space.  Do you want to make an eye-catching statement against a muted background?  Or do you want the flexibility of a more neutral countertop that allows you to change your color scheme when the mood takes you? There's a balance to strike between being bold, following current trends, and acknowledging your true personal taste.  Thankfully, engineered quartz allows you to fine tune your preferences so that you won't regret your decision later.
White quartz kitchen countertops
The pull of white quartz lies in its ability to add a classic, clean lightness to any space. And with choices such as Calacatta Pietrasanta and Bianco Venatino, you can experiment with patterns that mimic natural marble, bringing a classical touch to any traditional or contemporary kitchen.
Flecked or softly-veined white countertops
A white or off-white shade with a multi-tonal fleck or grain emits a light, airy luminosity without feeling clinical. Not only does it bring a fresh, rich quality to any kitchen, it also complements an array of colors and finishes. Such versatility means that your countertop can provide a striking contrast to bold-colored walls and cabinets or quietly add light and texture in a white-on-white palette. And unlike a glossy solid-colored countertop, it won't show every speck of dust or crumb.
A softly veined surface provides the sort of subtle richness and elegance that suits a traditional kitchen. For a more formal yet elegant space, pair your countertop with brass accents, wooden floors, and Shaker-style cabinets.
We recommend:
Bianco Venatino – a softly-veined white marble-effect quartz countertop.
Boldly-veined white countertops
Boldly-veined white countertops are the ideal choice if you want to add drama while maintaining a minimalist or monochrome theme. The gray veins mean you can opt for white-on-white without the countertop getting lost in its background. Or, to warm up the atmosphere, opt for muted shades, wood or sandstone flooring, and brass accents.
We recommend:
Calacatta Pietrasanta –  a bold-veined white marble-effect quartz countertop.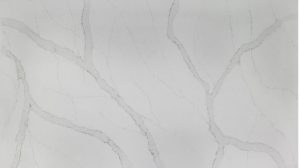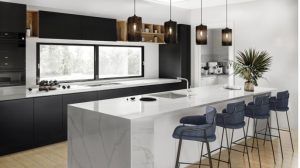 Gray quartz kitchen countertops
For a more neutral option, gray offers a vast choice of shades to suit. Use light, soft tones to brighten smaller, darker spaces. Or a cement-gray to bring an architectural or industrial feel. Shades of gray are also perfect for softening stark contrasts, particularly with a monochrome color scheme or bold-colored walls and cabinets.
If mellow is more your style, gray pairs well with espresso woods and white walls. Add off-whites, golden brown hues, and brass accents for a harmonious, soft, and friendly vibe.
Softly-flecked or mottled gray countertops
A delicately patterned gray countertop adds interest to any contemporary space without detracting from other elements. To add texture and conceal the odd crumb and speck of dust, choose a pattern that replicates quartzite or terrazzo. A perfect solution for busy homes where time is too precious for spotlessness!
We recommend:
Alonso – a light-gray quartzite-effect countertop.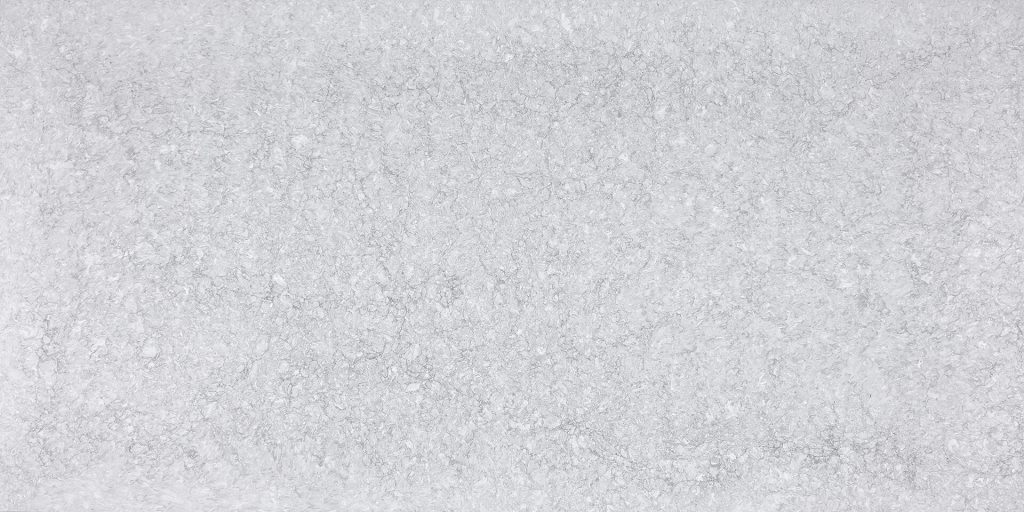 Rogier – a mid-gray quartzite-effect quartz countertop.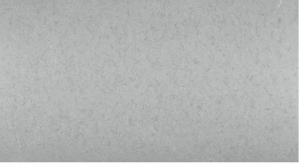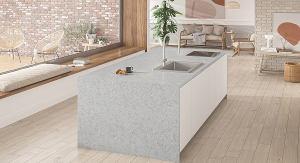 Venezian Arte – a terrazzo-effect quartz countertop.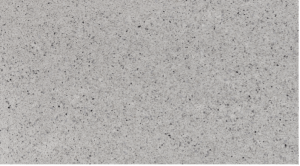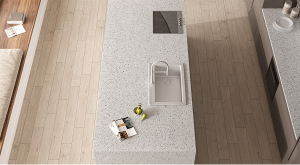 Black quartz kitchen countertops
A black quartz kitchen countertop can provide contrast, complement an existing color palette or mainline an unapologetic stab of drama. When used to pick out features such as dark-colored appliances, black cabinet handles, and dark wood flooring, a black countertop will still respect the role of other colors within the scheme. A subtly veined black or dark grey also blends perfectly with a moody dark-on-dark palette. Add plenty of warm light sources to make the space cozy and sophisticated. In contrast, a sleek dark gray or black stone-effect quartz can add the 'voom' to your 'va-va' in a classic black-and-white kitchen. This look works best with short runs of countertop; a large expanse of black can dominate too harshly.
We recommend:
Masaccio – a dark-gray quartzite-effect quartz countertop.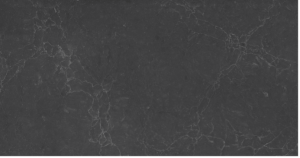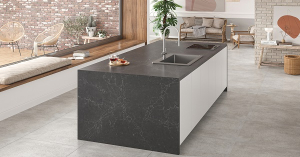 Agnolo – a black granite-effect quartz countertop.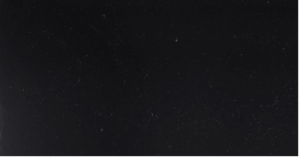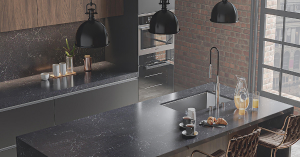 Sign Up For Our Newsletter
Subscribe to our newsletter to stay updated with the latest News, Case Studies etc.
[mc4wp_form id="779"]