Conversation with Pavithra and Praveen of Pravisree, Bengaluru
Oct, 2022 | All, Tête-à-Tête with partners,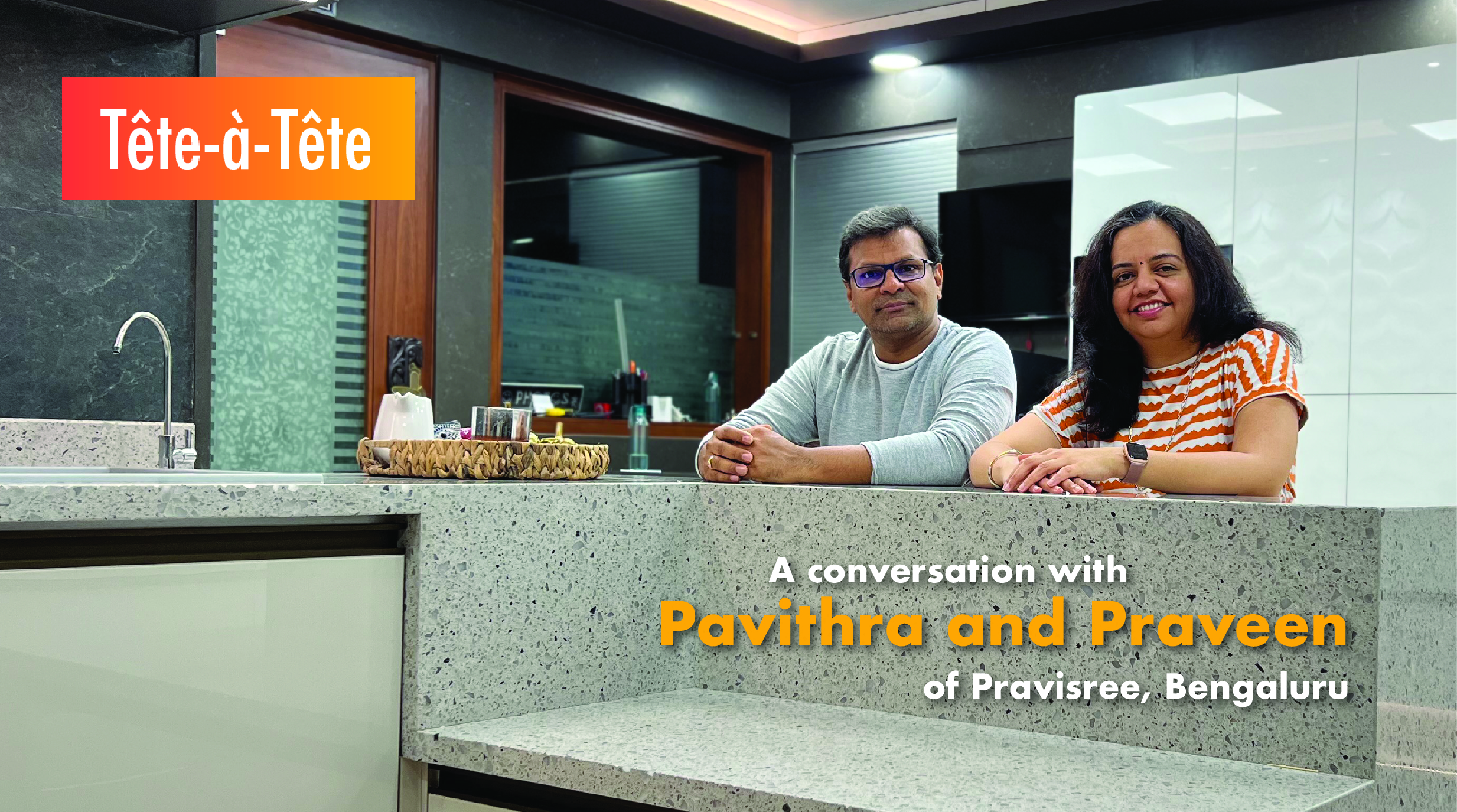 Meet the Power Couple Committed to Bringing Quality Modern Kitchens to India
Recently, we kicked off our Tête à Tête blog series where we share in-depth conversations with fellow leaders in the home and kitchen industry here in India.
Today, we're connecting with Pavithra and Praveen, founders of Pravisree. Since 2005, they've been elevating the modular kitchen industry. As of today, they've delivered more than 1,500 high-quality, durable, beautiful kitchens to Indian households across the country.
In this interview, they share the moment they knew they had to start their business, the consumer mindsets they had to overcome, and their predictions for the future of modular kitchens in India and beyond.
So, let's dig in!
Quantra Quartz: Firstly, Congratulations Pavithra and Praveen on getting featured in Inspirations magazine by Blum.
Pavithra and Praveen: Thank you very much!
We'd love to know more about you and your experience in the kitchen industry. Where does your passion for kitchen design come from?
We were actually building our own house — I'm talking about 18 years ago — when we first started looking for kitchen designs. In spite of a lot of hard work, visiting a lot of stores, checking online and offline, we couldn't find the right kitchen. We couldn't find that perfect combination of convenience, quality,  price, etc.
This drove us to decide to take this up as a profession. So we started manufacturing kitchens ourselves.
Wow! What was your experience prior to Pravisree?
Before Pravisree, we were in a manufacturing company where the product was B2B. No matter the product, we have always given importance to quality, always. And as consumers, we were disappointed to discover that this emphasis on quality was entirely lacking in the modular kitchen market in India, and we decided not to make this mistake.
So we set out to create a quality modular kitchen product that is available directly to the consumer.
So having been in the kitchen design industry since 2004, what changes have you seen? Do you think these changes have been for the better?
Absolutely! When we started the business, people were skeptical of modular kitchens in general. So that's where we had to start from: trying to build faith in the modular kitchen industry in India.
The kitchens then were mostly always carpentry-made. We're not at all saying that carpentry-made kitchens are bad, but they lack some aesthetics, finesse, and longevity which we are able to achieve better with machine manufacturing.
So the biggest hurdle was definitely trying to get our clients to understand why they were actually better off choosing quality modular kitchens over carpentry-made.
Was it a difficult journey for you?
Yes and no.
When we went through the traditional dealer network, they didn't (and often still don't) appreciate the quality or finesse of the product that they promoted to the final customer.  We saw that the customers were ready to buy the quality product — they just didn't know how or where to find it.
People want high-quality modular kitchens in India. But they never reached them because of the dealers who try to control the market. 
For us, quality has always been important. And over time, the Pravisree name has become synonymous with quality modular kitchens, which we're very proud of.
Today, consumers trust modular kitchens more. They're already checking out modular kitchen manufacturers, they already have good faith that these last longer. They understand how to care for these kitchens, and we feel the journey is much smoother.
We have different challenges today, of course, but it's definitely not what was existent at that time.
That's wonderful to hear! How did you choose to partner with Blum for your modular kitchens?
We were actually looking for a particular product, which was more durable. As you see in today's Indian households, it's not just one person or the lady of the house who operates the kitchen.
Families use the kitchen. You might have house help for cleaning and cooking. We wanted something that's much more sturdy, much more durable. Something that wouldn't require us to go back for repairs.
Blum was one company we could vouch for — for their quality, technology, and product patent.
You said in one of your blogs that "kitchens no longer remain as cooking spaces." Can you elaborate a bit?
The kitchen is the place where someone is preparing food, yes, but others are nearby. With small kids in the family, mornings are always busy. You need to help them finish their homework, feed them, or get them ready for school, pack lunch boxes, etc. So many things happen at the same time.
Today's kitchens are a much more interactive places. We try to provide a small seating arrangement because somebody wants to sit and have a cup of coffee and chat with you when you're preparing your food. Or somebody wants to help you with the chopping and cooking. Or you're catching up with kids at the end of the school day.
Nowadays, a lot of couples are cooking together. Kitchen is no longer a place for only women; men and families are part of the whole system, too.
How is Quantra fitting into this belief?
Having hygiene and a clean environment and making the kitchen space more functional and interactive is where Quantra comes in. When we started the venture the market was completely leaning towards granite — all the customers were very comfortable with granite. Nobody was ready to take a step further to try the new materials that were available.
When quartz entered the market, people who were manufacturing quartz were not up to the quality standards; the quality that could support such a system. Quantra comes in with the highest quality standards — with beautiful colours and with durability, hygiene, and a food-safe material. 
You can do the chopping, kneading, and rolling dough on the entire counter directly. The quartz surface isn't simply defined as a countertop. It's much more functional and hygienic.
We always consider the kitchen as the heart of the house and Quantra is like skin, Quantra gives beauty to the kitchen.
We love that imagery. So how did you hear about Quantra? What was your first impression?
We had started making our factory premises ready and we were in the process of opening our new franchise in TN. We were all set to look for different brands of quartz.
Unfortunately, we had a very bad experience with the brands we were dealing with before. They were not keeping up to their promises and we started finding a lot of issues cropping up with our various clients. We were indeed very upset with the way things were going early on.
We were looking for a different brand. So, we went to the Stona Exhibition [India's international granite and stone fair]. We went to the Quantra stall, and came across a particular design that looked exactly like granite. It was so convincing we instantly commented,  "This is not quartz, this is granite."
Immediately, a gentleman standing close by came over and said, "No ma'am, this isn't granite, this is indeed quartz and it's made by our company. We're Quantra and we have a complete range of various colours. This one's from our granite collection."
We were surprised! The design was so perfect and the depth of detail was so natural that it looked like real granite.
We love to hear that! So how did the partnership come to be?
We thought the aesthetics were good, but we had so many questions about quality and standards. We kept aggressively asking so many questions, since we'd had poor experiences in the past, but the gentleman was so patient in answering all our questions and invited us to the factory.
He gave us his visiting card and then we realized he was Mr Paras Kumar Jain [the CEO]!
He was so kind and patient. It was really a very nice experience to receive that level of care — not only about the answering part; but for every problem we posed, he had a thoughtful answer.
He suggested the right style of installation to be used, which products should be used along with what materials, etc. He was there to guide us on how to take the whole journey. We are very glad we were there and met him that day.
After that; we partnered with Quantra and from then on we never looked at another brand at all. Not even considered for a second. Quantra was over and beyond our expectations — the product, finish, quality, and appearance — and most importantly the support from their team is really very great. 
What were some of the challenges your customers faced before you started using the Quantra Premier Dealership program with an assured 360-degree service?
Unfortunately, we faced many issues with our previous brands. One was decolourization. After 2-3 years of counter installation, we faced the issue of yellowing of the colour.
The other issue was consistency. If there was an order for 5 slabs in one batch or pattern, there would always be one slab that wasn't from the same batch and didn't quite match the others.
After 2-3 years of installation; the counters started cracking up. These were not pressure cracks —  cracks just used to appear at the center of the counter where there were no joints or connections. This made us feel really very insecure because we wanted to have 100% faith in every product we recommend and use.
We needed a countertop that wouldn't fail us or our clients. We were lacking all this until we came across Quantra. 
Why do you think the kitchen countertop is an important element in design?
Even the most functional kitchen has to be pleasing to the eye. Colour and aesthetics play a major part in the entire appearance of the product. Our kitchens strive to make everything functional. We know our clients want heavy-duty, durable, and more sustainable choices. This was incomplete until we found a product like Quantra.
Your countertops uplift the kitchen and complete the overall design. 
Every morning, when you wake up and go to the kitchen to make your tea, the first thing you see is the countertop. It makes you happy when it has a nice design. The countertop is the beautiful element that completes our kitchens.
What are some things that you enjoy about your partnership with Quantra?
One definitely would be the support and the know-how. The colour range from Quantra is something which we are never tired of.
Your colours and patterns are so unique, it's sometimes extremely difficult to choose the right one! The fun part is with your wide range of palettes, we have the answer for every kitchen.
With other brands, the selection always felt a bit limited, like we had to settle for "close enough". But there is always a colour from Quantra that suits every kind of kitchen colour palette.
What a lovely compliment! We're curious — how has Quantra helped you grow?
Quantra has definitely uplifted our kitchens in the market. From the day we partnered with Quantra, our kitchens have become trendier and more beautiful. People are more attracted to our counters.
Plus, you've added the missing element — a countertop that's truly a strong and sturdy material. Quantra is durable. It provides us with a very secure and tension-free arrangement, especially the 360-degree solution; where they take care of the complete installation, too. It is really very nice to work with Quantra.
What are some of your favourite or most noteworthy projects?
All of them! From the time we started with Quantra, we delivered about 300 kitchens and all of them are our favourites.
We make all our kitchens with passion. Every kitchen we designed is unique in its own way. A couple of projects we have done in Tamil Nadu, our clients really loved Quantra stone. They have taken the material all the way up to the ceiling. Those are some of our favourites because the entire design comes to life and pushes the boundaries of what's possible.
Another favourite is the way we are able to utilize the countertop material to wrap around the breakfast counters. It provides a nice seating arrangement, and the way the waterfall gels perfectly with the design. Those are all the best parts of having Quantra. The thickness, consistency, grains, and flow is so nice. It makes the kitchen look very appealing.
What is your favourite part of being in this industry?
Truthfully, the satisfaction we get when a customer comes back to us feeling happy. They'll call us one day and say, "You know, this is the best decision we have made in the whole house." This is extremely motivating and satisfying and this drives us. 
The kitchen area isn't always given much thought. Sadly, it's often just considered a space where the lady prepares food on time for everyone. We are so proud and happy to provide practical, functional designs. Designs that help simplify the job of managing everything, making our customers' lives easier and tension-free.
What does the future of Pravisree look like?
At Pravisree, we love being closely knitted and interacting with customers directly. We are 5 partners working for the company, and we handle the business together, personally and closely.
All the monitoring, planning, decisions and almost all the aspects are done by us personally. Hence, we limit ourselves to the number of projects we take per year, per month. We want to increase the number very slowly at a pace we can handle, to continue the same level of interaction with our customers. Increasing that number is definitely exciting, and we're approaching it thoughtfully.
We don't believe in sudden announcements and major plan changes. Definitely, it's not an easy ride. During the worst of the covid times, we have been fortunate that we had a lot of people coming to us. We've had many ongoing projects, and were able to do a great job in the past 3 years.
We love that. Quality customer service — especially with something as important as kitchen design — is everything.
Now, we've got a few rapid-fire questions for you…
Favourite design from Quantra's collection?
We like Bianco Venatino
Any tips for our readers on how to choose a colour for their countertop?
Frankly speaking, colour selection starts from your flooring shade. The flooring will be a good reference to understand your colour palette and the shutter colour has to go along with it.
The countertop colour really depends on the role of the counter design. Will it be also used for the wall? You need to consider the amount of light you'd have in the kitchen, most definitely. The overall appearance, whether you'd like to have a combination of matte finish or glossy. These are all key considerations to complete the design of your kitchen.
What's your favourite kitchen design style?
We like the Island style as part of the kitchen. A nice cosy kitchen with an island with a little bit of seating space always provides an opportunity for the family members to have an interaction.
2022 trending design style?
We're seeing a lot of European pastel shades. And matte finishes are a booming trend. People are shifting from glossy to a matte finish look in the kitchen.
Our interview with Pavirthra and Praveen is the second in a new series — a Tête à Tête with partners.
Meet another Quantra kitchen partner, Rohit Tharakan of Häcker kitchens, in this post.
And be sure to stay tuned for more Tête à Tête blog posts in the future!
Sign Up For Our Newsletter
Subscribe to our newsletter to stay updated with the latest News, Case Studies etc.
[mc4wp_form id="779"]